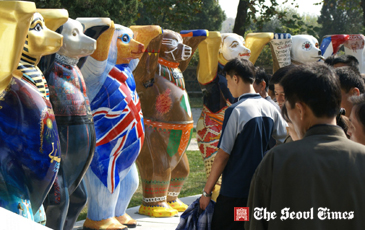 The Buddy Bear exhibition in the city center Pyongyang
In an effort to promote peace and tolerance in an often misunderstood environment, Berlin's symbolic Buddy Bear exhibition is underway at Pyongyang, North Korea. The event represents the 18th days of German Unity which began on the 14th of October 2008 and will continue until the 31st later this month at the foot of the Moran Hill near the Tong Il underground station. The exhibition takes place simultaneously as North Korea's ruling party celebrates their 60th anniversary of coming into power.Buddy Bears have been a diplomatic representation since they were first displayed in Berlin back in 2002. The German Embassy and Ambassador to Pyongyang, Thomas Schaefer is hosting the exhibition. The Bears are a well-known mascot of the Berlin representative. Schaefer mentions bears as the "original mother" North Korean creation myth while delivering his speech.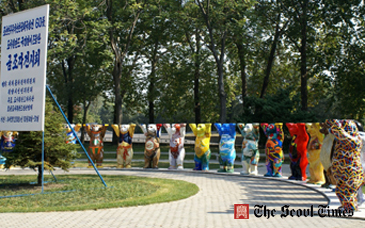 The Buddy Bear exhibition in the city center Pyongyang
When viewed the bears stand hand in hand in a unifying circle to spread a message of harmony and understanding. Around 140 countries have each designed a unique Bear for this display of which Egypt, China, India, Indonesia, Iran, Cambodia, Cuba, Mongolia, Nigeria, Pakistan, Palestine, Poland, Russia, Sweden, United Kingdom and Vietnam are some of the nations represented.This exhibition was opened on Oct. 8 and Nov. 9, 2005 in the Olympic Park on Peace Square in Seoul and admission was free. The promoters of the event are expecting a huge turnout to this popular and meaningful exhibit. Thus far over 20million spectators have viewed the display as it makes its way around the globe.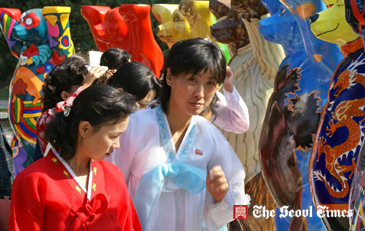 The Buddy Bear exhibition in the city center Pyongyang
What is the Buddy Bears?
Under this motto, the UNITED BUDDY BEARS promote living together in peace and harmony on their global tour. Around 140 Buddy Bears (each 2 m tall) represent as many countries recognised by the United Nations. Since the first exhibition in Berlin in 2002, more than
20 million visitors world-wide have been able to admire the United Buddy Bears.
Message:
The Buddy Bears stand together hand in hand in a peaceful circle, promoting tolerance and under-standing among different nations, cultures and religions.
Art and Culture:
Each Buddy Bear has been designed by an artist on behalf of his or her native country. The international artists' different styles are joined together in one work of art, spreading zest for life. The diverse design of the Buddy Bears — always typical for the respective countries — enables the visitors to experience a journey around the globe.
Charity:
Buddy Bear activities and aid for children in need have formed an inseparable unit. To date, over USD 2,225,000 (up to September 2008) have been raised through donations and auctions in aid of UNICEF and local child relief organizations.