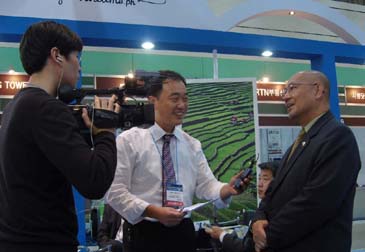 RP Amb.Cruz meets a reporter in an exclusive interview with a local TV network on Oct. 24.

The Philippines aims to attract not only more tourists, but also higher value visitors who stay longer and spend more, generating more opportunities for the country, Philippine Ambassador to Korea Luis T. Cruz, said on Oct. 24.Amb. Cruz made the remarks in an interview with a local cable TV network taped on Oct. 24 against the backdrop of the spacious yet exotic Philippine booth with unique designs at strategic location of the 2008 International Property and Investment Exposition now being held at COEX in downtown Seoul showcasing top condominiums and other housing units in the Philippines for Korean businesses and individuals notably retirees and holidaymakersHe said that the increased in the visitor traffic has resulted in the increased expenditure, which recorded a growth rate of 40.99 percent in 2007 and indications are that the Philippines would see steadier growth in tourism sector this year despite ongoing global business slowdown affected by worldwide stock market tumble on growing alarm.
.
Organized by Joongang Ilbo under the auspices of London-based Worldwide Shows & Events Ltd, the show has attracted large number of Korean companies and individuals who are interested in overseas property investment opportunities in the Philippines during the show closed Oct.25 after three-day run In the view of Philippine Ambassador to Korea Cruz, his country's economy has shown resilience in the face of global market uncertainties.Although the Philippine is not completely insulated from these external shocks, the Philippines can withstand further pressures as the government under the leadership of President Arroyo continues to be vigilant and maintain confidence in the country, he said.He went on to say that the Philippine financial system is not likely to crash due to the conservative and prudent stance of local banks and monetary authorities.Amb. Cruz then pointed out that millions of Filipinos including those holding American citizenships or migrant workers in the Middle East and elsewhere in the world are remitting home close to US$15 billion a year, thus injecting vigor into the Philippine economy. In Korea, for instance, some 50,000 Filipinos, mostly well-educated, are working in Korea. Last year, the first edition of the show in Korea, was participated in by more than 90 companies from more than 20 countries .Among big name property developers from the Philippines joining the Seoul exhibition are DMCI Homem Federal Land, Inc.,,Fil-Estate Realty, Megaworld International, Robinson's Land, Phil. BXT Corp, State Properties Corporation and BM Properties, all of which are the country's Triple A builder/developer of premium quality and urban-friendly condominiums and houses suitable for the general well-being of individuals and growing families as well as a growing number of foreign retirees from Korea and elsewhere in the world who are looking for settlement in the Philippine after retirement..It is Korea's only annual event on property and investment show, with the first one being held in 2007 and this year'sl show focused on recent tourism-related developments and the investment climate in the Philippines as well as other Southeast Asian countries."Property market prices in the Philippines are fractions when compared to comparable prices here. A spacious apartment unit in Manila, for instance, is made available at one-tenth of price in Korea," Amb. Cruz said asking Koreans not to miss the chance of owning housing units at bargain in the Philippines for retirement or investment purpose for the future.He also said that his government continues to increase its spending on infrastructure and social projects to keep the economy going amid a global economic crisis while providing assistance to affected sectors in the country in the wake of the financial meltdown in the US."Though volatility may persist, we are confident of the sound macro fundamentals of the Philippine economy and the resiliency of the Philippine financial markets," he told the RTN TV, one of the popular cable TV channels here specialized in real estate markets and other economic issues. He then disclosed that some 111,000 students from South Korea came to the Philippines in 2007 for English classes and other study tours, accounting for 17 percent of the 653,320 Korean arrivals.Despite of the business setback caused by the global financial jitters, the number of Korean students for ESL program in the Philippine is expected to grow significantly this year, judging from "the quality and quantity" of inquiries received at his embassy..He said most Korean students of English preferred schools in the cities of Baguio, Manila, Iloilo and Cebu and in the northern region of Cagayan Valley."We still can offer quality ESL for Koreans at affordable prices in competition with the U.S., Australia and Canada to name just a few despite ongoing weakness of Korean won against the greenback," he said.There are also packages in which ESL is applied in golf, diving and other areas of interest for more specialized Korean groups.Chosun Ilbo, Korea's largest circulated vernacular daily newspaper has recently reported in an article carried on its hard copy as well as online newspaper that the Philippines is now considered as a prime destination to learn the mastery of the English Language in the wake of the recent global financial jitters.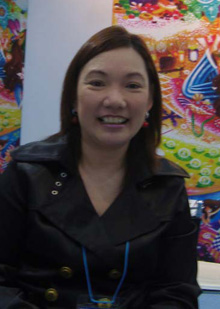 Ms. Zenia K.Sy, vice president of FederaLand of Metrobank Group in Manila
In the meantime, Ms. Zenia K.Sy, vice president of FederaLand of Metrobank Group in Manila met with reporters on the sideline of the Seoul property show and told that as a top-notched property market leader in the Philippines, her company has been in the real estate business for 36 years since 1972 providing overseas and local clients with residential condominiums mostly located in the metro Manila areas."Located in the heart of the sprawling Metropolitan Park, we are introducing now upscale residential community-Bay Garden-to would-be Korean buyers," said Ms Sy pointing out Bay Garden is a luxurious home and island resort in one fit for Korean retirees looking for his or her second home in the Philippines where dreams meet reality. She then explained that FederLand is tied up with the property management company under the same umbrella of Metrobank Group and buyer of the home is well protected against risks.Among others, buyer of the home can expect 7.5 percent in annual yield when rental income and appreciation of the property value taken into account, she said.FederaLand's annual turnover last year ended up in the neighborhood of 3 billion Pesos and more than 50 percent of its clients are overseas Filipinos mostly American passport holders. Coming next is Japanese who take about 10 percent and Koreans (5 percent or so).