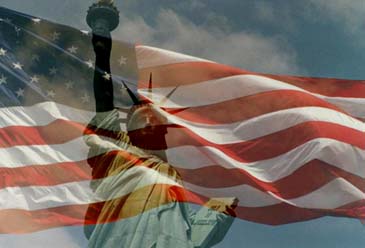 US flag and Statue of Liberty
As if an interpretation of the facts is irrelevant to the observer, the American people have forgotten one thing about the political climate in our country; politicians are inherently deceptive and self-interested. They possesses very few of the characteristics necessary to avoid the pitfalls of our past political entities. Politicians as a rule have to lie to be elected or at the very least exaggerate the facts to make their agendas seem palatable. Even though they promise what the voters want to hear, and or they follow the calculations given to them by the polls, their actual results and contributions are far from the rhetoric they purported during their campaigns. If a person running for an elected post in our country has a pure heart and an honest agenda that political candidate is assassinated in the press, made the brunt of a misinformation campaign, almost lied about through acts of political 'mudding of the waters' and at times the facts about that person are distorted to the point that serious doubts are levied about that truly good and honest person. Throughout history, we have seen the destruction of good political candidates through unscrupulous smear campaigns. Even as early as the time of John Adams, campaigns were tainted by lies and underhanded tactics. Perhaps that should have been 'nipped in the bud' back then, but I suppose our founding fathers were a bit short sighted in that respect. We have seen boldface lies told consistently to the American people through the various media outlets. There are no rules in politics, no ethics, and no 'do-overs' when it comes to slanderous remarks and false information published about someone the opposition wishes to devalue in the eyes of the voter. Very little has been done legally to prevent the American public from being duped during the election battle. We accept 'dirty pool' tactics as normal and we accept do nothing political promises as factual and relevant. I would think by now that the American people are tired of being treated like sheep. The political promises are very much the same from candidate to candidate with very little variation on the theme. They say what we want to hear. These statements are scientifically designed to ring our bells, to move us emotional and mentally. Campaign ethics as a law is very thin and almost non-existent. Politicians can say pretty much anything they wish about an opponent or make any promise with little or no consequence. The reason for this ineffectual legislation is that no politician wants to have his or her hands tied when it comes to the political process. They want to be free to operate with impunity to use what ever it takes to win the vote.
A political candidate must be corrupt to function in the corrupt world of politics there is no way around that fact. Power mongering, influence peddling, greed and insane behavior are commonplace in the halls of our government and until ethics, morality and good administration are made a hard and fast law, our political process will operate from a business as usual point of view. Remember the only way to solve the problems with our government is to remove the 'politicians' from the political process. As a concerned American citizen, I can see no way to end this behavior, which has drenched our government in corruption and dirty tricks. I would think it is now time for a good governmental house cleaning.