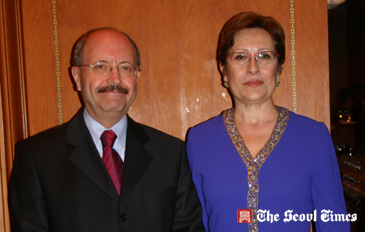 Amb. Deniz Ozmen and his wife Mrs.Bilge Ozmen
The Turkish Ambassador to Seoul Mr. Deniz Ozmen and his wife Mrs. Bilge Ozmen hosted a reception to honour the 85th anniversary of the proclamation of the Republic of Turkey at the Millennium Hilton Seoul on Oct. 29, 2008.
The prestigious event attracted some 500 guests including scores of foreign representative serving in Seoul. Among the VIP attendee list were Mr. Binali Yildirim, Turkey's transportation minister, Mr. Park Hee-Tae, chairman of the governing Grand National Party and Mr. Kim Jong-Cheon, who is South Korea's vice minster of national defence.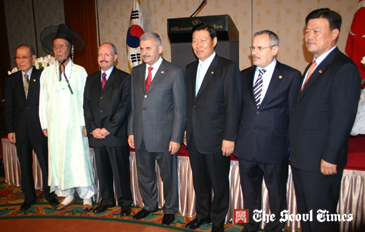 Mr. Binali Yildirim (center), Turkey's transportation minister with Turkish Amb. Deniz Ozmen (his left), Mr. Kim Jong-Cheon (3rd from right), South Korea's vice minster of national defence and other V.I.P.s pose for the camera.
Following is the message Mr. Ozmen's delivered to commemorate the 85th Anniversary of the Foundation the Republic of Turkey.
Turkey is celebrating the 85th anniversary of her foundation which took place on October 29, 1923, in the aftermath of the War of Independence under the leadership of Mustafa Kemal Atatürk, the founder of the Republic of Turkey. Since then, my country has been pursuing a foreign policy based on the words expressed by the leader of the modern Turkey, Atatürk: "Peace at home, peace in the world." With its secular and democratic system, robust free market economy and social tradition of reconciling modernity with cultural identity, the primary objective of Turkish foreign policy has been to ensure and nurture security, stability, peace and prosperity in its region and beyond. In order to fulfill this objective, Turkey adopted a proactive and multi-dimensional foreign policy. Turkey has a unique geo-strategic position, lying at the strategic "crossroads" where the two continents, Europe and Asia meet. This position has been a source for close historical and cultural ties across a vast landscape and functioned as a crucial bridge for dialogue and interaction between cultures at the heart of Eurasia.On this foreign policy background, Turkey was elected as a non-permanent member of the United Nations Security Council for the term 2009-2010, at the elections held on October 17, 2008, by obtaining 151 votes from the 192-member General Assembly, which stands as one of the highest number of votes received in a three way contested election, with 80% of the votes cast in favor of Turkey. Election of Turkey to the United Nations Security Council at this critical juncture, when global peace and security is faced with growing number of challenges, represents the confidence entrusted in our country.Within this context, Turkey attaches great importance to her relations with the Republic Korea. Turkey recognized the Republic of Korea in 1949 and our participation in the 1950-53 Korean War placed our bilateral relations on a very strong foundation. Turkey was among the first countries to establish diplomatic relations with Korea in 1957. The sacrifices of the Turkish soldiers, who made a very long journey to Korea and shed their blood for this country, are still in the fresh memories of the Korean people. The fact that the warm friendship existing between the peoples of our countries and the state of close cooperation in international organizations contribute in a positive manner to the development of our relations in many fields. Economic and trade relations constitute an essential feature of these close relations. Bilateral trade is one of the most dynamic aspects of these economic ties. In 2007, Turkey's imports from and exports to the Republic of Korea were 4.3 billion USD and 152.2 million USD, respectively. In view of the disparity between Turkey's imports from and exports to Korea, Turkey looks forward to a more balanced trade with Korea and an acceleration of Korean investments in Turkey. This will certainly pave the way for a mutually more beneficial economic cooperation between the two countries. Leading Korean companies such as Hyundai, LG and KT&G have investments in Turkey. Thanks to her unique geo-strategic position and dynamic population, efficient banking sector, technologically developed telecommunications system, well-trained work force, high quality managerial power, competitive industrial sector, rich mineral resources, Turkey has an important potential and favorable investment climate for Korean companies. Tourism is another potential field that two countries could further cooperate. The number of Korean tourists visiting Turkey has been constantly increasing during the course of the last decade. We believe that more than 130.000 Korean tourists will visit Turkey in 2008. I would like to conclude by expressing my best wishes for the prosperity and well-being of the friendly people of Korea and further cementing of our close relations between our two nations.
For further details or inquiries on this event or other embassy related news please contact the Turkish Embassy in Seoul at 02-794-0255.