America
Guantanamo Treatment for US Civilian Human Terrain Team Member
By John Stanton
National Security Writer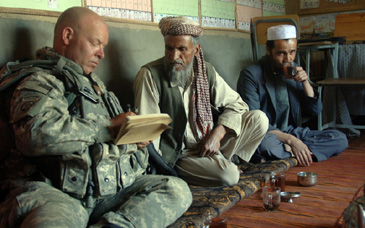 Member of US civilian Human Terrain Team (left) in Baghdad
Don Ayala of Human Terrain Team AF-4 Blue is being held in detention at Bagram AB in Afghanistan under excruciating circumstances. The Commanding General, Major General Jeffrey Schloesser, 101st Airborne Division and Lieutenant Colonel Roger Neil reportedly control Ayala's legal fate and are responsible for the quality of Ayala's treatment while incarcerated. According to sources, Ayala is receiving treatment akin to that of Guantanamo Bay, Cuba, Enemy Combatants. He is apparently being denied limited or any form of due process under US military or US civilian law. Ayala is imprisoned, according to sources, for allegedly tracking down, shooting and killing an Afghani national that doused fellow Human Terrain Team member Paula Loyd with flammable liquid and set her to flames. They report that Ayala is being kept in solitary confinement in a cage, not a cell, that does not meet US military or US federal government standards. Ayala is reportedly in leg irons and is harassed nightly by non-military police personnel assigned by 101st Airborne Command. Ayala was allegedly held for four days before being allowed to talk to his lawyer or anyone in his chain of command. He has not been allowed to use shower facilities on a consistent basis, sometimes as long as a three day period. He is not allowed any exercise, socialization or entertainment privileges and remains under a 24-hour-a-day watch. Sources allege that the fair hearing to determine confinement or protective custody was pure theater. They also indicate that the US military may have no legal jurisdiction over Ayala due to details involved in deployment and chain-of-command orders. Reportedly the US Department of Justice (USDOJ) has the ability to assert jurisdiction. USDOJ has thirty days from incident report date in order to do so or the case will remain in the lap of the US military. Sources indicate that Ayala has not been assigned military counsel (due to venue matters) and the cognizant military magistrate determined that he should remain incarcerated at Bagram AB. Human Terrain System management has derailed and wrecked the train. When will they be held accountable?Part VI of the Series. Part I is titled US Army's Human Terrain System in Disarray. Part II is titled US Army's Human Terrain System: From Super Concept to Absolute Farce. Part III is titled US Army's Human Terrain System: Madness, Mayhem and Troughs of Cash. Part IV is titled Cleaning UP US Army TRADOC's Human Terrain System. Part V is Law Breaking, Fraud Alleged at Imploding Human Terrain System Program.

Related Articles
US Stuck in the Antarctic Night like the ...
The US Empire Strikes Back: Russia Takes the ...
Who Really Is the War Criminal?
USA Sees Russia's Operation in Ukraine as ...
US President Joe Biden: Representing the Four ...
World and Regional Powers Shape the Horn of ...
Adventures in American Education
Native Americans: The First, Forgotten Slaves
Musk's Spacefaring Civilization Is Pipe Dream
Afghanistan: After Action Report
Scenario for US & NATO Invasion of Crimea and ...
Capitalism Breaks Down and Homogenizes Life, ...
Joe Biden's Shameful Push for War with China, ...
Americans Are Artificially Intelligent
Goodbye Dr. Seuss: Let's Erase the Past with ...
Post-Pandemic American Society Must Not Return ...
What Is the United States of America? A ...
The Undead Republican Party Seeks to Overthrow ...
Liquid Capitalism: Everyone Drinks It, Swims ...
Life During a Trump Second Term: Paramilitary ...
US Faces Irreparable Damage in a Cold or Hot ...
How Much Violence Is Enough for Depraved ...
No Culpability, No Accountability for 70,000 ...
Time for US Brand of Democratic Socialism
How the World Ends
Send in Pope Francis, Not the Marines
America's Education System: Teaching the ...
The United States: A Nation on Suicide Watch
Sea World Entertainment and Guantanamo ...
President Obama Channels Lord Cromwell:
President Obama's Data Harvesting Program: ...
Barack Obama's Legacy of Ashes
America's Uncle Sam: Death by a Thousand Cuts
US National Security State Fails in Boston
America Needs a New Political Party: Base it ...
Why US COIN Will Not Work: War Is Blade to ...
Obama's Bin Laden Kill Sets Precedent
Support Libya's February 17 Revolution: Time ...
Somalia Opportunity, Shadow Anthropology
Egypt Protesters Will Spark Global Mass ...
HTS Management, Army Leadership on Trial Too
Educating Americans for Campaigns of National ...
Death Threat Tarnishes US Army Human Terrain ...
The Mystical Realm of Human Terrain and COIN: ...
Human Terrain System Meets the Bowman ...
Human Terrain System: Murder Charges, ...
Law Breaking, Fraud Alleged at Imploding
U.S. Army's Human Terrain System: Madness, ...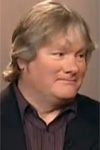 John Stanton is a Virginia-based writer, journalist, and teacher specializing in national security and political matters. He has provided his commentary on the above issues to world's famous news media, appearing CBS Evening News, ABC, and CNN. His articles have been carried in a variety of media around the globe. Reach him at cioran123@yahoo.com