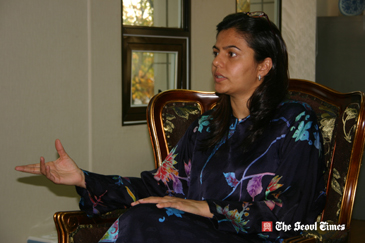 Ms. Astanah Abdul Aziz, charge d'affaires of the Embassy of Malaysia in Seoul is in interview with The Seoul Times at her office on Nov. 13, 2008. Photo by Ted Gim, staff reporter
In her strong efforts to introduce Malaysian culture to the local Koreans, a top Malaysian envoy to Seoul plans to host a special event — "Malaysia Truly Asia Kitchen 2008." In a recent interview with The Seoul Times, Ms. Astanah Abdul Aziz, charge d'affaires of the Embassy of Malaysia in Seoul said that hundreds of guests, local Koreans and foreigners alike, will be invited to the event to be held at Young Bin Gwan (Emerald Room) of the Shilla Hotel in Seoul on Nov. 19, 2008.Charge d'Affaires Astanah Abdul Aziz told The Seoul Times about the hosting of the event, bilateral issues, and her personal matters as well in the special interview.
The following is the full text of the interview questionnaire with Charge d'Affaires Astanah Abdul Aziz.
Q1: To start with, on behalf of all The Seoul Times staff and readers I would like to congratulate you on your hosting "Malaysia Truly Asia Kitchen 2008" event. First tell us the nature and characteristics of this event.
A1:
The Malaysia Truly Asia Kitchen is being organized as a means of introducing Malaysian cuisine to the local population here in Seoul. Taking into account that there is currently no Malaysian restaurant present in Seoul, and believing that Malaysian cuisine would appeal greatly to the Korean palate as well as that of foreign residents residing here, we thought this would be a good opportunity to bring a sampling of food from the various ethnic communities of Malaysia to Seoul and present them during the event. To ensure authenticity, we are flying in a Malaysian chef to prepare a variety of dishes to be served during the evening.
Q2: Compared with the previous "Malaysia Truly Asia Kitchen" events, what are the differences of this year's event in terms of its scale or the contents of the event?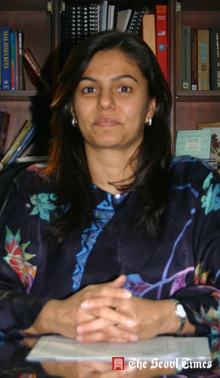 Ms. Astanah Abdul Aziz, charge d'affaires of the Embassy of Malaysia
in Seoul, poses for The Seoul Times.
A2:
The Embassy of Malaysia had hosted a similar event in 2007; however, at that time, we had combined it together with the celebration of the 50th anniversary of the Independence of Malaysia. It was a grand event, attended by an estimated crowd of 650 people from the various segments of society, both Korean and from the diplomatic corps. For 2008, we are holding the event at the Young Bin Gwan (Emerald Room) of the Shilla Hotel. We are inviting guests from the travel and tourism sector as well as from the trade and investment segment, members of the media, members of the academia as well as university students. We have also invited some individuals who have voiced interest to visit Malaysia, hoping that this event could serve as an introduction of a small part of all that is on offer in Malaysia. Other than cuisine, we will also showcase a cultural performance at the start of the event.
Q3: Thai and other Asian country's food are also very popular with Koreans. But what are the characteristics or competitive edges of your Malaysian food?
A3:
Being blessed with a rich mix of ethnicities making up a culturally vibrant Malaysia, our food similarly reflects the influences of the various peoples. As a mirror of its different ethnic roots, there are Malay, Chinese and Indian dishes, not to mention creations over time which are a mix of different elements of these different influences. As a result, one gets the rich gastronomic experience of travelling through the entire Asian continent even as one visits only Malaysia, by sampling the various dishes available there. The food also runs the entire range of mild, sweet, tangy, sour, spicy and fiery dishes. In short, there is something for every discerning palate.
Q4: It has been almost a year and a half since you arrived in Seoul to serve at your Embassy. And you are currently Charge d'Affaires of your Embassy. What are the pending issues facing the two nations. As the head of your Embassy, what would you like to do to further enhance overall bilateral relations?
A4:
Relations between Malaysia and the Republic of Korea is growing from strength to strength. There is close trade and investment cooperation between our two countries; the tourism sector is very vibrant, with tourist arrivals increasing at both ends. Malaysia and Korea have also long shared close relations between our defence sectors, with Malaysia being among the limited Embassies with a resident Military Attaché. The number of Malaysian government-sponsored students studying at the tertiary level in the RoK is also increasing, with our students generally performing very well in their studies here. Going forward, I believe relations will only get stronger, with many initiatives and projects being proposed and perfected between the two countries. ASEAN and the RoK will celebrate its 20th anniversary of relations and cooperation in 2009, with a summit meeting being proposed. In 2010, Malaysia and the RoK will celebrate the golden anniversary of bilateral relations between the two countries, and of course many celebratory events are in the pipeline to commemorate the event.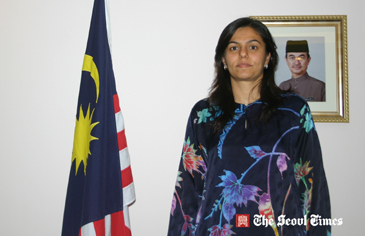 Ms. Astanah Abdul Aziz, charge d'affaires of the Embassy of Malaysia in Seoul, poses for The Seoul Times during her interview at her office on Nov. 13, 2008.
Q5: What are your plans to further increase the number of Korean tourists visiting your country?
A5:
We are quite pleased with the number of Korean tourist arrivals into Malaysia, which has been on the increase in recent years. However, we believe there is potential for this number to increase further, as even more Koreans discover the warmth and hospitality of Malaysians, its nature and beaches; the golf-courses as well as shopping experiences to be had in the country. Under the main slogan "Malaysia Truly Asia," and specifically a sub-slogan of "Fresh Malaysia" targeted at the Korean audience, we will attempt to get a closer and even better understanding of the needs and wants of Koreans when travelling and vacationing overseas.
Q6: A number of South Korean companies are now in operation in your country. What role do they play in your country? Do you have plans to induce more South Korean corporations to your country?
A6:
As the 13th largest economy in the world, and with its economy booming in recent years, Korean investors have increasingly expanded their operations beyond their shores. Malaysia has been selected as among the countries where Korean companies are confident to invest in, as it possesses skilled and knowledgeable workers who are fluent in the English language, easily trained labourers as well as world-class banking facilities, legislation and overall investment climate favourable to the inflow of foreign direct investment into the country. The Malaysian Industrial Development Authority, or MIDA, is tasked with looking into the needs and demands of Korean companies intending to invest in Malaysia so as to build their confidence in the ease of doing business in Malaysia. We hope more Korean corporations will look into the economic wisdom of establishing their operations in Malaysia.
Q7: A lot of South Korean students visit the US or Canada to study English. Compared with these countries what are some of the advantages of Malaysia for Korean students wanting to learn English? Do you have any plans to attract more Korean students to your country?
A7:
While Malay is the official language of Malaysia, English is spoken widely, and is de facto the language of business. As a proposition, Malaysia is an ideal place for Koreans to learn English – tuition fees as well as the cost of living are eminently affordable; it is located only six hours away, with daily direct flights; the support services for parents and families of students studying there is also wonderful, with many activities available for them to indulge in, including golf, diving and other sports and leisure activities; summer-like temperatures all-year round; a large resident Korean community who can be relied on for support and to allay any feeling of home-sickness; the presence of Korean restaurants throughout the country, in particular Kuala Lumpur as well as the availability of Korean products in supermarkets. Other than these factors, Malaysians are also a warm and hospitable people, who will go out of their way to ensure that guests feel welcome and comfortable.
Q8: What is the present state of people's exchanges, and cultural exchanges between the two countries? Do you have any plans to introduce more Malaysian culture to Korean people, or vice versa?
A8:
The state of people-to-people interaction and exchanges are currently quite positive, and on the increase. In an effort to further promote such exchanges, both 'direct' and 'indirect' ways are employed so as to introduce the culture and traditions of Malaysia to Koreans. For travelers visiting Malaysia, we recommend the Homestay program, where Malaysia's friendly traditional communities have opened up their homes to foreign guests so as to present them with the experience of living the kampung or village lifestyle, which we trust would cherished for a lifetime. Experiencing a homestay in a traditional village is perhaps one of the fastest and easiest ways to get to know the real Malaysia. In the meantime, for those who are still planning their trips to Malaysia, we host various cultural events such as exhibitions, cultural festivals, food promotion et cetera to prepare them for the visual as well as gastronomic feast that awaits them. In this regard, the Malaysia Truly Asia Kitchen Reception that is being organized at The Shilla on 19 November 2008 is part and parcel of the cultural promotion programme.
For details or inquires please contact the Malaysian Embassy in Seoul at 02-795-9203