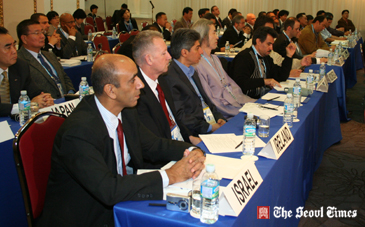 A WTF Joint Technical Meeting is under way for the amendment to the WTF Competition Rules at the Ramada Seoul Hotel in Seoul, Korea on Nov. 14, 2008, with the attendance of more than 60 taekwondo experts from about 30 countries.
As part of its ceaseless efforts to make taekwondo more action-packed and exciting, the World Taekwondo Federation held a Joint Technical Meeting for the amendment to the WTF Competition Rules in Seoul, Korea on Nov. 14, 2008.The meeting, which was held at the Ramada Seoul Hotel, drew more than 60 taekwondo experts from over 30 countries, including Mr. Dai Won Moon of Mexico, who was recently appointed as chairperson of the WTF Technical Committee.Also attending the meeting were Mr. Philippe Bouedo of France, new chairperson of the WTF Games Committee, and Mr. Herbert Perez of the United States, new chairperson of the WTF Education Committee.It marked the first time in WTF history that the WTF Joint Technical Meeting was held in an open-discussion format, with the attendance of both taekwondo experts and representatives from the WTF's 188 member national associations."This is an important meeting, which will shape the future of taekwondo as an Olympic sport. It is time to put our best effort and special attention to placing taekwondo permanently in the Olympic program," said WTF President Chungwon Choue in his speech for the participants."As I emphasized before, we need the overall amendment of the Competition Rules for more fun, transparent and fair games," Dr. Choue said. "We have now commenced a process of revising the Competition Rules to make taekwondo matches more enjoyable and exciting to both athletes and spectators alike."New Technical Committee Chairperson Moon explained about the Competition Rules amendment proposals, and the participants went through the amendment proposals item by item. Among major discussion points for the final recommendations from the WTF Technical Committee and Continental Union technical delegations to the WTF Council for approval were ;-the shortening of the court size from the present 10 meters by 10 meters to 8 meters by 8 meters;
-the change of weight categories in the World Championships to match those in the Olympic Games;
-the adoption of differentiation of points by difficulty of techniques;
-removal of a 12-point ceiling and a 7-point gap;
-the overturning of results recommendation; and
-the introduction of an instant video replay system.The WTF prepared the amendment proposals after receiving suggestions from taekwondo experts from at home and abroad and its 188 member national associations.Shortly after the Joint Technical Meeting, key officials of the WTF Technical, Games, Referee and Education Committees met to finalize a list of amendment proposals. The final proposal will be presented to the WTF Council meeting for approval in Ankara, Turkey on Dec. 15, 2008 on the occasion of the 3rd WTF World Taekwondo Poomsae Championships.