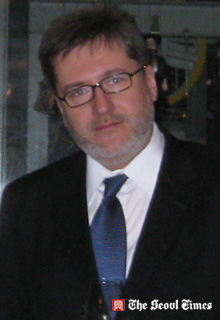 New Czech Amb. to Seoul Jaroslav Olsa Jr.
New Czech Ambassador to Seoul Jaroslav Olša Jr., emphasizes that literature is highly important to Czech people.In a recent interview with South Korea's mass circulation daily JoongAng Ilbo, Amb. Olša said that the Czech Republic was home to such world-class literary giants as Franz Kafka (1883-1924) and Milan Kundera (1929 -present).In addition to its rich history of literature, the Czech Republic is one of the few nations in which book publishing is actually on the rise, despite severe crunches in the publishing industry worldwide.A total of 17,000 new books were published last year alone in the Czech Republic, a staggering number considering its population of 10,000,000.The top Czech envoy said that even average households in the Central European nation have private book collections numbering in the hundreds. The 44-year-old ambassador is no exception.His interest in Korean literature has led him to collect approximately 30 Korean poems and novels published in the Czech language. His familiarity with Korean literature is quite impressive."Korean novelist Kim Nam-Cheon's works were translated into the Czech language and published in our country in 1947," he said. "He was shot to death in North Korea after he went to North Korea during the Korean War (1950-53)."Amb. Olša was devoted to Asian literature well before he was posted to Seoul two months ago. "I always longed for Asia, because of my father's influence. His father Jaroslav Olša the First worked as Czech ambassador to Indonesia."His father was expelled from university after he resisted the Soviet invasion of the Czech Republic in the wake of the Prague Spring of 1968.He was restored after the democratization of Czech Republic and served as ambassador to Indonesia from 1993 to 1998. Amb. Jaroslav Olša Jr. majored in Arabic, Asian and African studies at Charles University in Prague.He also studied Arabic language at Bourghiba Institute of Living Languages inTunis, capital of Tunisia.Additionally, he majored in international relations and comparative European studies at the University of Amsterdam.Before joining the diplomatic service in 1992, he worked as editor in chief of "Ikarie" science fiction monthly in Prague.He has translated or authored numerous novels and science fiction novels and published anthologies from 25 countries.While serving as ambassador he translated and published novels of several African countries, including Zimbabwe, Zambia, and Malawi. He also authored books on the arts and histories of these nations.He said that while in Seoul his biggest goal is to introduce the culture of each country to the other."It has been already 20 years since the Czech language Department was established at the University of Foreign Studies in Seoul," he said "Probably there are nearly thousands of graduates from the Czech language department now.""I want to utilize them in introducing more of Czech literature to the Korean people," he added.Amb. Olša plans to invite Czech publishers and writers to Seoul next year to attend the annual Seoul International Book Fair. He also hopes for the exchange of films between the two countries.Plans are already underway for Czech films to be invited to the annual Bucheon International Fantastic Film Festival."Czech Republic is the world's strongest in the field of animation and children's film," he said. "I will try to help the festival for more participation of Czech films."His first duty was desk officer at Czech Foreign Ministry's Department of the Middle East and North Africa. He served there between 1992 and 1993.He was the advisor to the first deputy minister from 1993 to 1996. He was in charge of arms control and arms trade. In 1996, he was promoted to director of the African Department within the ministry.In 1999 he was appointed as an ambassador extraordinary and plenipotentiary. He served in that position for Zimbabwe, Zambia, Mozambique, Angola, and Malawi between 2000 and 2006.From 2006 to 2008 he served as deputy director, and later acting director of the ministry's Policy Planning Department.He is married to Michaela Vovkova and has a two-year-old son.
For details or inquiries call the Czech Embassy in Seoul at 02-725-6765.