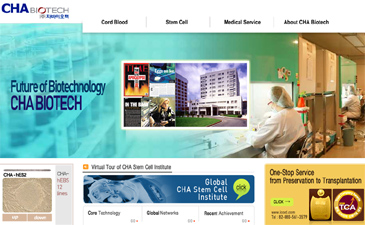 Official website of CHA Biotech Co.
WORCESTER, Mass. & SEOUL, Korea — (BUSINESS WIRE) —Advanced Cell Technology, Inc. (OTC:ACTC) and CHA Biotech Co., Ltd. (CHA), a leading Korean-based biotechnology company focused on the development of stem cell technologies, announced today the formation of a new international joint venture. The new company – Allied Cell Technology – will develop human blood cells and other clinical therapies based on ACTC's proprietary hemangioblast cell technology. ACTC will exclusively license to the joint venture, which will be majority owned by CHA, all of its hemangioblast technology. CHA will contribute working capital for the venture as well as paying Advanced Cell a license fee of $500,000. The new company will be located in Worcester, Massachusetts and will include Dr. Young Chung and the hemangioblast team headed by Dr. Shi-Jiang Lu from ACT. Dr. Robert Lanza will continue to lead ACTC's retinal program, but will serve in a consulting capacity as Allied's Chief Scientific Advisor. Besides the exclusive license and transferring the hemangioblast team, ACT will collaborate with the Joint Venture in securing grants to further the research and development of the technology. It is anticipated that this program may some day help address the critical care shortage of blood for emergency situations including military needs. The technology has also been shown to repair vascular damage in animals after heart attacks, limb ischemia, and diabetes. "We are very excited about forming this joint venture with this company recognized throughout Asia as a leader in stem cell technology," stated William M. Caldwell IV, Chairman and CEO of ACT. "CHA Biotech will provide much needed technical and financial resources to our efforts to commercialize an O Negative stem cell derived blood product. Dr Lanza and his team will work with the new company to move this program into the clinic." "Stem cell research is increasingly becoming an international collaborative effort," said Dr. Lanza, ACT's Chief Scientific Officer. "This venture represents the accelerating globalization of biotechnology. South Korea is one of the wealthiest countries in Asia and boasts the highest scientific literacy in the world. It is also home to world leaders in technologically advanced goods, including companies such as Samsung, LG and Hyundai. We are excited to be part of this growing international effort based on cooperation between the biotechnology industry, academia, and research institutes." "We believe ACT's hemangioblast cells have great potential in addressing many unmet medical needs through the use of stem cell technology," said Dr. Hyung-Min Chung, CEO of CHA Biotech.. "We look forward to working closely with them to commercialize this promising technology. Similarly, we look forward to working with ACT on other stem cell technologies and increase the areas of cooperation between the two companies." ACT also licenses technology to START, a partnership between Exeter Life Sciences and Geron Corp (NASDAQ: GERN), a subsidiary of BioTime Inc. (BTIM) and International Stem Cells Corp (OTCBB: ISCO).
About CHA Biotech
CHA Biotech, a leading stem cell company in Korea, was established in September 2000 by Pochon CHA University College of Medicine and CHA General Hospital Group to create a central, multidisciplinary research facility where the university's scientists and hospital physicians could come together and focus their efforts on developing stem cell, gene therapy and regenerative medicine technology. CHA Biotech presently operates the largest stem cell research institute in Korea occupying a modern 130,000 sq. ft., state-of-the-art facility staffed with over 20 professors and involving 130 of the most prominent research scientists. The Company also successfully operates CHA i-Cord, a cord blood bank, and a mobile healthcare unit called CHA Paramedic Service, both of which were rated #1 in consumer reliability surveys in Korea. As part of its global business strategy, CHA Biotech expanded its operations to the United States in 2002 with the opening of CHA Fertility Center in Los Angeles followed by the 2005 acquisition of Hollywood Presbyterian Medical Center, a 434-bed general, acute-care hospital also located in LA.
About Advanced Cell Technology, Inc.
Advanced Cell Technology, Inc. is a biotechnology company applying cellular technology in the emerging field of regenerative medicine. It currently has approximately 350 million tradable shares in circulation with its laboratory located in Worcester, Massachusetts. For more information, visit www.advancedcell.com
Forward-Looking Statements
Statements in this news release regarding future financial and operating results, future growth in research and development programs, potential applications of our technology, opportunities for the company and any other statements about the future expectations, beliefs, goals, plans, or prospects expressed by management constitute forward-looking statements within the meaning of the Private Securities Litigation Reform Act of 1995. Any statements that are not statements of historical fact (including statements containing the words "will," "believes," "plans," "anticipates," "expects," "estimates," and similar expressions) should also be considered to be forward-looking statements. There are a number of important factors that could cause actual results or events to differ materially from those indicated by such forward-looking statements, including: limited operating history, need for future capital, risks inherent in the development and commercialization of potential products, protection of our intellectual property, and economic conditions generally. Additional information on potential factors that could affect our results and other risks and uncertainties are detailed from time to time in the company's periodic reports, including the report on Form 10-QSB for the quarter ended March 31, 2008. Forward-looking statements are based on the beliefs, opinions, and expectations of the company's management at the time they are made, and the company does not assume any obligation to update its forward-looking statements if those beliefs, opinions, expectations, or other circumstances should change. Forward-looking statements are based on the beliefs, opinions, and expectations of the company's management at the time they are made, and the company does not assume any obligation to update its forward-looking statements if those beliefs, opinions, expectations, or other circumstances should change.