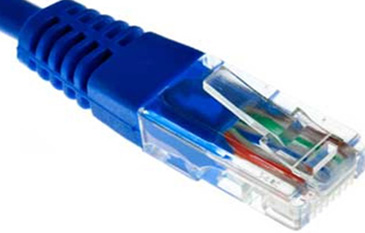 High-speed broadband reigns in South Korea.
With one of the most advanced IT infrastructures in the world and almost universal access to surfing the net, Internet addiction is on the rise in South Korea. Often called "the worlds most wired country," over 10 million people are subscribed to super fast broadband connectivity and have made using the internet part of their daily life. Now efforts are underway to control this growing problem as it is thought that more than a third of web users are at risk of dependency and what experts are calling a compulsive disorder.Initially many don't even notice that there is a problem with the amount of time they spend online as the net is an amazing resource for information sharing and an essential part of promptly communicating with others. It also plays a vital part in the economy as millions of people earn an income by working online. Today there is endless potential in 'cyber-space,' with services offering everything from online shopping to phone calls that prove to be much cheaper through the internet than doing it the conventional way.So what's the problem? Over-reliance to "logging on" is becoming even more common especially among people over 23 who often think this is an issue only affecting adolescents and continue as if nothings wrong. Methods of 'socializing' through groups such as Facebook and online dating sites have lead to millions of people spending between 6 to 12 hours a day using the internet as a recreational tool.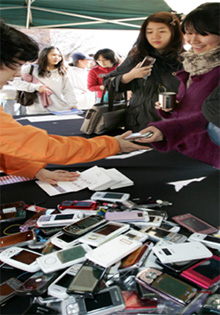 Students hand over cell phones on "Log Out Day."
Users show an obsessive need to log on, check e-mails or just go back to surfing any moment they can. Often staying up till early hours because they cannot leave the computer, then booting up again when they awake. According to Dr Dannon a senior lecturer and researcher focusing on addiction at Tel Aviv University: "sufferers experience a lack of sleep, isolation from friends and family, loss of focus at work, anxiety when not online and periods of deep depression." Another major trait of this habit is self deception - thinking that nothings wrong and that this is just a normal hobby. Friends of mine who have been living in Korea for a while now all agree that they spend more time online here than back home and surely do reflect some of the symptoms mentioned above — whether they can be classified as addicts can be questioned. Various websites fuel other obsessions as online gambling, blogging and sex related websites also keep users extremely occupied. Being in a country where downloading is quick and common also leads to a huge amount of time being spent in front of the computer. Currently Korea has one of the highest volumes of users showing signs of addiction to online gaming. Here it is considered a professional sport where gamers sit up for hours and sometimes days challenging each other either from home or in one of the 25 000 "PC bangs" (gaming rooms) which remain open 24hours a day. Korea had several extreme cases where zealous gamers collapsed and died from playing for days on end. Experts are saying the definition of an addict is less to do with the amount of time spent online but more about the central role computers and the internet can play in someone's life. Some also agree that this fairly new problem is inevitable of modernisation and a technologically advanced society.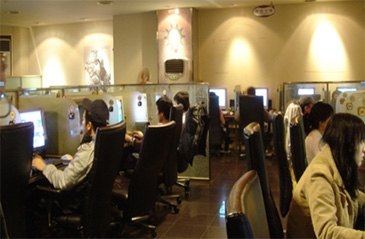 Gamers battle online in a PC bang in Seoul.
South Korea's government realises that this is a serious problem and have set up over 140 Internet-addiction counseling centers that offer treatment programmes to help those who are spending an excessive amount of time online. The Jump Up Internet Rescue School – the first of its kind in the world – in Mokcheon near Seoul is a centre focusing on this issue. Instead of playing video games and surfing the net patients are pushed through physical training exercises, learn to ride horses and are given therapy workshops on more creative interests such as hand crafts and playing musical instruments. Lee Yun-hee, a councillor at this centre says their main aim is to encourage team building and a lifestyle that re-connects them to the real world instead of the internet and reliance on electronic devices as many Koreans today "don't know what this is like."On November 11 this year students from the Seoul Women's University in Gongreung-dong handed in their mobile phones calling it the Log Out day. An initiative designed by the University to free students from all networks for just one day and instead of using their handsets or Internet services they had to keep in touch via hand written notes and postcards as apposed to how they usually communicate. Koh Young-sam, head of the government sponsored Internet Addiction Counselling Centre told media: "Korea has been most aggressive in embracing the Internet. Now we have to lead in dealing with its consequences."Though some health experts question whether excess use of the Internet is an addiction in the strict medical sense, several agree that it has become an increasing problem in many countries. Doctors in Germany, Taiwan and China have reported similar disorders especially in teens. According to Greenfield Online, a consumer and marketing research firm, "out of approximately 83 million internet users in the United States, 11 million suffer from addiction."If you or some-one you know spends an excessive amount of time online an is experiencing problems as a result there of, don't hesitate to contact some of the following centres in South Korea that offer counselling sessions and advice on internet addiction.* 만약 당신이 인터넷 중독으로 인해 전문가의 도움이 필요하다면, 다음 아래의 사이트를 이용할 수 있다. 한국정보문화 진흥원 (KADO)의
Korean Agency for Digital Opportunity & Promotion인터넷 중독 예방 상담센터
Internet Addiction Prevention Counseling Center
https://www.kado.or.kr/IAPC/index.asp