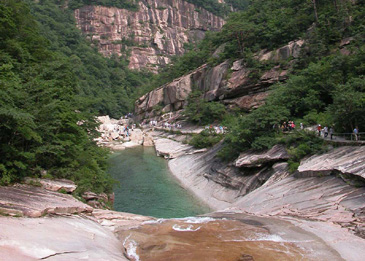 Tourists take in the pristine nature of Diamond Mountain.
One early Saturday morning September, 2007, I embarked on a trip to a popular tourist destination: Geumgang-san, a.k.a. Diamond Mountain. The site boasts a gorgeous mountain range, cliffs, waterfalls, and some of the most spectacular landscape of the Korean peninsula. It also happens to fall on the North Korean side of the border.
Until ten years ago, this site, like the rest of the 'hermit kingdom,' was closed to the outside world. You can no longer visit Geumgang-san - as of November 29th, it is closed again.
The South Korean government understandably suspended visits to the site after a tourist was shot in the back by North Korean soldiers there last July. Since then, North Korea has gone on to nationalize the capital investments made there by South Korean tourism companies. Most notably, the hotels, golf courses, and spas constructed by Hyundai over the past decade have been expropriated without challenge.
My own trip came before all of this, at the tail end of ten relatively stable years for the Geumgang-san venture between North Korea and South Korean companies. It appeared a success, and I told myself that Geumgang-san, along with another joint industrial project at Gaesong were great signs of progress for North Korea, capitalist inroads even.
My homestay family had organized the vacation, all that was required of me was a copy of my passport. Despite their reassurances, I found myself restless on the eve of the trip. What risks was I exposing myself to by putting myself at the mercy of a totalitarian regime? While North Korean citizens were being shot attempting escape from the horrors of that country, I was walking in. Most disturbingly, aside from personal risk - what I was supporting by patronizing tourism in North Korea?
Painfully aware there was no Canadian embassy in North Korea, nor any form of international authority to appeal to in the case of emergency, I sent emails to friends and family letting them know where I'd be. Redundant, maybe. The messages read something "like don't come looking for me if you don't hear from me."
On Our Way
Several hours driving through the beautiful Ganghwan-do Province went by quickly, and as we approached the 38th parallel, I began to notice a definite military presence. The view of the sea from the highway became obscured by high barb-wired fences, intermittently placed guard posts, and heavily-armed squadrons of soldiers patrolled the shore.
During conversations with my homestay family, I was surprised to learn that grandfather's hometown was the North Korean capital, Pyeongyang. Like thousands of others, he migrated to the South in search of a better life sometime prior to the border being sealed, leaving behind friends and family. To this day, he has no idea what has become of his brothers, sisters, or parents. Not surprisingly, he has visited North Korea frequently in the past ten years, hoping to catch a glimpse of a long-lost face.
My group - my homestay mother, father, grandfather, two children, and I - arrived at our hotel sometime in the evening, a condo on the South side from where we would head to Geumgang-san early the next morning. Our room offered a beautiful view of the East Sea, and I decided to sleep in the living room amidst the sound of waves crashing against the rocky shore. After dipping my feet in the sea, a great meal prepared by my homestay mother, and a few beers (which helped somewhat to put me at ease), I settled down for a troubled sleep, tellingly interrupted by military naval spotlights searching the nearby sea.
The next morning I would be surrendering my freedom to gaze at a mountain.
The Big Day
It began with a quick breakfast and watching the sun rise over the East Sea. In the pre-dawn morning, the lights of distant squid boats out for the early catch peppered the water like so many stars. The weather was cool and crisp, and I was full of anticipation for the day ahead.
We loaded the SUV with the day's provisions and departed. My homestay family explained that we would be entering the North by bus, so our first stop would be the bus station. When we arrived, it became apparent that among the group of two or hundred so fellow tourists that day, I was the only non-Korean. My apprehension increased.
Upon check-in, we were issued a photo ID to be worn at all times during the tour. Next, we loaded the buses and headed for our next stop, the South Korean customs office. It wasn't unlike one of the more rural or less-used immigration checkpoints you might find along the Canada-U.S. border, and the process there was exactly what one would expect to undergo when leaving a country. My passport was stamped with an exit, and it occurred to me that, according to my passport, I didn't exist anywhere at that particular moment.
There are rules?
Once we were back on the bus, our tour guide began to brief us on the 'rules of conduct' while North of the border. Adherance to these rules would mean a better chance of returning to karaoke rooms and kimbap restaurants at the end of the day - something I personally looked forward to, given the alternative. I had seen enough interviews of North Korean defectors to know that there really was only one punishment under the DPRK regime - a bullet.
As much as I wanted to understand first-hand what our guide was saying, my limited Korean left me no choice but to rely heavily on my homestay family for translation. The fact that their explanations amounted to approximately a third of what was actually being said began to worry me. What was I missing?
The rules for visitors were exactly what you would expect from a government that keeps its citizens in a state of paronoid fear of, and ignorance about the outside world.
We were told to speak only with the North Korean guides - conversation with other North Koreans was not permitted.
Under no circumstances were photographs of any North Koreans permitted, particularly military personnel. As a matter of fact, photographs were prohibited except when announced otherwise by our guide.
Horseplay, running, shouting, or any behaviour that could be misconstrued as threatening by North Korean guards was prohibited. Most importantly, making the shape of a gun with your hand, as children do, was strictly forbidden. Was there a precedent for this? Apparently so.
A camera could be brought, so long as its zoom capability was 10X or less. This confirmed my suspicions that everything visible during this tour had been carefully planned by the North Korean government. Although eager for tourism dollars, the last thing the DPRK wanted was more images of its rampant poverty and disease spreading internationally. I took a quick look at my camera and breathed a sigh of relief - 10X zoom.
The Border
Incidentally, going through the border was one of those times when cameras were to be off and out of sight.
The border was heavily militarized. North Korean soldiers, sporting the latest in fascist military fashions (WWII?) marched around in their now world-renowned, exaggerated stride, with rifles over their shoulders. They looked very unhappy, and ill-fitting uniforms only accentuated thin, malnourished bodies.
My trouble started when the immigration officer, a soldier, asked me how an unemployed person like myself could afford to travel. In broken Korean, I attempted to explain that I had saved money in Canada, while employed, in order to travel throughout Asia. He obviously didn't like what I had to say, or couldn't grasp this simple concept, as he stood up and began shouting. He accused me of lying on my visa application. When my homestay mother tried to interpret and defuse the situation, she was waved away. The guard told me to stop pretending I couldn't understand. He said it was obvious to him that I could I speak Korean fluently, and that it would be in my best interest to stop pretending otherwise.
Why was this happening? Was I being singled out as the only foreigner in the group? Being made an example of? How far would it go? I found it difficult to think clearly, let alone communicate in a third language, at the point of a gun.
After consulting with his superiors (about what, I have no idea), I was ordered to to surrender my passport. A solution to my 'problem' would be reached by the end of that day, and my passport would be 'available' when I recrossed the border going back into South Korea.
I was entering North Korea without so much as a passport. But with no Canadian embassy, did it really make a difference?
This story will be continued in next weekend's edition of The Seoul Times.