Middle East & Africa
Iraqi Scribe Stands Up to US President
By Tahir Khan
Bombay Correspondent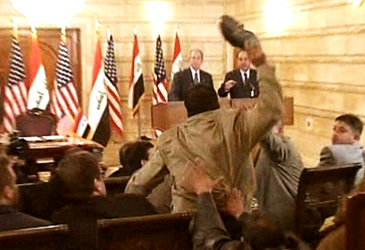 Iraqi journalist hurls his shoe to US President George Bush.
It is a 10 size. The Iraqi journalist, Muntader al-Zaidi, 28, a correspondent for Al Baghdadia, stood up in fort of Bush during news conference in Iraq and shouted "this is a gift from the Iraqis; this is the farewell kiss, you dog"Zaidi then threw his other shoe, shouted "this is from the widows, the orphans and those who were killed in Iraq"Both shoes missed Bush narrowly and in reaction Bush replied by making a joke. "all I can report is it is a size 10" The both shoes represent outburst of pain and anger faced by Iraqi from last 20 years by economic sanction and war imposed on them without their will in fanciful names like operation desert storm, collateral damage or operation endeavor freedom. These shoes for US policy maker who accept now we did wrong with Iraq, and claim unfortunately we do not find any weapon of mass destruction in Iraq. And for those who support US action. This is clearly visible US policies left Iraq in chaos of sectarianism and civil war. But they continuously denying and wants others to bear the responsibility for his blunders. This is not issue how much injury suffered by journalist in form of broken bones or bleeding during over come by security guard or how much imprisonment he will get.This is also not issue Zaidi done wrong or right or there is any other way to express anger he can adopt. He is stupid or hero. The public support of journalist shows how people are disagree with US occupation and they do not accept US presence and how long they will suffer still unanswered. Now people are realize US policies against Iraq are completely wrong and biased. But US policy maker continuously forcing the Iraqi to accept US occupation, Iraq division and puppet regimes. US can not justify their action under pretext of Saddam regime or war against terrorist. If they really support democracy they have to leave Iraq and accept people mandate. US have to accept what they have done with Iraq death of innocent people, destroyed infrastructure and anarchy. The real issue is what US policy maker are doing and we also praise the eye sight of Bush who can guess the number of flying shoe.

Related Articles
"Korean Trade Fair in India 2019" Huge Success
Babri Mosque Demolished on Dec. 6, 1992
Legitimacy of Kashmir Struggle of Independence
The Tamil and Sinhalese Conflict
Postmortem Is Over
Bhopal Gas Disaster Dec. 3, 1984
Afzal and Advani
Moon versus Manhole
Pawn Has Gone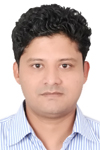 Mr. Tahir Khan serves as Bombay correspondent for The Seoul Times. Based on Bhopal, India he covers Bombay and other areas. He studied computer, journalism and biology at universities. He writes on various topics like world politics, currents events, news analysis and science.