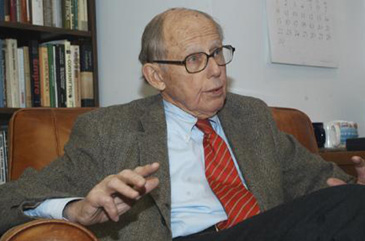 The late Harvard University Prof. Samuel P. Huntington
Harvard University Prof. Samuel P. Huntington has died at the age of 81 on Dec. 24, 2008 after a long illness, a Harvard spokesman announced.The renowned political scientist, who argued that cultural and religious differences would replace ideology as a source of international conflict, died on Martha's Vineyard, Massachusetts, where he had vacationed for 40 years, said Corydon Ireland. There will be a private burial service Martha's Vineyard. The cause was congestive heart failure and complications from diabetes, Ireland said. The Weatherhead Center for International Affairs, once headed by Huntington, said he died in a nursing home. Huntington is best known for his "clash of civilizations" theory, which attributes warfare between nations to underlying religious and cultural differences. His theory was first published in the journal Foreign Affairs in 1993.With his theory he argued that the post-Cold War world would be divided among seven or eight cultural "civilizations."He identified those civilizations as Western (including the United States and Europe), Latin American, Islamic, African, Orthodox (with Russia as a core state), and Hindu, Japanese, and "Sinic" (including China, Korea, and Vietnam).The theory caused a stir when it was first published in 1993 but later gained support, particularly after the Sept. 11 attacks, which some pointed to as evidence of the cultural strife predicted by Huntington's theory.Huntington argued that in a post-Cold War world, violent conflict would come not from ideological friction between nations, but from cultural and religious differences among the world's major civilizations.His views were later published in a 1996 book, "The Clash of Civilizations and the Remaking of World Order." It was translated into 39 languages.Huntington was born April 18, 1927, in New York City. He graduated from Yale College at 18, and taught at Harvard from 1949 until 2007.
He was the Albert J. Weatherhead III University Professor at Harvard, chaired the Government Department twice and was director of the university's Weatherhead Center between 1978 and 1989.He also led the Harvard Academy for International and Area Studies from 1996 to 2004.He served as coordinator for security planning between 1977 and 1978 in President Jimmy Carter's National Security Council.During his lifetime, he was the author, co-author, or editor of 17 books and more than 90 articles.A 58-year veteran of Harvard, Huntington held one of 21 prestigious University professorships. In his long and distinguished career, Huntington also advised then-Vice President Hubert Humphrey during his 1968 bid for the presidency, co-founded the magazine Foreign Policy, and twice served as chair of Harvard's government department.The University is planning a memorial service for sometime in the spring.Huntington is survived by his wife, Nancy, two sons and four grandchildren.
Samuel P. Huntington
From Wikipedia
Samuel Phillips Huntington (April 18, 1927–December 24, 2008) was an American political scientist who gained prominence through his Clash of Civilizations (1993, 1996) thesis of a post-Cold War new world order.Previously, his academic reputation had rested on his analysis of the relationship between the military and the civil government, his investigation of coups d'état, and for his more recent analysis of threats posed to the U.S. by contemporary immigration.Huntington graduated from Yale with distinction at age 18, served in the army, earned his masters degree from the University of Chicago, and completed his Ph.D. at Harvard University where he began teaching at 23.[1] He was a member of Harvard's department of government from 1950 until his death.His first major book was The Soldier and the State: The Theory and Politics of Civil-Military Relations, which was highly controversial when it was published in 1957 but today is regarded[who?] as the most influential book on American civil-military relations.In the 1960s, he became a prominent scholar upon publishing Political Order in Changing Societies, a work that challenged the conventional view of modernization theorists that economic and social progress would produce stable democracies in recently decolonized countries.As a consultant to the U.S. Department of State, and in an influential 1968 article in Foreign Affairs, he advocated the concentration of the rural population of South Vietnam as a means of isolating the Viet Cong. He also was co-author of The Crisis of Democracy: On the Governability of Democracies, a report issued by the Trilateral Commission in 1976. During 1977 and 1978 he was the White House Coordinator of Security Planning for the National Security Council.