Amb. Perenlei
Amb. Perenlei talks with Director Seo Doo-Won of The Seoul Times in his embassy in Hannam-dong on July 20, 2004.
"It should be totally up to the will of South Korean people whether to move capital city or not," argued Mongolian Amb. Urjinlhundev Perenlei in a recent interview with The Seoul Times on July 20, 2004.In the exclusive interview held on July 20, 2004 in his own embassy in Hannam-dong, the top Mongolian envoy stressed the will of the Korean people instead of government officials' or politicians.' He said that moving the capital city is a matter grave enough to be decided by referendum, not by political decisions.He added that "It is very obvious that many embassies will have difficulties in their functions and activities when South Korean government moves its capital out of Seoul.""We may have to open a consulate or consulate general in Seoul for the Seoul's significance in case we have to move our embassy to the new site to which South Korean government is trying to move," Amb. Perenlei said. "Other ambassadors are very worried about this, as well."The Mongolian envoy said "we have no choice but to follow the final decision South Korean government makes."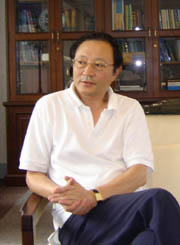 Amb. Urjinlhundev Perenlei
Mongolia observed its National Day on July 11, 2004. Mongolian National Day is also called as Independence Day as Mongolian people acquired its independence from China on July 11, 1921. The interview was granted to The Seoul Times on the occasion of the observance of the 83 years of its national independence.During the hour-long interview Amb. Perenlei commented on the meaning of its National Day, and a number of bilateral issues, and other matters of mutual concerns including Korean unification. In particular, he specified ways of boosting bilateral exchanges at grass roots' level.Amb. Perenlei explained that July 11 is its National Day or Day of People's Revolution which marks the events that led to Mongolia's independence from China. Mongolians widely celebrate the day as it means freedom and independence, and national sovereignty to the descendants of the world's greatest conqueror Genghis Khan (1167-1227)."We believe in democracy and market economy," said Amb. Perenlei. "Now, Mongolian people are working hand in hand with people in major countries of the world."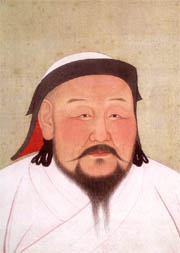 Ghengis Khan (1167-1227)
Amb. Perenlei painted a bright picture of bilateral economic relations between Seoul and Ulan Bator. "For relatively short period of relations Ulan Bator has been cooperating closely with Seoul in political, economic, and cultural areas," said Amb. Perenlei. Seoul initiated formal ties with the former Communist country merely 14 years ago.To Mongolia South Korea is a major investor only after China and Russia. South Korea is Ulan Bator's third largest trade partner. As of July this year nearly 10,000 Korean people have visited Mongolia.Over 20,000 people from Mongolia came to South Korea, involving themselves in a variety of generally "menial professions." Mongolian workers, dubbed as "3-D laborers" by the Mongolian envoy, are the major work forces sustaining South Korean society from the bottom. "Three D" stands for dirty, difficult, and dangerous in the local term.Recently, the number of South Korean businessmen visiting Mongolia is on the steep rise. Even big shots from business circles frequently head for Ulan Bator. Among them are Chairman Chung Mong-Gu of Hyundai Motors and Chairman Cho Yang-Ho of Hanjin Business Group which owns Korean Air (KAL).On July 19, 2004, a group of South Korean businessmen and government officials went to Ulan Bator on a four-day mission to explore investment opportunities in Mongolia. They are only a part of the businesspeople visiting the Mongolian capital for commercial purposes.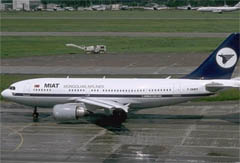 Mongolian Airlines (MIAT)
Presently, the Korea's national flag carrier, KAL, flies to Ulan Bator everyday form its base in Incheon International Airport. Mongolian Airlines (MIAT) also offers daily flights between the Mongolian capital and South Korea's Incheon airport."Airplanes were almost empty back in 1994 when the direct flights between the two countries was first opened," said Amb. Perenlei who, as the first Mongolian ambassador to Seoul, laid the foundation for a host of bilateral exchanges including the opening of direct air route.These days nearly all the flights between the two capital cities are literally booked up way in advance, according to the ambassador. "But, more important is civilian exchanges at grass roots' level," said emphatically Amb. Perenlei."He said that he wants to further promote lay-persons's level of exchanges between the two nations. "More civilian groups or organizations should be exchanged for friendship or any type of cooperation," said the ambassador. "Not only major cities but also small towns in rural areas should take part in these exchanges."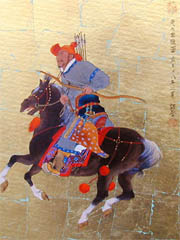 In one good example, Chairman Kim Ho-Yon of Binggrae, a leading food maker in South Korea, started a good will project for the low-income Mongolians in rural areas. Chairman Kim is building log houses called "houses of love" for the needy Mongolians. Dedication ceremony will take place in the middle of August.Another exemplary case is the "humanitarian" medical service offered to Mongolian laborers by a local Songae Hospital headed by Dr. Kim Yoon-Gwang. Dr. Kim serves as honorary consul for Mongolia."I feel very thankful to Chairman Kim and Dr. Kim for their contributions," Amb. Perenlei said."There are a lot of similarities between Mongolia and Korea aside from ethnic and linguistic closeness," said Amb. Perenlei. "For one thing, both Koreans and Mongolians love "boiling" food. Both people chose "boiling" among the three types of cooking — boiling, frying, and baking (grilling) — in the world, according to his description.Amb. Perenlei argued that both peoples love seol-long-tang or beef soup. Seol means soup both in Korean and Mongolian tongues. Both languages belong to Ural-Altaic languages group.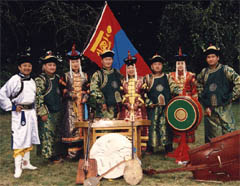 Among the "Mongoloid races" scattered around the world the Mongolian blue spots are found most commonly with Korean and Mongolian peoples."Yet, the most important and conspicuous common traits between the two peoples is hospitality toward visitors," said Amb. Perenlei. "Mongolians are very considerate of, and try to be nice to the guests, just like Korean people." A fluent speaker of Korean, Amb. Perenlei served as ambassador to Pyongyang for many years after he graduated from college in the North Korean capital.
Who Is Amb. Urjinlhundev Perenlei?
Mongolian Amb. Urjinlhundev Perenlei joined in the Ministry of Foreign Affairs in Mongolia right after he graduated from Korean National University (Kim Il Sung University) in Pyongyang in 1971. He majored Korean history from 1967 to 1971 in the North Korean capital.Amb. Perenlei also studied at Diplomatic Academy in Moscow between 1979 and 1982 and at Academy of Social Sciences in Moscow in 1989. He was also a visiting scholar at Institute of East Asian Studies of UC-Berkeley in the US from 1997 to 1998.He was appointed as ambassador to Pyongyang in 1984 serving in the Communist country for five years.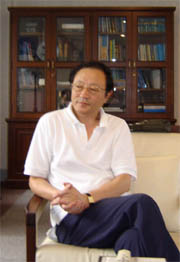 Amb. Perenlei in his study
He became the first Mongolian ambassador to Seoul in 1991 with the start of diplomatic relations between Seoul and former Communist country. He was serving chief of administrative department in the Foreign Ministry until he was nominated as the first ambassador to Seoul. During eight years of his ambassadorship in Seoul he laid all foundations for the successful bilateral ties the two countries are enjoying.After his first term as the highest Seoul envoy, he went back to Mongolian Foreign Ministry where he worked as chief of protocol and department director of policy planning, and information and monitoring between 1998 and 2001.Born in 1947 Amb. Perenlei has two sons and two daughters between his wife Ms. Vandan Batnasan. He plans to spend his summer vacation, riding horses in Ulan Bator with his six-year-old grand son who now goes to a piano school in Seoul.
What Is Naadam Festival on National Day?
Naadam festival is held in every somon, in every aymag seat, and in the great stadium in Ulaanbaatar on July 11, its National Day. Nadam is the most important and largest festival in Mongolia. Actually, Naadam is short for Eriin Gurvan Naadam, meaning the "Three Manly Games," which is an ancient nomadic Olympic gamers of archery, horse riding, and wrestling.As an administrative unit, somon is a subdivision of an aymag, which has a traditional meaning of a tribe. Somon, which means an arrow, was a hereditary military unit of about 100 families during Qing Dynasty (1644-1911).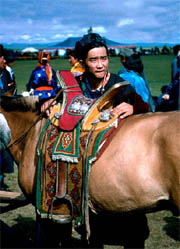 A rider at Naadam festival
The Nadam celebrations attract large audiences and are very important occasions for the normally dispersed nomadic folks to gather in large crowds, to renew old acquaintances, and to make new friends. Wrestlers, archers, and horse riders dressed in traditional costumes, and a large bowl of ayrag, fermented mare's milk, is poured over the head of the winning horse in a form of libation practiced on the steppes for over a millennium.Each wrestler is accompanied by a herald or bard, who chanted verses extolling his hero in a centuries-old format. There is a hierarchy of contests, with the winners at one level going on to the next, so that the national Naadam in Ulaanbaatar bring the champions from all over the country.The winning wrestler is a national hero, and, while the contests have no obvious political content, they provide an opportunity for the political elite and the ordinary people, the herders and the urbanites, to reaffirm their common Mongolian identity and culture.More Naadam story by Mr. Gluckman,
http://www.gluckman.com/Naadam.html