Santorini Island —
Santorini is a small, circular group of volcanic islands located in the Aegean Sea, about 200 km south-east of the mainland of Greece, just over 100 km from the island of Crete. The capital city is Fira and there is a total population of 13,600. Santorini Island is one of the most popular tourist attractions in Greece.
About 10 photos of Greece will be displayed at Lotte Department Store in Sogong-dong, Jung-gu, Seoul from Jan. 9 through Jan. 14, 2009.The Greece Photo Exhibition will be hosted by the Greece National Tourist Office.The 10 photos representing tourism spots in Greece will be exhibited in front of the department store.The photos will depict cultural relics in Athens and the natural beauty of Santorini Island.The photo exhibition is aimed at promoting tourism to the Mediterranean country.Round trip air tickets, hotel accommodations, and T-shirts bearing the Greek emblem, will be parceled out as part of the tour promotion program.A tape-cutting ceremony will be held at 10 a.m. on Jan. 9, 2009, to coincide with the opening time of the department store.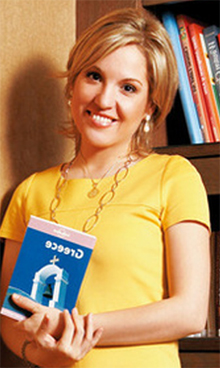 Ms. Sofia Panayiotaki, director of Greece National Tourist Office
Consul Vassillis Ziros of the Greek Embassy in Seoul will participate in the event. Ms. Sofia Panayiotaki, director of the Greece National Tourist Office in Tokyo will also fly to Seoul for the event.Ms. Panayiotaki is in charge of both the Japanese and South Korean markets. In June 2008 she visited Seoul to attend the Korea World Travel Fair. She is based in Tokyo.With her efforts South Korean tourists to Greece increased two-fold last year, according to a local news report.The former TV personality in Greece is busy covering both Asian countries. As an avid traveler herself, she speaks fluent English and Japanese.For details or inquiries contact Elaine Ahn at 82-2-773 6430 or the Greek Embassy in Seoul at 82-2-729-1400.