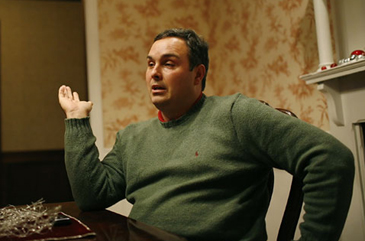 Eric Crafton, the metropolitan councilman behind the proposal, calls the plan English First.
NASHVILLE — In crisp Japanese, the metropolitan councilman read aloud his resolution to limit Nashville government workers to communicating only in English."Kono jyoukyou wa kaeru bekidesu," said the councilman, Eric Crafton, who is fluent in Japanese. Translated, it meant, "This situation must change."The fact that few people, if any, attending the council meeting understood Mr. Crafton proved his point. Nashville, like most cities in the country, allows government officials to communicate in any language they choose, and Mr. Crafton wants to end that practice.In a proposal that has defined him publicly and dominated local politics for two years, Mr. Crafton hopes to make Nashville the largest city in the United States to prohibit the government from using languages other than English, with exceptions allowed for issues of health and safety. On Jan. 22, city residents will vote on the proposal, which Mr. Crafton calls English First and critics call English Only."I happened to see a state legislature meeting in California where several of the state representatives had interpreters at their desk because they couldn't speak English," Mr. Crafton said. "That's not the vision I have for Nashville."But the vision he does have for Nashville — and eventually America — has drawn criticism from Mayor Karl Dean and a broad coalition of civil rights groups, business leaders, ministers and immigration experts. The leaders of nine institutions of higher education in Nashville wrote an opinion article in The Tennessean newspaper opposing the proposal, which they said would sully the city's reputation for tolerance and diversity."The irony of the city known as the 'Athens of the South' becoming the first major metropolitan community in America to pass 'English only' is a distressing prospect," they wrote. The Nashville Area Chamber of Commerce, in a rare alliance with liberal groups like the Green Party, has opposed the proposal for business reasons. "Economics is global, and to be competitive you cannot drive away immigrants and the businesses that rely on them," said Ralph J. Schulz, the chamber president. "Businesses from outside Nashville have been calling and saying, 'Is Nashville a xenophobic place?' "The city government spends more than $100,000 on translation and related costs every year, Mr. Crafton said, adding that he believes the cost of those services should be borne by the constituents who require them.Mr. Crafton, 41, who became fluent in Japanese after serving in the Navy in Japan in the 1990s, said he also believed that encouraging immigrants to learn English would help them assimilate.Jonathan Z. Crisp, a former chairman of the county Republican Party and a supporter of the proposal, said: "Our opponents talk about Nashville being the 'Athens of the South.' But if you go to the other Athens, in Greece, all of the government workers are speaking Greek."Thirty states, including Tennessee, and at least 19 cities have declared English the official language, according to Rob Toonkel, a spokesman for the U.S. English Foundation, which advocates such policies. But most of the cities are small, places like Hazelton, Pa., and Culpeper, Va.In Nashville, which has a population of about 600,000, two factors have been driving interest in Mr. Crafton's proposal: the booming immigrant population and the faltering economy. In the 1990s, the number of immigrants in Nashville tripled, according to government estimates, and more than 10 percent of residents were born outside the country. But over the past year, as the state unemployment rate rose to 6.9 percent from 5 percent, experts say, immigrants came under greater criticism."While the immigrant population burgeoned, there was very little organized anti-immigrant attitude," said Daniel B. Cornfield, a sociology professor at Vanderbilt University. "But the anti-immigrant sentiment seemed to mobilize as the economy slowed down."On a recent weekend, volunteers for a coalition called Nashville for All of Us, which opposes the proposal, knocked on doors and distributed campaign literature in Woodbine, a heavily Hispanic neighborhood.Melissa Gordon, 29, a graduate student, and Laura Barnett, 24, a recent college graduate, rang the doorbell at David Morales's ranch-style house. Mr. Morales, a Mexican immigrant and language translator, told them he already knew about the proposal and planned to vote against it."It's part of a larger problem of people not understanding immigrants: their habits, their languages, their barbecues in the front yard," he said. "It's more than just fear about jobs. It's fear about a whole way of life."But Mike Watson, 40, a construction worker interviewed in downtown Nashville, said he supported Mr. Crafton's proposal. "It's not about racism or anything," Mr. Watson said. "I just think we need to save our money in this economy, and we can't be translating everything into any language all the time."Early voting began on Jan. 2 and will continue until Jan. 17. With low turnout expected, as with any ballot initiative, the election will depend on which side can rally supporters without mobilizing the opposition, said Michael P. McDonald, a political science professor at George Mason University in Virginia. "There are high levels of support for these types of measures if people don't view them as punitive against immigrant communities," Mr. McDonald said. "The trick is, you don't want to somehow motivate your opponent's voters with emotional rhetoric."In 2006, Mr. Crafton drafted his first resolution to make English the official language of Nashville. The Metropolitan Council approved the bill in 2007, but Bill Purcell, the mayor at the time, vetoed it. In response, Mr. Crafton collected more than 5,500 signatures, nearly twice the number necessary, to force a referendum.Mr. Crafton's singular focus on changing the language policy has earned him a far larger profile than most council members. In October, a Vanderbilt professor was investigated by the police for placing threatening phone calls to Mr. Crafton about the English proposal. Last month, an alternative newspaper spoofed a famous red-and-blue Obama poster, with the word "English" replacing "Change" under a drawing of Mr. Crafton. Still, critics say he has wasted at least $350,000 of taxpayer money on a special election for an issue that does not matter to most voters. "I don't think English Only would be an issue if it weren't for Eric Crafton," said Mr. Schulz of the Chamber of Commerce.But Mr. Crafton insists that momentum is on his side in Nashville and across the country. "We'll make English the official language here," he said. "After that happens, we're going to go city to city, show them how we've done it here, and let the dominos fall."
The above article is from The New York Times.