In summer, the Upper Capitol Ditch Trail near Snowmass, Colo., offers a warmer version of the area's famous grandeur.
Alex Markels
ASPEN, Colo. — IN summer, after the skiers have gone home and mud season has chased even the locals away for a couple of weeks, Aspen is reborn as a hikers' paradise — one with more than 180,000 acres of wilderness and 500 miles of trails. It is a seasonal transformation that reveals how this urbane ski town deftly bridges two disparate worlds: one at the utter peak of hipness, the other at the zenith of nature.Trading their Völkl skis for spring-loaded walking sticks, more than 130,000 pilgrims make the annual trek to see the Maroon Bells, Aspen's star summer attraction, often dropping in first at the Ute Mountaineer store in downtown Aspen, in the shadow of Ajax Mountain, to cross-examine sales clerks about the elevation gains on popular trails or to seek advice on where to find the most spectacular wildflowers.The appeal of Aspen for hikers is easily grasped as you climb over a ridge high above town and spy the shimmering edge of Linkins Lake, its glassy surface reflecting a glacial cirque of jagged 13,000-foot peaks towering over a remote alpine bowl of spongy green tundra flecked with yellow and red wildflowers.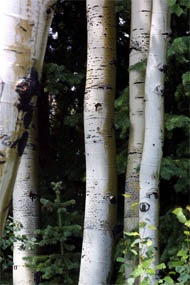 Maroon Bells forest in Aspen
"It's the easiest high alpine lake you'll ever hike to," a middle-aged father said one day recently as he and his young son returned from the 1.25-mile round trip, which starts at a 11,505-foot-elevation trailhead along a smoothly paved stretch of highway near the summit of Independence Pass. In fact, for all its rarefied terrain — including six fourteeners, as 14,000-feet-high peaks are called — Aspen is the land of the big easy hike, with plenty of trails accessible even to those with only a passing familiarity with their StairMasters.City bus service to the Maroon Bells, which leaves downtown Aspen every 20 minutes and deposits hikers within a stone's throw of the trailhead, is just one of the ways this town eases the way for hikers. (Don't bother driving. In summer the small parking lots near the trailhead are restricted from 9 a.m. to 5 p.m. to overnight backpackers, hikers with infants and people with handicapped-parking permits. All others must park at Aspen Highlands Resort and take the bus to the trail.) Other amenities in one of the world's most accommodating ski resorts include luxe lodgings with their concierges-cum-mountain-guides and 300-count Egyptian cotton sheets; three-star restaurants; and highfalutin delis that will pack hikers a picnic of caviar, foie gras and cheeses.Then, of course, there are those cushy-seated ski lifts. After a sumptuous slope-side brunch of poached eggs with roasted pepper hollandaise at the Ajax Tavern, one need only walk 20 feet to board Aspen's six-passenger ski gondola.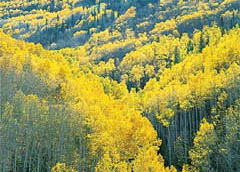 Autumnal beauty of Aspen Mountain
It will extract the huff and the puff from the two-and-a-half mile, 3,000-foot ascent up Aspen Mountain, leaving hikers plenty of energy to tackle trails that extend from the 11,200-foot mountaintop into the White River and Gunnison National Forests as far as the eye can see. "It's easy-access hiking," Jeff Fassett, a guide at Aspen Expeditions, explained when asked for help in planning a three-day series of increasingly strenuous hikes. "You can literally go from total civilization one minute to total wilderness the next."The Linkins Lake trail is an ideal hike to begin with. With a starting altitude of 11,505 feet, it not only provides an easy entree to Aspen's highest terrain, it also affords the chance to speed acclimatization to the thin air by following the mountaineering adage to "climb high, sleep low."Indeed, at 7,900 feet in elevation, the town of Aspen sits just below the pain threshold for those disposed to altitude sickness, the fatiguing and headachy affliction that typically affects lowlanders who travel above 8,000 feet. But while its effects are more severe the higher one goes, they tend to set in gradually over several hours. So by traveling to the highest altitudes possible, then returning to sleep in Aspen, "your body acclimatizes more quickly, but you get back down to a safe altitude before you get sick," said Dr. Thomas Dietz, an expert in altitude sickness with the International Society for Mountain Medicine.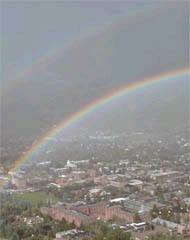 Aspen in Colorado
The Linkins Lake trailhead is among Aspen's highest. Yet the route, an offshoot of the longer Lost Man Loop that begins at a mere 10,520-foot elevation, is only just over a mile round trip as it climbs about 500 feet to the lake — just enough to wind a first-day hiker, but not so much as to cause heart palpitations. About 18 miles east of downtown Aspen, the trailhead sits along Highway 82 on the way to Independence Pass. (The trailhead, with parking for a half-dozen cars, is 0.2 miles east of Mile Marker 59.) It winds along the headwaters of the Roaring Fork River through lush aspen and pine forests, then up toward the timberline, where the weathered remains of the town of Independence, founded on July 4, 1879, recall a time when the area was overrun by miners in search of the next big silver strike. That boom was short lived. After the repeal of the Sherman Silver Purchasing Act and the return to the gold standard in 1893, Independence was all but ceded back to the marmots, the beaver-size rodents who are sometimes called whistle pigs for their distinctive warning shrieks. (At least one indignant homesteader will give hikers an earful as they pass by his trailside lair.) The path quickly drops over a ridge and to the lake, losing both the marmot and any sign of civilization as it plateaus amid a primeval, almost moonlike landscape of gray granite and rock glaciers.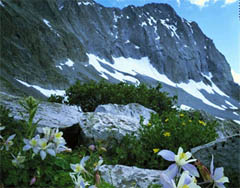 Capitol Peak
For Day 2 of a weekend hiking trip, the Capitol Ditch Trail is even more resplendent, although only slightly more ambitious: a six-mile round-trip trek toward the foot of Capitol Peak, a 14,130-foot gray granite monolith. (The mountain's knife-edge approach above a 1,800-vertical-foot face is considered one of Colorado's toughest climbs.) Its trailhead, at an elevation of 9,420 feet, starts at the end of a three-and-a-half-mile dirt road just outside Old Snowmass, a pastoral community 14 miles down the valley from Aspen's glitter, where ranchers, Roman Catholic monks (St. Benedict's Monastery is just off the road) and horse-packers who ply its hillsides need only look up at the omnipresent peak to find their bearings. Although only 25 or so miles from Linkins Lake (as the crow flies), Capitol Peak's lower flanks might as well be on another planet. The differences are immediately apparent in the smell of the place: a savory-sweet mix of sagebrush and wild roses, a pungent signature of the montane and semidesert shrublands that begin here and extend southwest toward the Utah border. As the trail to Capitol Peak gently climbs along an irrigation ditch, the surroundings quickly morph into the sort of sub-alpine nirvana one might expect to see in the movie "Heidi." Capitol Peak appears as the Matterhorn might, jutting up from a lush landscape of sweeping steppe-like meadows filled with bright yellow pea-shaped flowers called golden banner. Altitude adjusted and stronger after two days of moderate hiking, those who think they are ready for a third and more difficult hike toward the top of the Maroon Bells should not undertake the ascent lightly.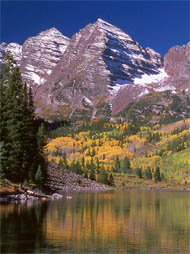 Maroon (Bell) Lake
A placard at the trailhead, near the far end of Maroon Lake, spells out the challenge in haunting detail. Headed "The Deadly Bells," it warns that the mountains' "down-sloping, rotten, loose and unstable" rock has "claimed many lives in the past few years. They are not extreme technical climbs, but they are incredibly deceptive."To be sure, the trails look benign enough. By far the most popular hike in Aspen, the trail along Maroon Lake draws even the most flatfooted visitors: out-of-shape parents, their khaki pants and polo shirts drenched in sweat within a few hundred feet of the trailhead, out-of-breath grandparents stooping at the side of the trail, teenage girls intent on hiking in their flip-flops. Of the 130,000 people who visit Maroon Lake each year, only 25,000 continue on to Crater Lake at the Bells' base, an easy 500-foot ascent through vanilla-scented lodgepole pines, Engelmann spruce and groves of aspens with fluttering leaves. Then, where the trail forks just above Crater Lake, the number of visitors drops off as precipitously as the peaks that loom above.Detailed in "Colorado's Fourteeners" by Gerry Roach, a hiking and climbing guidebook, the easiest route parallels West Maroon Creek, then turns right and heads straight up the peak's backside: a 2,800-foot ascent through an ankle-straining terrain of loose rock and tundra. "It's like cranking up your StairMaster and staying on it for five hours," said Mr. Fassett of Aspen Expeditions, who guides hikers up the route. Without the help of switchback trails, the slope is so steep that one can't help but engage in an up-close-and-personal examination of its flora: pale green and orange lichens, cushiony clumps of moss, yellow snow buttercups and the aptly named sky pilots, their purple-blue flowers poking out improbably from the rock debris. The flowers are a welcome distraction from what can quickly become a seemingly "all pain, no gain" trudge up the mountainside, where a look upward is only depressing and a look down risks an attack of acrophobia.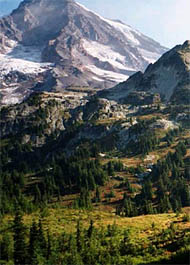 Pyramid Peak
Those who continue on, however, will feast on a increasingly striking landscape, including in-your-face views of 14,018 Pyramid Peak across the valley and, off in the distance to the northeast, views of the previous hike toward Independence Pass. The climbing becomes more difficult as the trail ascends several small Class 3 cliff bands, which don't require ropes but may require some scrambling on hands and feet. The payoff is a 360-degree panorama of some of the highest, loneliest terrain in America — and then, of course, the chance to brag about it all afterward back in Aspen, perhaps at Cache Cache, a French bistro where Kevin Costner and a bevy of blond companions sit within earshot.
If You Go
UNLESS you fly in on a private jet, Aspen isn't the easiest place to get to. United Express's puddle jumpers fly regularly from Denver, but many people fly into Eagle County Airport, an hour and a half away, near Vail, and take a van shuttle into Aspen. There are direct flights to Aspen from Phoenix.If you have time, perhaps the best way to acclimatize and get a sense of the Rockies' splendor is to make the four-hour drive from Denver, taking the scenic route over 12,095-foot Independence Pass from Leadville.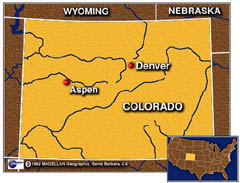 Those interested in climbing a fourteener might consider hiring a guide. Aspen Expeditions leads one- and two-day hikes up the Maroon Bells, Capitol Peak and Pyramid Peak, among others (426 South Spring Street, 970-925-7625;
www.aspenexpeditions.com
).
Where to Stay
Hotels in Aspen can be almost as expensive in summer as in winter. Aspen Meadows Resort (845 Meadows Road, 800-452-4240), which starts at $219 a night, is a quiet Bauhaus-style enclave away from the main drag in an aspen-filled meadow in the town's West End. Those wanting to live the high life might head for the slopeside Little Nell (675 East Durant Avenue, 970-920-4600), with rooms starting at $405 a night, a heated outdoor pool and a famously luxurious lounge where you can hobnob with the likes of Ivana Trump. Hotel Jerome (330 East Main Street, 970-920-1000), in a landmark building in the heart of downtown, is a charming and comfortable alternative. Rooms are spacious, room service is fast and reliable, and early risers find free coffee in the lobby. Also, the young bellhops can provide excellent information on current trail conditions and advice on the best local hikes. Rates start at $445 a night.
Where to Eat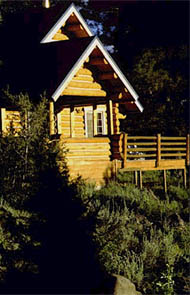 A cabin in Aspen
With more than 50 restaurants, Aspen has some of the best dining anywhere. For breakfast, consider the garden terrace at the Hotel Jerome, featuring the best (and most elaborate) huevos rancheros this side of the Pecos. For those wanting to bulk up before hiking, Olives restaurant at the St. Regis Hotel (315 East Dean Street, 970-920-3300) offers a bountiful all-you-can-eat buffet. For lunch, the Ajax Tavern (685 East Durant Avenue, 970-920-9333), next to the Silver Queen gondola, is a bit pricey, but dishes like smoked chicken salad with apples, almonds, currants and Gorgonzola ($16) are as beautifully prepared as they are delicious. Dinner choices include Matsuhisa (303 East Main Street, 970-544-6628), a link in the chain that includes Nobu in TriBeCa; Takah Sushi, a basement dive (in everything but the price) that is a locals' favorite (420 East Hyman Avenue, 970-925-8588); and Campo de Fiori, with a pleasant courtyard and an expertly executed Italian menu (205 South Mill Street, 970-920-7717).
The above article is from The New York Times.