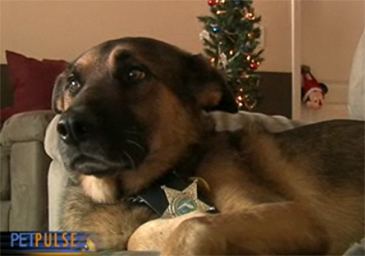 Five-year-old German Shepherd, Turk, is a retired K-9 unit who suffered injuries while serving with the Hillsborough County Sheriff's Department in Dover, Fla. Like many former K-9s, Turk receives no benefits.
DOVER, Fla. — Turk lives every day in pain from injuries acquired on the job as a K-9 officer. Like thousands of K-9 retired police dogs across the country, the retired 5-year-old German Shepherd faces the rest of his life without medical care or benefits for his years of serving with the sheriff's department.Turk relaxed on the couch in his home in this suburb of Tampa. It looked like a well deserved rest for the former K-9 cop.Then his owner called him.The 5-year-old German Shepherd struggled to rouse himself, laboring to get his rear legs under him before gingerly stepping off his perch.Turk's tail wagged behind an unnatural curve in his spine."See the hump right here?" Charlotte Raschke asked. "The very two last vertebrae in his back have collapsed into each other."Raschke was Turk's human partner on the Hillsborough County Sheriff's Department for three years. She adopted Turk after his retirement, which has not been a comfortable reward for a job well done.Tests and treatment for injuries that forced Turk out of service are beyond Raschke's financial means. The sheriff's office, like most increasingly cash-strapped police departments, does not pay to care for dogs no longer on duty.Raschke met Turk when he arrived from Czechoslovakia for training. Hillsborough County trains dogs for its own police department as well as for other agencies. "Our sheriff is very pro K-9 so we get the best of care, the best equipment, the best trainers, the best dogs," Raschke said.The department pays for all of the dog's food and vet care while he's in service. Police dogs live with their human partners when off duty. The constant companionship creates a bond that may go beyond any training."If I sent him after a bad guy, he would give his life to protect me," she said.Turk did not actually give his life for the sake of duty, but he did sacrifice the quality of his life.Night after night, Turk tracked scents of suspects — sometimes following a lead for miles — through water and over fences. He still sports scars from a fight with a razor-wielding suspect. He survived another suspect who held him under water after a chase through heavy brush that left Raschke behind."He would fight his way up, still holding onto the guy," Raschke recalled.The close calls never fazed Turk."We get the bad guy, take him out, (Turk's) all happy-go-lucky. 'Alright, what's next,' " Raschke said."They just have such big hearts," she said of police dogs in general. Turk is one of three K-9 partners she's had in her eight years working in Hillsborough County's K-9 unit.But over time, the violent encounters exacted a price that even the strongest heart could not afford. In September, Turk scaled a 7-foot high fence during a pursuit."The very next day, I noticed he was slow getting out of the patrol car," Raschke said. "Within a week, he wouldn't get up off the ground."Police dogs last an average of five years on duty. Injuries forced Turk to retire after just three. It was obvious Turk had a back injury but tests to determine the exact problem would have cost thousands of dollars."I certainly don't hold the sheriff's office responsible for it," Raschke said. "I understand."The Hillsborough County Sheriff's Office is not unique. In an e-mail to Pet Pulse, Jerry Bradshaw, CEO & Training Director of Tarheel Canine Training, Inc., a Sanford, N.C., company that trains and sells dogs for police use, said that handlers generally take on all costs of caring for a retired police dog.The care is often left to the dog's former human police partner. In Glendale, Calif., when a police dog is retired, the city will sell the K9 to the handler for $1. According to the Glendale Police K9 Unit's web site, that transaction relinquishes the department of any liability or responsibility for the animal.John Usher, Head Trainer of the New Hampshire Police K-9 Academy said the same thing is true in his state.Turk caught a break when a television station in St. Petersburg, Fla., told his story. After Dr. Juliet Gladden of Florida Veterinary Specialists learned of Turk's plight, she offered to administer the initial battery of tests for free.The results were inconclusive. The best guess is that Turk suffers from an auto-immune disease that is attacking his joints. He is now being treated with the steroid prednisone, as well as antibiotics.If the treatment is effective, the steroids may cut Turk's life expectancy in half. But time isn't a factor for Raschke.If Raschke can "get him four good years," it will be worth it, she said.If the treatment fails, Raschke is back to square one, with Turk needing heavy doses of painkillers to get through each day.If he could have a say, Raschke's Rottweiler, Recon, might root for an effective treatment louder than anyone. One recent day as Turk lay on the couch, Recon paced impatiently outside, seeming to wonder why his buddy wouldn't come out to play."He doesn't play with the other dogs any more," Raschke said. "They used to chase each other and he won't do any of that."Tell us what you think about "Canine Crime Fighter Crippled by Police Duty" below. Share your favorite videos by clicking on the ZootooTV tab. Send us your story ideas by e-mailing us at news@zootoo.com or by calling us at 877-777-4204.
The above article is from Zoo Too .