National
Who Else Has the Right to Vote?
Special Contribution
By Abhishek Joshi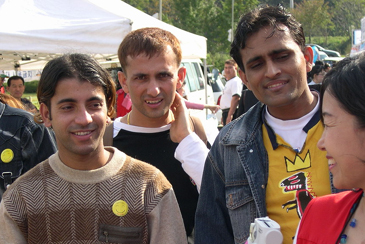 A group of foreigners participationg in a local event in South Korea
Over the past few days a new debate is brewing between the ruling Grand National Party (GNP) and the main opposition Democratic Party (DP). This time the issue in the forefront is the voting right for Korean citizens residing abroad. Every citizen has the right to participate in the electoral process of his/her country. It is the citizens who choose the destiny of their country in a democratic process. Then why the citizens residing abroad shouldn't be given the voting rights? Good that both the parties agree on this issue. But there is a difference of opinion between GNP and DP over who among citizens residing abroad should be given the voting rights. GNP says any Korean citizen living abroad over the age of 19 has the right to vote. DP wants to make the range a bit leaner. This voting right would allow the citizens residing abroad to directly participate in Presidential and Parliamentary elections. The development of a country is inherently and solely dependent on the policy makers. Thus the election of the policy makers is very sacred. Now the question is, can anybody be given the voting rights? According to ruling party's contention A born to Koreans in Korea and residing in US from the age of 8 has got a right to elect a leader in Korea. B born and educated in Korea and working in Britain, with dual citizenship, for past 20 years has got the right to elect a leader in Korea. C born and educated in Korea, residing in US with green card, waiting for naturalization and has no intention of returning to Korea has got a right to elect a leader in Korea. Does anyone feel A, B and C or either of them deserve any fortune of electing a leader in Korea? Even if they deserve, just for having Korean citizenship, do they really bother to have a peek-a-boo at candidates contesting? Say even they know something about candidates, but do they really should get a chance, to have a say in electing a leader whose policies may not, will not, affect them in any major way? Respective citizens are given the right to vote because it is they who are affected by the policies and decisions of the leaders. Why bother to give voting rights to a person who may not be affected by policies and decisions? Japanese or a European is no way affected by President Myung-Bak Lee's decision on regulation and deregulation of Seoul's parks. Instead a South-African English teacher residing in Korea from past five to six years and having long terms plans is more affected by President Lee's decisions and he/she should have a say in the electoral process. The lawmakers should ensure that only those who are affected or influenced, in any way, should be given voting rights. Giving voting rights to A, B and C is like giving rights to a Japanese or German to elect a leader in Korea. The opposition party states only short-term visitors should be given the voting rights. They are right in demanding so, because the short-term visitor has always plans to return to Korea. He/she may be affected by the policies of the leader just like normal Korean citizens. D has gone to Australia for a period of three years for education and will return back to Korea thereafter. Won't D be more seriously bothered about how the scenario will be when he returns back? One may contend that long term foreign residents bring a lot of foreign reserve with them, the same holds true for short-term visitors. Fine, this is right and no arguing about it. But foreign reserve is not the only thing based on which the country runs and it is an imbecile argument to say that Korean economy is just filled with foreign remittances. Earning money by exports is not same as collecting money through foreign remittances.A short-term visitor would be more selfish and vote for a best possible candidate hoping that the elected representative would do a lot of great deeds, would bring in lots of development and would look at the candidate as the knight in shining armor. A short-term visitor has stakes in the country's future, for his future. But can the same be said of long-term visitor or who plans to never return back to Korea? The answer is No. A long-term visitor might not be even aware of the ground realities and local issues at hand. Will he had ever interacted with the candidate from his constituency? Will he had known what all developmental work and policies have been professed by the candidate? There might be a few residents abroad who would have known all this. But what are the odds that all the residents living abroad will have known? When they don't know any of this, then what are the odds that they will make right decision and elect the right candidate? Most of the long-term visitors, lacking knowledge about the candidates, will be influenced by the ideology. Anyone sitting in Moscow or San Diego might not even know the ground realities of a tiny village near Busan. He would not even know the profile of the candidates then is it a wise decision to give such person(s) voting rights? Will any Korean in Korea like to suffer because of some decision(s) taken by Koreans living abroad? No doubt, the parties are at a remarkable juncture in Korean constitution where even the residents living overseas will get a chance to vote. But such right and such privilege should be bestowed on only those who deserve it and who might get affected by it. One can find many A, B, C and D's in Korean families. Instead of granting every Korean citizen residing abroad with voting rights, the lawmakers should consider the foreigners residing in Korea, with long term plans, for voting rights. Hopefully the right decision will be taken.

Related Articles
Crimea Crisis
Left Moves to Far-Left, Right Moves to ...
Sarkozy's Financial Transaction Tax, ...
NRI's Dandi 2.0
Blame the Pitches, Mate!!
"S. Korea Can Learn from Australian Experience ...
Midterm -- Democrats' Curse for Obama's 2012?
Yet Another Apology, Eh?
Liberal Democrats Should Support Conservatives
Is it the End of European Dream?
Can Park Stall Chung and Lee's Sejong City?
What Effect Will Dalai Lama Have on Chimerica?
"President Should Not Confuse People for ...
"Pakistan Also Hub to Middle East, Central ...
Model Six-Party Talks
Yukio Hatoyama: 100 Days, East Asia and U.S.
Pakistani Envoy Talks with Local Journalists
Whom to Blame: Law or Men?
A Different Korea Sparkling
Is Corruption Cool and Acceptable?
Indian Embassy Celebrates the Republic Day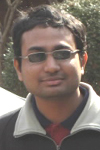 Mr. Abhishek Joshi, who serves as special contributor, is currently a graduate student in School of Electrical Engineering at Seoul National University. He is also a member of SNU Quill, first English magazine from Seoul National University, as a writer. He covers the activities by Indian Student Association in Seoul.