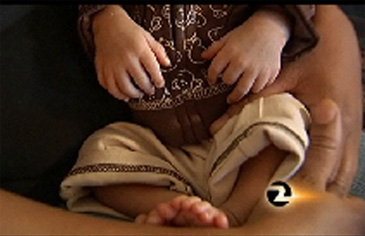 Kamani Hubbard has six fully formed and functional fingers and toes on his hands and feet.
DALY CITY, Calif., Feb. 1, 2009 — A Daly City couple is beaming after becoming the proud parents of a healthy but incredibly rare baby boy this month.Kamani Hubbard has six fully formed and functional fingers and toes on his hands and feet, reported KTVU-TV in San Jose. It's called polydactyly — extra digits. It's not an uncommon genetic trait, but Bay Area doctors say they've never seen a case so remarkable.Born at San Francisco's Saint Luke's Hospital three weeks ago, Kamani seemed so perfect at birth that no one noticed."(He) looked so normal they couldn't tell, they told me he was 6 pounds in good health, that was all they said," said Miryoki Gross, Kamani's mother.But his dad, Kris Hubbard, noticed the polydactyly: six perfect fingers on each hand and six perfect toes on each foot, which went well beyond a general trait that runs in his family."Some family member have had six fingers, not completely developed. But not the toes," said Hubbard, 34, and a postal worker.In fact, Hubbard himself had nubs of sixth fingers removed as a child as nonfunctional digits routinely are.But Kamani's case is so rare, according to doctors, and because the extra digits are functional, it's not a deformity to be discarded."It's merely an interesting and beautiful variation rather than a worrisome thing," said Dr. Michael Treece, a St. Luke's ospital pediatrician. "I would be tempted to leave those fingers in place. I realize children would tease each other over the slightest things, and having extra digits on each hand is more than slight. But imagine what sort of a pianist a 12-fingered person would be. Imagine what sort of a flamenco guitarist. If nothing else, think of their typing skills."Kamani's mother said she hasn't had time to absorb the news. Her baby's specialness didn't even show up on prenatal ultrasounds."I heard nothing before I gave birth, so I'm still in shock, kinda," Gross said."I just want him to see what greatness will be in store for him," Hubbard said.The Florida Marlins' pitcher, Antonio Alfonseca, blues guitarist Hound Dog Taylor and several remarkable figures in history were born with polydactyly.
Distributed by Internet Broadcasting. This material may not be published, broadcast, rewritten or redistributed.