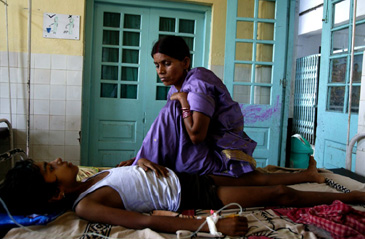 In July 2007, Médecins Sans Frontières (MSF) began treating visceral leishmaniasis, also known as kala azar, at Sadar Hospital in Hajipur in Bihar, India.
Copyright: Juan Carlos Tomasi/MSF
At the fourth Leishmaniasis World Congress in Lucknow, India, Medecins Sans Frontieres (MSF) said that there is a serious need to expand availability of effective treatments and diagnosis for visceral leishmaniasis (kala azar) in order to reduce the present burden of disease and resistance to treatments. At the Congress, MSF is presenting important results showing that liposomal amphotericin B (Ambisome) could play a critical role in the fight against the disease. Operational research in MSF's project in Bihar, one of the most endemic areas, shows that treatment with liposomal amphotericin B is very effective, with a 98% cure rate and a low death and defaulter rate. The drug is also linked to a lower rate of relapse, less toxicity and a shorter length of treatment than with other medications. "While liposomal amphotericin B is not the only possible treatment, it has been shown to be one of the most effective and safe. We believe it should be included in the Indian treatment protocol as a first line treatment option," says MSF tropical medical advisor Dr Nines Lima.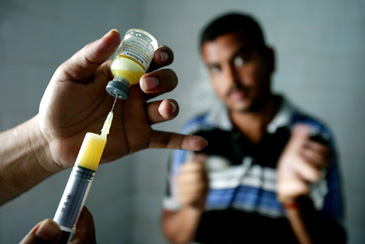 In Bihar, MSF uses the most effective treatment available so far to treat kala azar: AmBisome® Copyright: Juan Carlos Tomasi/MSF
Fatal, if left untreated, kala azar is transmitted by the bite of an infected sand fly. Largely unknown in the developed world, it is a parasitic disease that affects over 12 million people worldwide. The annual incidence is estimated to be 500,000 cases, with 50% occurring in India. The disease is endemic in the eastern States of Bihar, Jharkhand, Uttar Pradesh and West Bengal. In these states it is marginalized communities living in rural poverty who bear the greatest disease burden. The most common treatment currently used is sodium stibogluconate (SSG). However, resistance to the drug is a growing problem - especially in India, where as many as 65% of patients acquire drug resistant parasites. Kala azar remains neglected by research and development initiatives."Patients of kala azar in developing countries have been neglected for far too long. In our project, most patients come to our facilities when the disease is already at an advanced stage because people are still not familiar with the signs and symptoms or do not know where they can find adequate diagnosis and medication," says Gareth Barrett, MSF Medical Coordinator in India. "Many communities with high prevalence lack access to diagnostics, and poverty often means that the quality of treatment is poor, which in turn poses serious risks of outbreaks and increasing drug resistance.""Worrying number of our patients, are treatment failures that have come from private sector" says Dr Mrityunjay Kumar Pandey who works with MSF in Bihar.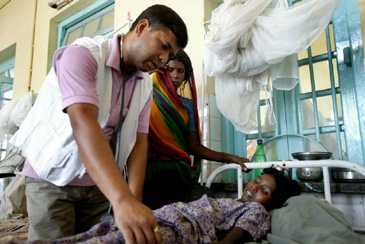 Sadar Hospital in Hajipur. As many other tropical diseases, kala azar mainly affects the poorest populations.
Copyright: Juan Carlos Tomasi/MSF

The drug liposomal amphotericin B is expensive at Rs. 21,855 (350 €) per patient per treatment. "There is an urgent need for reducing the cost of the drug, developing generic formulations and validating combination therapy so that the drug can be included as a first line treatment in the protocols of countries such as India," stresses Gareth Barrett. In Bihar at the Hajipur referral hospital, MSF is providing diagnosis and treatment for people suffering from kala azar. Since July 2007, MSF has screened over 6,500 patients for kala azar and the 2,500 patients found to be positive received treatment with liposomal amphotericin B – a relatively new therapy for the disease."Until combination therapy is available we need as many people as possible to access diagnosis and effective treatment. We believe dose reduction is a natural next step, and there is enough evidence to support this," says Dr Gareth Barrett.MSF welcomes the fact that India is hosting the World Congress and calls on India to show a strong commitment to fighting kala azar, by strengthening its health structures to improve access to effective treatment and diagnosis for marginalized communities who make up the majority of people who become infected by the disease.