Border victim prayer
Hundreds of people gathered at a border fence between Sunland Park, New Mexico and Puerto de Anapra, Mexico to pray for the victims who tried to cross the border.
Copy West Cosgrove
Raminez Bermudez said he could make $200 a day picking cherries in California. Arrested by the border patrol in the Sonora desert, he was sent back to Mexico. He'll probably try crossing again and if he is luckier, he'll make it to his job in the U.S.If he's unlucky, he could become one of the victims who die in the desert. As of this writing, more than 61 people have already lost their lives since October of 2003. That's the figure given by the Mexican Interior Ministry. The US Border Patrol puts the number at 43. Whatever the number, it's too high.It will go up. George W. Bush's immigration proposal to match willing workers with companies needing employees has been interpreted by some as a form of amnesty. More people are crossing the border these days expecting to get legal "high paying" jobs.The number of deaths will therefore increase this summer and possibly reach a record.Who is responsible for these unnecessary deaths?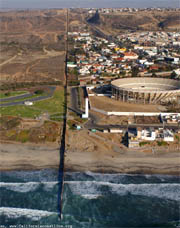 US Mexican border near California coast
Courtesy Kenneth Adelman
It's a complex situation. It starts with a very rich country sharing a border with a very poor one. The attraction for moving across in search of work is almost irresistible. Making $200 dollars might require working an entire month in Mexico. If work can be found. For people who have few skills, the easily available menial work in the U.S. is like the Promised Land. Although precise numbers are unavailable, it is estimated that there are 10 million undocumented workers in the U.S.It's easy to blame the undocumented workers if they don't make it across the desert. They took a chance. They lost. Yet, people should not have to die seeking minimum wage jobs.Although Mexico is certainly guilty of not being able to provide adequate opportunities for many of its citizens, it's the US policies of the last ten years or so which have increased significantly the number of deaths at the border.Since the American government has virtually sealed the "easy" entry points in San Diego, California and El Paso, Texas, undocumented workers have resorted to more dangerous routes.Although we have spent billions to stop illegal immigration, we have not been successful. Our efforts just made crossing the border more dangerous. It means that now crossing into the U.S. requires the help of smugglers. They charge up to $3,000 dollars. The money sometimes has to be paid by relatives already in the U.S. while people are being held hostage someplace.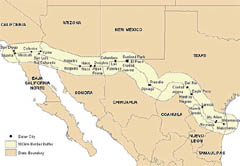 A border map between US and Mexico
The difficulties in getting in the U.S. have turned these migrant workers into immigrants, who instead of going back and forth, settled in the U.S. with or without their families. In some cases, children are being smuggled in because parents have established themselves in the U.S. but cannot go back and bring their kids to their new homes.In essence, the undocumented workers' lot has become more precarious but their numbers have not diminished. It means that those who settle in the U.S. have to be more careful about being deported because once out of the country, it'll be difficult if not impossible to get back in. It also means an increase in the companies' already huge power over their undocumented employees.Obviously, what has been done in the last decade is not working and a new approach needs to be tried. If the U.S. is really serious about ending illegal immigration, we must target the companies hiring people. If laws were enforced and only legal workers were hired, illegal immigration would disappear. This is unlikely to happen since companies are addicted to cheap labor.Bush's plan of allowing guest workers into the U.S. was followed in May by a Democratic proposal which differed in a number of areas but was also promising in the long run.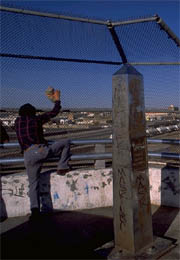 US/Mexico border at El Paso/
Juarez
Unfortunately, it's highly unlikely that anything will be done in an election year. Undocumented workers don't have lobbyists in Washington to push their agenda. So people will continue to die. The undocumented workers' dangerous journey can only be minimized through charity. Humane Borders, for example, is as group that provides humanitarian assistance to people crossing the border. One of the ways is by setting up water stations in the desert. These "oases" are marked by 30-feet-high blue flags to be visible to someone who might have gone for several days without food or water. If you want to help, you can send a check to 740 E. Speedway Blvd., Tucson, AZ 85719.