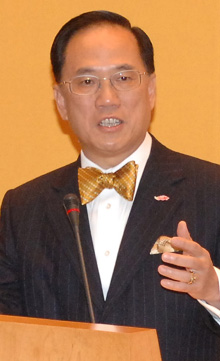 HK Chief Executive Donald Tsang
Chief Executive Donald Tsang of the Hong Kong Special Administrative Region will come to Seoul at the invitation of the South Korean government on Feb. 19, 2009 for the two-day official visits. Mr. Tsang will arrive from Japan where he visited for three days.Mr. Tsang will meet with South Korean leaders including President Lee Myung-Bak, Foreign Minister Yu Myung-Hwan, and Finance Minister Yoon Jeung-Hyun during his visit.He will discuss with them detailed plans to overcome financial crisis and various plans to support worsening economy.His visit is also aimed at promoting mutual exchanges in a variety of fields including tourism, culture, and education.In particular, Mr. Tsang will deliver a speech under the theme of the recent changes of Hong Kong and its response to the global economic crisis in a gathering to be held at Lotte Hotel in downtown Seoul on Feb. 20, 2009.The gathering will be attended by Chairman Lee Hee-Beom of Korea International Trade Association and Vice Chairman Jung Byung-Chul of the Federation of Korean Industries.Some 250 CEOs of the major local businesses, officials of the local business organizations and economic institutes, and educational leaders, and officials of Hong Kong businesses are also invited to the luncheon gathering to be held between 11:30 and 1:30 on the day.The gathering will be co-hosted by Hong Kong Economic and Trade Office, the Federation of Korean Industries, and Korea International Trade Association (KITA).Hong Kong is South Korea's fourth largest export market, and 1 million people from Hong Kong and South Korea visited each other's country last year.
Who Is Mr. Donald Tsang?
Sir Donald Tsang Yum-Kuen, (born 7 October 1944) is the current Chief Executive and Head of Government of Hong Kong.Tsang began his civil servant career in 1967, since then had occupied various positions in finance and trade in the Hong Kong Civil Service, and was appointed Financial Secretary of Hong Kong in 1995, becoming the first ethnic Chinese to hold the position under British administration.He remained in that position after the transfer of the sovereignty of Hong Kong before being appointed Chief Secretary for Administration after the resignation of Anson Chan. Tsang has won praise for his handling of the Hong Kong economy both as Chief Executive in the mid-2000s and as Financial Secretary in the late 1990s.Often referred as Bow-Tie Tsang due to his sartorial preference, he assumed the office of Chief Executive of Hong Kong in 2005. Since his accession, he has been criticized for the government's mishandling of a number of incidents, most notably the demolition of Queen's Pier, Political Appointments System, the Leung Chin-man appointment controversy, and the Employee Retraining Levy waiver controversy.Tsang's popularity rating was 51.6% in January, with 16.2% of those surveyed being satisfied with the government's performance, while 34.4 percent believed it was below par.
From Wikipedia