Arts & Living
A Different Korea Sparkling
Special Contribution
By Abhishek Joshi

| | |
| --- | --- |
| | Nightly View of Seoul — Seoul is the capital and largest city of South Korea. With a population of over 10 million, It is one the world's largest cities. The Seoul National Capital Area - which includes the major port city of Incheon and satellite towns in Gyeonggi-do, has 24.5 million inhabitants and is the world's second largest metropolitan area. |
August 27, 2007 was the day, when I landed at Incheon International airport. Immediately getting separated from my friends and put into Seoul National University's graduate dorm, I was left to feel all alone. When all your friends are put together and you are made to stay in a dorm with strangers, the experience can be unnerving. It has been 18 months since then and the stay has been eventful and had myriad encounters to make it excited. But during all these eighteen months the fun quotient of my experiences has never dropped down. Past eighteen months have been a great learning experience and has given me abounding opportunities to introspect. Surviving on just bread, rice and yogurt for a week to eating every kind of meat, have gone through all. I still remember the initial days when "NO!" was answer for any meat and today I say "Why not, lets try it." This would never be my response had I been in the comfort closets of my nation. Now won't you call that a big transition? Moving into a new country and new culture, about which you've no inkling, is always commoving. I am sure every expat in Korea has felt the same. I hardly had any knowledge about the Korean life. The phase of adapting or trying to adapt to new surroundings is sublime. Though those days I would feel it as afflictive but looking back I always cherish every moment that I experienced. For someone who had never eaten any meat, including eggs, and drunken alcohol, remembering every important milestone for the same is not a big deal. I vividly remember the day when ate meat for the first time, drank soju for the first time, drank marcoli for the first time, after all no one forgets their first …. (whatever it may be). After all devouring the fried chicken at KFC and gobbling the meat burger at McDonald's or Buerger King was all new for me. Though am not much of a social person, but in large my social circle has been delectable and expanding. From having amazing compatriot friends to great Korean and other national friends, this stay has given me all. The social fabric in Korea is much like back home, but in reality it is way too conservative. "What's your name? What is your age? Are you single?" are the questions asked as the introduction. No problem with the first question but the other two, initially, sounded much like intruding into privacy. Though still am averse to last two questions as introduction and can't help without being asked, but doesn't feel strange any more. An age gap of one year can change the way people are addressed, whereas back home even for a gap of five to six years, one can address each other on first name basis. But as the saying goes "When in Rome, do as the Romans do," you do learn the ways and get adapted. I don't know if Korean life is better than life back home or not but it definitely is intriguing. Till now the Korean life has never aroused me. I am not from a rustic set-up to get marveled by the subway, limousine buses or even the discipline exposited by Koreans in daily life (rarely breaking the traffic laws, making a queue). I won't beat around the bush, as done by most of the foreigners, by exalting Korea in front of Koreans but what I would glorify is the things which others can learn and I have learnt while staying in Korea. Most, like me, would have fascinating stories of their stay in Korea to discuss with the children and grandchildren. I believe that one learns throughout the life and this stay, so far, has also been one such learning exercise. Every small thing, every experience in retrospect has been engrossing. Buying things with inarticulate Korean and sign languages, bargaining using a calculator, ordering the food just by its picture, to asking Halmoni to give more in same price, to saying kakka chuseyo for almost every purchase, all have been one riveting story. It is these things that will always be a part of me, wherever I go and whatever I do and ten years hence when I listen to "Kickin' It in Geumchon," will remember these moments spent in Korea. I am lucky to have experienced the life in Seoul. These may or may not be the best days of my life but these memories will always bring smile on my face however sad I may be. I am really glad to be living such angelic precious memories. It's not the economic growth, sky scrapers, fancy restaurants or even fire festival on Han River but these cherished moments, enamored experiences and life that am living defines Korea Sparkling for me. Expats may hate or love Korea, may complain or praise Korea and Korean people, but I am sure they will never forget the experiences they had and after many years those experiences are bound to bring a smile on their face.

Related Articles
Crimea Crisis
Left Moves to Far-Left, Right Moves to ...
Sarkozy's Financial Transaction Tax, ...
NRI's Dandi 2.0
Blame the Pitches, Mate!!
"S. Korea Can Learn from Australian Experience ...
Midterm -- Democrats' Curse for Obama's 2012?
Yet Another Apology, Eh?
Liberal Democrats Should Support Conservatives
Is it the End of European Dream?
Can Park Stall Chung and Lee's Sejong City?
What Effect Will Dalai Lama Have on Chimerica?
"President Should Not Confuse People for ...
"Pakistan Also Hub to Middle East, Central ...
Model Six-Party Talks
Yukio Hatoyama: 100 Days, East Asia and U.S.
Pakistani Envoy Talks with Local Journalists
Whom to Blame: Law or Men?
Is Corruption Cool and Acceptable?
Who Else Has the Right to Vote?
Indian Embassy Celebrates the Republic Day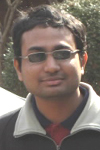 Mr. Abhishek Joshi, who serves as special contributor, is currently a graduate student in School of Electrical Engineering at Seoul National University. He is also a member of SNU Quill, first English magazine from Seoul National University, as a writer. He covers the activities by Indian Student Association in Seoul.