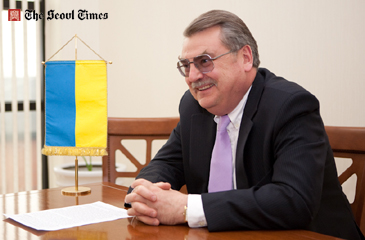 Ukraine Amb. Volodymyr Belashov is being interviewed by The Seoul Times at his office in Seoul on Feb. 24, 2009.
Photo by Koo Ji-Bong, Staff Reporter
"I want to boost economic ties Seoul and Kiev as our primary task," said Ukraine Ambassador to Seoul Volodymyr Belashov in his maiden interview he had on Feb. 24, 2008 with the South Korean media since he arrived in Seoul three months ago.The new Ukrainian envoy came to Seoul on Oct. 23, 2008 and presented his credential to President Lee Myung-Bak on Nov. 10, 2008.In the interview with The Seoul Times on the day, Amb. Belashov said that bilateral trade between Ukraine and South Korea has been on the increase."Last year the trade volume rose by 50 percent to 2.7 billion US dollars," said the envoy.He added that Ukraine faces a huge trade deficit and the trade imbalance is 1.8 billion US dollars. "I want to reduce the trade imbalance."Ukraine imports such Korean goods as electronic goods, machinery, cars, and rail equipment."Roughly 80 percent of air conditioners in Kiev are South Korea's LG," he said.Ukraine exports grains, steals, and raw material to South Korea, according to the envoy.He said that Ukraine has very fertile lands called "black soil." "We have the best soil perhaps in the world," he said "But we lack efficiency in the farming due to the lack of agricultural technology.""We produce wheat, grain and we can cultivate everything but tropical products," said Amb. Belashov. He picked wheat, dairy products, and sunflower oil as the most competitive Ukrainian products for the local Korean people."We are trying to get Korean companies to invest in our agricultural area," he said.He said the Korean businesses can take advantage of cheaper labor.According the Ukrainian envoy, shipbuilding is one of the major industries in the nation."We used to build big military ships including aircraft carriers," he said. "Now we build big commercial ships instead." Ukraine also seeks technological cooperation with South Korea since the European country enjoys competitive edge in the military and space technology areas.Designing aircraft, space rockets, and missiles is also highly competitive areas for Ukraine.Amb. Belashov said that Ukraine wants to conduct joint research with South Korea.He said that he wants to bring a delegation of Ukrainian space scientists to South Korea for the joint research with their South Korean counterparts.On the cultural side, Amb. Belashov wishes to have more cultural cooperation with South Korea.He plans to invite Ukrainian singer, violinists, and other musicians and artists to Seoul as parts of the cultural exchange projects.There has bee no exchange of high-level politicians between Seoul and Kiev for the last two years.He said that Ukrainian government wants to invite President Lee Myung-Bak and Foreign Minister Yu Myung-Hwan in the first half of this year.Amb. Volodymyr Belashov was born in April 2, 1951. He graduated from Moscow State Institute of International Relations in 1973.He started his diplomatic service in 1974 when be became officer of the secretariat of the UN Office in Geneva.Spending much of his diplomatic years at the Ministry of Foreign Affairs, he grew as a security and arms control expert.In 1995 he rose to minister-counsellor and served at Embassy of Ukraine in Washington DC, USA until 1998. In 2001 he became deputy head of Mission of Ukraine to NATO.In 2004 he went to Geneva where he served as permanent representative of Ukraine to the UN Office there.From 2005 to 2008 he became director of Department of Arms Control and Military and Technical Cooperation at the Ministry of Foreign Affairs. In late 2008 became ambassador extraordinary and plenipotentiary of Ukraine to South Korea.He is married with a grownup son and daugher who is also married.