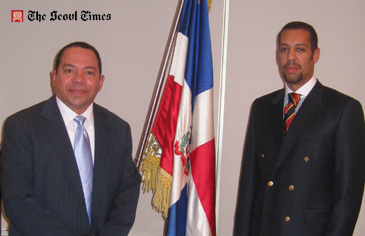 Dominican Republic Ambassador to Seoul Hector Galvan (left) and Minister Counsellor Ernesto Torres Pereyra
Dominican Republic Ambassador to Seoul Hector Galvan hosted a reception on the occasion of the 165th anniversary of Dominican Republic's independence at Seoul Club in Jangchung-dong , Jung-gu, Seoul on Feb. 27, 2009. The reception attracted some 30 guests including scores of foreign envoys serving in Seoul.Dominican Republic sanctioned the Republic of Korea in December of 1948. During the Korean War (1950-53) in which Communist North Korea attacked South Korea, Dominican government donated 10,000 US dollars to South Korea.The two countries formally established diplomatic ties on June 6, 1962. And on Sept. 27, 2007, Dominican Republic formed official diplomatic relations with North Korea as well.Thus Dominican Republic has become the country which has diplomatic ties with both Koreas.In 2006 Dominican President Leonel Fernández visited Seoul after a number of exchanges between high-level officials of both countries were made.
The Dominican Republic
The Dominican Republic was explored by Columbus on his first voyage in 1492. He named it La Española, and his son, Diego, was its first viceroy. The capital, Santo Domingo, founded in 1496, is the oldest European settlement in the Western Hemisphere.Spain ceded the colony to France in 1795, and Haitian blacks under Toussaint L'Ouverture conquered it in 1801. In 1808, the people revolted and captured Santo Domingo the next year, setting up the first republic. Spain regained title to the colony in 1814. In 1821 Spanish rule was overthrown, but in 1822 the colony was reconquered by the Haitians. In 1844, the Haitians were thrown out and the Dominican Republic was established, headed by Pedro Santana. Uprisings and Haitian attacks led Santana to make the country a province of Spain from 1861 to 1865.President Buenaventura Báez, faced with an economy in shambles, attempted to have the country annexed to the U.S. in 1870, but the U.S. Senate refused to ratify a treaty of annexation. Disorder continued until the dictatorship of Ulíses Heureaux; in 1916, when chaos broke out again, the U.S. sent in a contingent of marines, who remained until 1924.A sergeant in the Dominican army trained by the marines, Rafaél Leonides Trujillo Molina, overthrew Horacio Vásquez in 1930 and established a dictatorship that lasted until his assassination in 1961, 31 years later. In 1962, Juan Bosch of the leftist Dominican Revolutionary Party, became the first democratically elected president in four decades.
For details or inquiries please contact the Dominican Republic Embassy in Seoul at 02-756-3513.