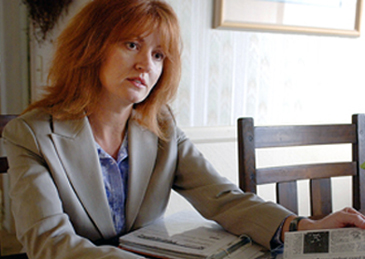 Danielle Grijalva, created the "Committee of Safety for Foreign Exchange Students" and serves as its director.
We've all heard about sex trafficking, but did you know that America is among the three highest countries for imported sex slaves and that they're being brought in legally through the National Foreign Exchange Student Program?People have long seen exchange programs as a good opportunity for students to travel to foreign countries so that they can study in a different environment and get to know the varying people and cultures. If we think about it though, it becomes painfully obvious that it's an easy way for sex criminals to mail in an order for a 16-year-old kid.What makes these foreign exchange students the perfect victims is that they can be forced into submission by threats of deportation; many times they cannot communicate proficiently in English.One of the most notorious hosts is Thomas Scott King. King is currently a well-known and valued member of a West Virginia association of pedophiles. He has also become a "high placer," which is someone who finds a host home for up to 50 or more foreign exchange students each year. With each student worth an average of $15,000, exchange agencies are loathe to displease these "high placers."What makes me nauseous is that this isn't a recent discovery. There have been complaints coming into the West Virginia State Board of Education for a number of years, but they have been largely ignored. The same convicted sex offenders have time and time again acted as hosts to underaged students from around the world.One unnamed retired police officer from Oregon was quoted as saying, "A convicted rapist hosted an 18-year-old Japanese girl; she stayed in his home only a few days before the situation became known to authorities and [the] girl was removed, but not before the rapist began touching her inappropriately ... a year later, this same rapist was accepted by a host organization to host a 16 year-old Thai girl."We would assume that the U.S. State Department, which is charged with watching over exchange student programs, would clearly want to put an end to the exploitation of such a valuable academic program. The exchange programs should also clearly want to protect those students who participate. When this industry is making millions of dollars a year and the state department receives funds from them, however, officials tend to write off incidents as "contractual disputes."That's not to say that there aren't some people without morals out there. Danielle Grijalva, originally a Center for Cultural Interchange representative, created the "Committee of Safety for Foreign Exchange Students" after researching the mistreatment of students by their host families. Her organization has grown to more than 1,500 volunteers from around the world.We must wonder why it is that volunteers are doing more to fight for justice than the government. Shouldn't it be a priority to protect guest students in the U.S.? Are American exchange students subjected to similar criminal abuse by host pedophiles when they travel abroad?Besides corruption, America's isolationist attitude is allowing more and more crime to occur within our borders. As long as it's not affecting Americans we don't seem to notice. The longer we keep the mindset that America is a separate world within the world, the victimization of our visitors will continue.
The author, Jean Kim, is an English major and a contributing writer for theDaily Forty-Niner.