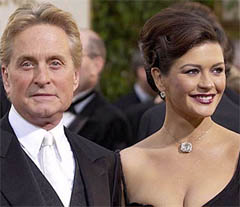 Catherine Zeta-Jones (right) with her husband Michael Douglas in a party
LOS ANGELES — Catherine Zeta-Jones on Wednesday recounted her terror at the hands of a stalker who threatened to "slice her up like meat on a bone" in a crime that would make "entertainment history."Struggling to maintain her composure while testifying at a preliminary hearing, the Oscar-winning actress recalled how at one point she feared having a heart attack or a stroke because of the death threats contained in letters and telephone calls.Zeta-Jones, 35, said she was "shocked at the violent, horrific, satanic desire that someone would want to do that to me. A total stranger.""I have never had a death threat in my life and this will affect me for the rest of my life," she told the court.Dawnette Knight, 32, is charged with 25 counts of stalking Zeta-Jones with threatening phone calls and letters between January 2003 and May 2004. The preliminary hearing will determine whether there is sufficient evidence for a trial.Knight, described by her lawyer as having a "girlish crush" on Zeta-Jones's husband Michael Douglas, accused the actress in her letters of being a gold-digger, a whore and a bitch.None of the letters were sent to Zeta-Jones but were addressed instead to her 87-year-old father-in-law Kirk Douglas, family friends and TV networks.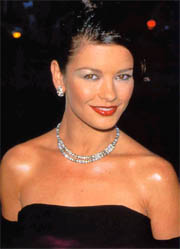 Catherine Zeta-Jones
They accused the actress of having an affair with actor George Clooney, of marrying Douglas for his money, and showed detailed knowledge of Zeta-Jones' complex travels between homes in Bermuda, Spain, Las Vegas and Los Angeles and to movie and commercial shoots. Much of the graphic nature of the threats was kept from the actress as she tried to carry on with her career. But she was required to read portions of the letters in court on Wednesday, often choking up at their chilling nature."The bitch will be shredded to pieces like Sharon Tate was. This is going to be entertainment history," said one, referring to the actress murdered by the Manson gang. "See ya at the funeral," said another. AN OBITOne letter threatened to blow her brains out "like President Kennedy," while another was written in obituary style with a picture of Zeta-Jones alongside the words "goodbye."Zeta-Jones, wearing a simple long-sleeved black dress, said her most terrifying moment came in May when three death threats in two days were telephoned to the Amsterdam hotel where she was staying while filming the upcoming movie "Ocean's Twelve."She said she started to shake and sweat and felt faint. "I said 'I think I am going to have a heart attack or a stroke'," she recalled telling her husband by phone.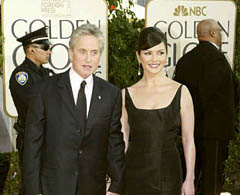 Douglas, testifying earlier in the day, said Zeta-Jones was "hysterical, hysterical. She could not get any air. She showed all the signs of having a nervous breakdown."Both Douglas, and Zeta-Jones, who won a best supporting actress Oscar for "Chicago," said the letters contained personal details such as the name of the nanny to their two young children, and a description of a hallway in their Los Angeles residence."She just felt that she was a marked person, (she) couldn't understand how they knew where she was," Douglas said.Douglas said he vaguely recalled seeing Knight at a golf tournament in Las Vegas where she walked directly toward him. "She was hyper-ventilating a little bit and her behavior was a bit strange. She was wiggling," Douglas said.Knight has written a letter apologizing to the couple and said she would never have harmed anyone. Her lawyer, Richard Herman, asked Douglas if he knew that female stalkers were seldom violent.At that point, prosecutor Debra Archuleta said, "Isn't that the premise of a movie called 'Fatal Attraction?"'In the day's only light moment, the packed court burst into laughter and Douglas smiled wryly at the mention of one of his best-known films, about a woman murderously obsessed with a married man.
Who Is Catherine Zeta-Jones?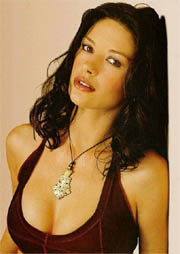 Catherine Zeta-Jones hails from Mumbles, Wales (a tiny fishing village just outside Swansea in the UK), where she was born on September 25, 1969. Her name stems from two different grandmothers; one grandmother is named Catherine, while the other is "Zeta," named after a ship that Catherine's grandfather sailed on.
Catherine Zeta-Jones does musicals
Although Catherine was not known in the U.S. until her role in The Mask of Zorro in 1998, she was a well-known star in her native UK. Catherine played the lead in a production of the musical Annie at age 11, and starred in a West End production of Bugsy Malone two years later. At age 17, Catherine nabbed the lead role in 42nd Street after having moved to London in order to pursue an acting career. Once the show closed, Zeta-Jones traveled to France, where she received the lead role in French director Phillippe De Broca's 1001 Nights (a.k.a. Sheherazade), her feature film debut.Catherine's big break came upon her return to England in 1991, when she became a regular on the hugely popular British television series The Darling Buds of May. Her role as the eldest daughter of a farm family increased her star status in the UK, which of course, led to her becoming a tabloid favorite, constantly hounded by the paparazzi. Once the intrusiveness of the media became unbearable, she decided to take her life and career across the Atlantic.
Catherine in Titanic
Although a sex symbol and celebrity in the UK (she even dabbled in music, releasing an album in the UK in the early '90s), it took a while for Catherine to break into the Hollywood scene. In 1994, she landed the lead role in CBS' Return of the Native, and gave a remarkable performance in her role as "Catherine" in the miniseries Catherine the Great. It wasn't until Catherine's role in the four-hour television docudrama Titanic that Americans would soon learn why she was famous across the pond, one year before Leo DiCaprio and Kate Winslet starred in the big-screen version of the film.
Zeta-Jones in the Mask of Zorro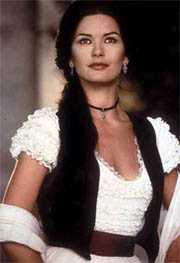 Steven Spielberg noticed her in the miniseries and thought she'd be perfect for the female lead in The Mask of Zorro, which he was producing. Spielberg knew what he was talking about, and he wasn't the only one who was impressed; audiences and critics liked what they saw in the role opposite Antonio Banderas. Audiences probably wondered where this beauty popped up from, since they had never before heard of the Welsh star, who was often mistaken for Spanish.At the 1998 Oscars, Catherine stood out on the red carpet, looking ravishing. If she wasn't yet noticed after The Mask of Zorro, her appearance at the Oscars turned heads.In the summer of 1999, Catherine Zeta-Jones appeared opposite Sean Connery in the summer action film Entrapment. That same summer, Catherine took on the role of Theo in The Haunting, Dreamworks' adaptation of the 1963 horror of the same name, joining cast members Liam Neeson and Lili Taylor.
Catherine and Michael Douglas marry
Actor Michael Douglas first met Catherine at the Deauville Film Festival, and apparently told her that he wanted to father her children during their first date. As if a premonition, they had their first child, Dylan Michael, in August 2000.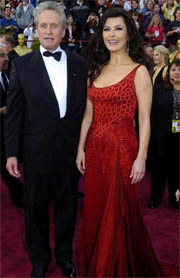 The couple married in New York's famed Plaza Hotel in November 2000; apparently, Catherine arrived 10 minutes late, as a result of being held up by her troop of security guards. Their wedding even made headlines again in 2002, when the power couple sued Hello! magazine for $815,000, for breach of security to get wedding shots and for publishing the poor quality, unauthorized photos. They won the suit and were awarded $26,000.
Catherine Zeta-Jones stops traffic
After appearances in High Fidelity, starring John Cusack, and Steven Soderbergh's Oscar-winning Traffic (both in 2000), she reunited with Cusack for America's Sweethearts in 2001, which also starred Julia Roberts. More recent film roles include 2002's Chicago (for which she won the Best Supporting Actress Oscar) and 2003's Intolerable Cruelty, with George Clooney. Catherine Zeta-Jones is also the spokesperson for T-Mobile International, a leading global wireless service provider, as well as the face of cosmetics giant, Elizabeth Arden. On the family front, she has built a seaside dream home in her hometown, determined that her children (Dylan Michael and daughter Carys) grow up aware of their Welsh heritage.
Catherine Zeta-Jones in Zorro sequel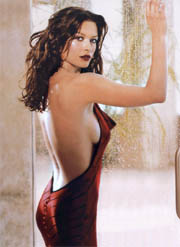 2004 is shaping up to be a busy year for Catherine Zeta-Jones: she's starring in Spielberg's The Terminal, as well as the sequel to Ocean's Eleven, Ocean's Twelve. She will also be reuniting with Banderas and Anthony Hopkins for another sequel, Zorro 2, set for a 2005 release.