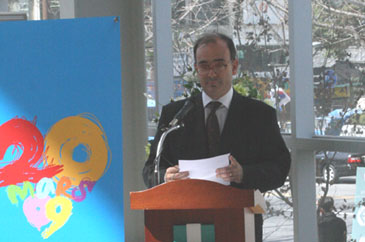 Mr. Thierry Berthelot, charge d'affaire of the French Embassy in Seoul speaks in front of the guests.
The French language is often referred to as "the language of love." It is still considered to be one of the most powerful and attractive languages in many parts of the world. It is estimated that there are approximately half a billion French speakers in the world today, with 33 countries located on 5 continents, as their official language. Here, in South Korea the French language is also very popular with increasingly more people and many students learning and practicing this beautiful and deeply eloquent language. It is also widely used in Seoul's diplomatic community.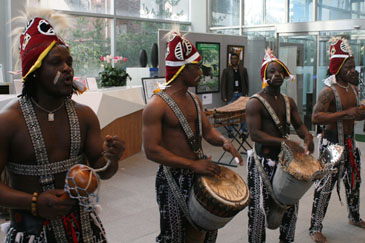 Aaninka musical troupe from Cote d'Ivoire
The 20th of March is the "Internationale Journee de la Francophonie" (International Day of the Francophone). The international community of La Francophonie has 56 member states and governments, 2 associate states and 14 observer states.To mark the occasion many of the organisations ambassadors and embassy officials attended a cultural celebration at the Samsung Raemian Gallery in Anguk-dong, downtown Seoul. This date commemorates the 1970 signing of a treaty in Niger, which was responsible for the creation of the "Agence de coopération culturelle et technique," known today as the "Organisation Internationale de la Francophonie."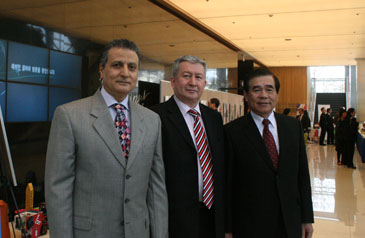 Egyptian Amb Reda El-Taify (left) poses with Vietnamese Amb. Pham Tien Van (right), and Mr. Alisher Okhunjonov, deputy head of mission of Uzbekistan Embassy in Seoul.
The event opened with a speech by The French Embassy's Charge d' Affaire Mr Thierry Berthelot. First with warm a "bienvenue" and apologies for the French Ambassador Phillipe Thiebaud, who is currently on a diplomatic mission to China. Mr Berthelot went on to stress the important role the Francophonie community plays in maintaining strong cultural and economic links with the world today for prosperity and peace, both within and beyond the French speaking world.
Presentations of certificates were given to a number of Korean Middle and High School students who had achieved a high level of proficiency in the French Language. The event attracted hundreds of both local and international guests including scores of top foreign envoys serving in Seoul.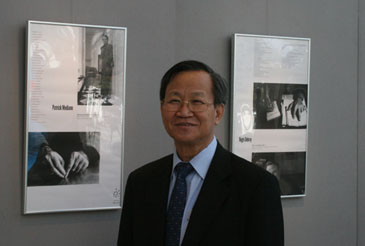 Cambodian Amb. Lim Samkol posws for camera with works of art on exhibition behind him.
The aim of annual The International Day of the Francophone is, to a raise awareness of the organizations linguistic and cultural diversity to promote peace and democracy, through a common dialogue. This was expressed through a variety of mediums including, poetry, music and dance, and short films. The event also introduced its Korean and international attendees to a variety of exceptional international cuisine, overseen by watchful eye of the Egyptian Embassies own Master Chef. A wide selection of appetizers & h'orderves, was on offer including hot melted Swiss "Reblochon fromage et pomme d'terres" (potatoes and cheese). Wines from both France and Canada provided merriment from the "gestation" from the Terroir Sélection a new wine school in South Korea based in the centre of Seoul. And hot strong aromatic Coffee from some of the African nations aided the digestion of a "bon appetite."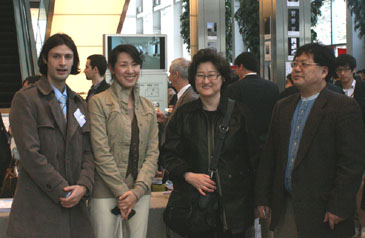 Ms. Koh Eun-Kyoung (second from right), admin director of Esmod Seoul poses with Press Officer Cho He-Na (second from left) of Esmod Seoul, Mr. Joseph Joh (right), managing editor of The Seoul Times, and Mr. Julien Allegrini, charge de Mission-Communication of the French Embassy in Seoul.
After the culinary delights, guests were thrilled and charged by the pounding rhythms of Africa from "Le Côte d'Ivoire" (The Ivory Coast) musical troupe "Aaninka" with dancing from the vibrant and energetic Congo. Romania, also entered the graceful and colourful movement of traditional dancing and folklore, this also highlighted, that not only French primary language nations are involved in the "Organisation of the Francophonie,' but indeed many non-native French speakers are committed to the ideals and promotion of the culture, in fact, all the Eastern European countries being full state members and observers.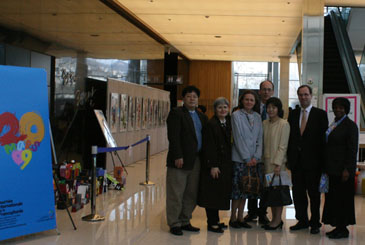 Mr. Ferdinand Renz (second from right), ambassador for Peace, Germany of Universal Peace Federation, poses with his fellow members from other countries.
The South Korean public had the opportunity to see an exhibition of prize-winning snapshots from the photography contest "Les mots de demain" (Words of tomorrow) as well as a screening of some French-speaking short films. There was also some an animated frenetic storytelling by Muriel Bloch, French author, which illustrated the fun and enjoyment of the spoken language, with profound expression, later she was accompanied by French musician Guilla Thiam. For further information please contact either Julien Allegrini at 02-3149 4321, or by e-mail to julien.allegrini@diplomatie.gouv.fr ;
or Shim Young-sup at 02-3149 4333 or young-sup.shim@diplomatie.gouv.fr