Asia-Pacific
feature article
Jazz Cafes Japan
By Darron Davies
Special Corespondent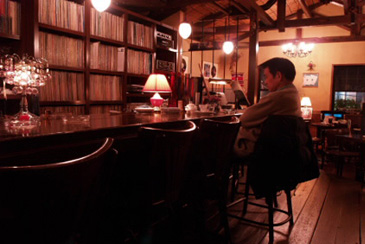 A jazz cafe in Japan
It is like descending into another world - a world of red light and loud jazz, a world of men absorbed in music, sitting in armchairs, facing large speakers. It could be another time, rather than the early afternoon. It could be New York, in the sixties. I could be listening to the gentle tones of Bill Evans playing the piano. Instead, I am in Jam Jams, a Jazz Café, in Kobe, Japan, and it is early afternoon. A simple stroll down some stairs has taken me out of the busy city centre, into this dimly lit café. My eyes begin to adjust to the room and my ears tune to the loud music. A lady sits at the bar sipping coffee. She is reflective, thoughtful. Behind the bar, lined with colorful liquor bottles, are hundreds of neatly stacked records. The barman is serving drinks, changing records on a state of the art turntable, keeping the mood like an exotic DJ. A red guitar is mounted on the wall. I see French movie posters, brochures advertising jazz gigs, jazz records in picture frames. I sit in a comfortable armchair and order a coffee and cake-set for 1000 yen – about $12 U.S. Towards the front of the long room, beneath a poster of a cigar smoking Che Guevara, jazz is blaring from a huge speaker. A sign near the bar directs customers to this area. It is called the 'Listening Area. Several men are sitting- pensive, absorbed. The speaker – a valve amplifier - is an exotic relic from the past. The odd crackles tell me that the sound is coming from a record. It is a warm sound, like that of a live band. It feels late in the evening, though it is early afternoon. I am sitting in one of Japan's many Jazz Cafes – a serious side to jazz listening in Japan– and an opportunity to hear extensive back catalogues of jazz CD s and records –an interesting cultural phenomenon! These cafes have a sophisticated cultural history, according to Michael Molasky, history professor at the University of Minnesota. He spent a year visiting Japanese Jazz Cafes, and has written a Japanese text on Jazz Cafes -The Jazz Culture of Postwar Japan: Film, Literature, the Underground. The first jazz cafes opened in the late 1920s and early 1930s, yet became even more popular during the occupation, when American culture swept Japan - servicemen introducing many locals to jazz records. The cafes also had booms in the early 1950s and 1960s when the likes of modern jazz – and touring bands such as Art Blakey and the Jazz Messengers- had very successful tours of Japan. The cafes became sites for cultural and political alternativeness in the 1960s when civil rights and the Vietnam War were on the political agenda, and African American jazz became very popular. There was also a deep influence when the aesthetics of the French New Wave – the Nouvelle Vague – swept through artistic and cinema circles around the globe. The growth in improvised jazz, including a burgeoning local jazz scene, also saw interest grow in the late sixties. I visit the Voice Café, also in Kobe. It is situated on the second floor of a railway station shopping arcade. I sit at the bar and chat with the owner Mr. Morata Seiji. He serves coffee, changes CDs, or records, and chats with the customers. Two ladies, one a regular from a nearby store, sit at the counter. Mr. Morata is a genuine enthusiast with thousands of jazz records – 'about 6000,' he states, "many by mail order." In the corner of the L-shaped café a man sits in an armchair listening intently to the sound from a large Altec Lansing speaker. He is absorbed, alone. One senses that he doesn't want to be interrupted. Mr. Morata understands the protocols. "There are a lot of professionals who come in here," says Mr. Morata. "doctors, psychiatrists, white-collar workers. Many of the men who come in are from high society." "Jazz just caught on, after the war," he says. "It fits into a unique way of Japanese thinking – a type of mathematics. Jazz is heard by the brain, it is like an adventure. You build up expectations of what is coming next." Mr. Morata's favorite players include Miles Davis, Bill Evans, Tommy Flanagan and Hank Jones. He pulls out a folder and proudly shows me photos of people who have visited his home or café. He is proud of the time when Al Grey, the American trombonist, visited. I am joined at the counter by a jazz pianist and composer Kazuki Iida. He comes into the café each week, enjoys the atmosphere and a chat. He draws on his cigarette – smoking is common in these jazz cafes – and informs me of major names in Japanese jazz. He has a weekly piano gig at a Kobe bar called Ellies. He incorporates traditional Japanese instruments, and taiko, with his piano playing. Mr. Morada interrupts. He has put on a new CD. It is called Logue by Takayuki Yagi. "It has been produced by my son," Mr. Morada says, proudly. Visit any of these cafes and you will soon find an enthusiast. Jazz Cafes have an unusual image in Japan. For some people they are seen as places for isolated men, seedy places, sometimes in the red light district of the city. According to E. Taylor Atkins in his book Blue Nippon- Authenticating Jazz in Japan, "jazz remains foreign to most Japanese, and thus the jazz community represents a bizarre alien (at best, hybrid) subculture virtually unintelligible to the masses." Jazz Cafes have also been the inspiration for many artists, writers and musicians. One of Japan's most famous writers, Haruki Murakami, ran a jazz café in Tokyo. Jazz has had a deep influence on his writing. Some even believe that early jazz café enthusiasts were the first 'geeks' or 'otaku' - forerunners of anime and manga fans. What becomes apparent for me as I move between cafes is the reflective and meditative nature of these establishments. They are places for like-minded people to meet, places to enjoy a style of music that deserves close listening. I visit a jazz cafe in Kobe called M&Ms. It has a beautiful warm atmosphere and is run by a lady Hisako Ikenoue. A man is sitting at the bar, pensive and reflective. He is swimming in the jazz, enjoying the spacing of the music, the chance to really savor the sound. At the bar two men chat. A couple sits at a corner table. The atmosphere is intimate, lamp lit. Records and jazz books are stacked behind the counter. A beautiful JBL speaker, and McIntosh amp, pipe jazz into the room. On the wall I notice a signed copy of Miles Davis' album Witches Brew. The sounds of Charles McPherson – a saxophonist – fill the room. I do not know this player. I wonder how many rare records lie in the massive record collections in Japanese jazz cafes. I enjoy the warmth of the venue – an escape from a freezing winter day in Kobe. I finish my journey in the Time Out Café in Kobe and at the Wings Cafe in Osaka. Time Out is a large room with wooden tables and seats. It is quiet when I enter - one customer. The owner is tapping away on a computer keyboard at the bar. What astonishes me is a huge wooden amp at the front of the room. It is like an altar. A custom-made relic from the past it advertises the seriousness of the jazz listening experience. I enjoy listening to sound from a valve amplifier, enjoy the warmth and tone, and realize how these amps allow one to hear the beauty that can still be found in records. I also realize how these amps celebrate Japan's role in the production of high quality sound equipment. These jazz cafes – or 'jazu kissa' to use the Japanese phrase - have seen many changes over the years. I think about this café. Is it ever busy? Who comes here? What stories could it tell if its walls could talk? How many records can I listen to? Can I choose? What rarities lie only on record? Still, I know that some cafes are closing, and that the digital age has affected clientele. I also sense– echoed by the comments of Michael Molasky – that many establishments are softening the experience, lessening the level of sound, opening the doors to a new generation of customers. I journey through the Kansai region, over the following week, and I marvel at the influence of jazz. It can be heard in many cafes and shops. Each morning I have a 'morning set/breakfast at the Ura Café in Fukushima, Osaka. Kozo Mabuchi, the owner, consistently plays jazz – Billie Holiday and Anita Oday are his favorites. On the last day of my visit he plays Stan Getz – just for me. I walk down the street in central Osaka and hear jazz being piped onto the street. I hear gentle piano strains, like Keith Jarrett, emanating from near the Hilton Hotel in Osaka. What is this I think? In most other countries we would surely hear top 40 music. I wonder to what extent this is safe background music. Is it listened to? How deep are the jazz interests in Japan? I certainly know that Bill Evans retains a cult like status. I have little criticism for the jazz cafes that I visit - heavy smoking is perhaps an issue in some - yet, what I find most intriguing is how these places have rekindled my interest in jazz. I want to listen to jazz again. I want to really listen - enjoy its texture. I finish my journey at the Wing Café, in the Namba district of Osaka. A sign at the front door says that the café specializes in the Prestige, Blue Note, Impulse and Verve labels. It shows the cover of Sonny Rollins album Saxophone Collosus. A model plane hangs from the roof .At the side of the counter, where six stools face the barman, stand an array of amplifiers and chords that look like props from a science fiction movie. Leads flow from a laptop, CD player, and record player, into a converter - no doubt - to convert a signal back into analog. Exotic valve speakers are positioned around the room. I sit in the only table in the café and order a coffee. A man and a woman walk in. The owner becomes animated. The atmosphere is convivial. I notice jazz books and stereo magazines. I let my mind wander; enjoy the camaraderie of the room, the escape from Osaka's busy streets. I hear a beautiful reworking of the song Moon River by Oscar Peterson. I move in and out of the song. It goes on a new journey only to return to the familiar melody. In my own way I continue the journey, like the jazz .What has been awakened in me is an appreciation of the depth of jazz - a passion that can really be felt in these unique establishments. I think of the words I find in the book Blue Nippon: -"The hardcore jazz coffee houses are not places at which to socialize, conversationally, at least. Rather, they are places where one is socialized, evangelized, and indoctrinated into the mental discipline of jazz appreciation, and to a deeper understanding of the music's message and spirit." I have sensed the hardcore enthusiasm yet also the friendliness and warmth of these establishments. I once thought that one should go to New Orleans to savor jazz. Ever thought of Kobe? Ever thought of Osaka or Tokyo? These jazz cafes have a unique relationship in Japanese culture and one that deserves to be preserved - and experienced!Darron Davies
darron@darrondavies.com
www.darrondavies.com
Melbourne, Australia.
Ph: +61 405 170 493

Related Articles
Journey to River Seven in Worcester
The Beatles Again -- in Osaka, Japan?
The Jazz Rescuers: The Victorian Jazz Archive
The Fushimi Inari Shrine, Kyoto, Japan
A Simple Walk: Abbey Road Crossing Revisited
Riding My Own Train Set in Japan
Smoking Manners Campaign in Japan
"The Biggest Vending Machine"
What Disasters Teach Us
New Zealand: Peaceful North
Sights and Hidden History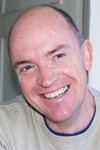 Mr. Darron Davies, who serves as a special correspondent for The Seoul Times, is a freelance writer based in Melbourne, Australia. He is a photographer: www.darrondavies.com and works as a specialist in education supporting creative teaching within schools : www.inclueded.net.