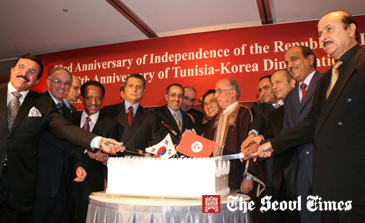 Tunisian Ambassador to Seoul Mustapha Khammari (5th from right) cuts cake with other foreign ambassadors and dignitaries during reception he hosted on the occasion of its independence at Lotte Hotel in downtown on March 20, 2009.
Tunisian Ambassador to Seoul Mustapha Khammari hosted a reception at the Lotte Hotel in downtown Seoul, on March 20 (Friday), 2009 in order to celebrate his country's 53rd anniversary of its independence and the 40th anniversary of the establishment of diplomatic relations between the Republic of Korea and the Tunisian Republic.More than 500 guests were in attendance from all walks of life and areas of society, including government ministers and officials, prominent business people from the trade, tourism and technology industries, along with scores of foreign ambassadors and their envoys residing in Seoul were present at the function.Among them were top politicians and government officials of South Korea. They included two lawmakers, Chung Ok-Nim of the ruling Grand National Party and Lee Yong-Kyung of the Creative Korea Party, and a government official, Kang Byung-Kyu, vice minister of Public Administration and Security.Diplomatic ties between the Republic of Korea and Tunisian Republic were established on March 31, 1969 and have a longstanding tradition.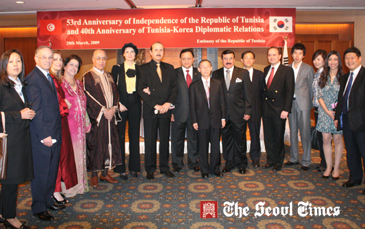 Tunisian Ambassador to Seoul Mustapha Khammari (5th from left) poses for The Seoul Times with other foreign ambassadors and dignitaries during reception he hosted on the occasion of its independence at Lotte Hotel in downtown on March 20, 2009.
Since then, relations between Tunisia and South Korea have undergone a significant development since the 60's. Political, economic, scientific, cultural and academic cooperation between the two nations have witnessed a significant development with the signing of numerous agreements and Joint Committees in these areas.Tunisia was also one of the first African and Arab Countries to establish diplomatic ties with South Korea. Positive political dialogue over the international issues of common interest exists also between the two countries.The ambassador emphasized in his speech the great progress the diplomatic relations between the two countries made in the last 40 years and how bilateral cooperation had developed since then, and stressed the importance of further collaboration."I feel immensely proud of the achievements both Tunisia and Korea have made for the last four decades and we would still like to achieve more," Amb. Khammari said in a speech.The ambassador also praised South Korea's rise to success in the Asian and global economy in the last 40 year period, as being accountable to the resilience and determination of the Korean people to succeed, sometimes often through difficult and uncertain economic times, in a country where work is held sacred and genuine effort is considered as a way of life.This is a sentiment which, his country shares, and it is perhaps, the main driving force of which has taken Tunisia, to become, one of the most successful countries in Africa and the Middle East in the time of it 53 years of independence.The key note of the ambassador's speech seemed focused in the reinforcement of cooperation in the field of commercial exchanges, investment, tourism, and science and technology. Tunisia has exceptional and historical treasures, including over 20,000 archaeological sites and hundreds of monuments, museums and historical centers and a total of eight world heritage sites.This attracts numerous tourists from all over the world. With more than 6,500,000 tourists visiting the country per year, Tunisia is a leading tourist destination for tourists from Europe, the United States, and Oceania.In 2007 Mr. Kim Woo-Sik, deputy prime minister and minister of science and technology, co-chaired the first Technological and Scientific Joint Commission, which culminated with the signing of a Program of Cooperation in the areas of science and technology. The bilateral cooperation has gained momentum during the last couple of years in all fields and notably in those of IT, science and technology, and higher education.To bolster these commitments, a MOU (Memorandum of Understanding) was signed by a high ranking Tunisian delegation during February 2007, the first of its kind concluded between an African and Arab Country and Deadeok Innopolis.This agreement will pave the way to reinforce the technological cooperation between the two countries through the exchange of know how between the prestigious Korean Technopark and the well established Tunisian network of Technoparks. In addition, a further MOU of cooperation was signed between the Korean, Angdong National University and the Tunisian, University of Gabès.On a cultural level and besides the participation of Tunisian and Korean artists in several cultural events held in both countries, a MOU was also signed in Tunisia between the two national libraries.The Ambassador's speech ended with his wish for a fruitful, long lasting cooperation with security and continued "peace and prosperity." As the celebration continued in Seoul, heads of state all over the world congratulated Tunisia on its 53rd anniversary of Independence Day on Friday. Tunisian President Zine El Abidine Ben Ali received messages from leaders including King Mohammed VI of Morocco, Algerian President Abdelaziz Bouteflika, Moamer Kadhafi of Libya, United Nations Secretary-General Ban Ki-moon and US President Barack Obama, who praised 200 years of relations between the two countries and expressed his will "to strengthen and develop these relations in the coming years."French President Nicolas Sarkozy also sent his warm congratulations and best wishes adding that the French Prime Minister François Fillon's forthcoming visit to Tunisia will provide the opportunity to carry on fruitful action and dialogue to explore new prospects for co-operation, to serve the two friendly peoples' interests. He also underlined in his message "that France will endeavour to bolster relations between Tunisia and the European Union and enhance dialogue in the Mediterranean space."The 20thof March anniversary in Tunisia marks the end of French colonial rule and Declaration of Independence from France in 1956 after being a French colony for 75 years. It's Tunisia's biggest holiday and widely celebrated. The day is coupled with another holiday called "Youth Day," which, celebrates the younger generation.Right after gaining its independence in 1956 Tunisia started to invest in human resources and education in order to develop a skilled workforce. This is one of the reasons Tunisia was recently ranked the most competitive country in Africa and the Arab world. Education is given a high priority and accounts for 7% of GNP. A basic education for children is free between the ages of 6 and 16 has been compulsory since 1991. Tunisia was ranked 11th in the category of "quality of the educational systems" in The Global Competitiveness Report released by The World Economic Forum.While children generally acquire Tunisian Arabic at home, when they enter school at age 6, they are taught to read and write in Standard Arabic. From the age of 8, they are taught French while English is introduced at the age of 12.When French colonial rule ended in 1956, Tunisia was led for three decades by Habib Bourguiba, who advanced secular ideas with strong anti-fundamentalist policies. These included emancipation for women and it is also the only country in the Arab world where polygamy is forbidden by law. Women's rights in Tunisia are among the most advanced in the Arab world.This as part of a provision of the country's Code of Personal Status, which constitutes that women and men share an equal role in society. Women make for 22 percent of lawmakers and 57 percent of university students in this Arabic country. Poverty, has also significantly been reduced thanks to a national solidarity policy and strong social commitment from the government and now stands at 3,8%, instead of some 50% in 1956.Tunisia is also more prosperous than its neighbors, and has strong trade links with Europe. Like Korea, Tunisia has no major natural resources and is one the few Arab countries not dependent on oil and gas revenues. Despite its relatively small size, it also has great geographical and climactic diversity. Agriculture employs a large part of the workforce, olive oil, dates, citrus and wines which thanks to their natural characteristics are acknowledged by international experts for their high nutritive value and unique taste. One of the main advantages of Tunisia is its geo-strategic location in the heart of the Mediterranean Sea directly neighboring Africa, Europe and the Middle East. Another thing Tunisia shares with Korea is hospitality and over six and half million tourists flock to Tunisian resorts every year.Travelers can enjoy several kinds of sport activities including sailing, windsurfing, water-skiing, and horseback riding and Saharan desert camel adventures. Tunisia also boasts a rich cultural heritage as the crossroads of various civilizations testified by its prestigious museums and cultural institutions. Eco tourism is also growing in popularity, many national parks and natural protectorates have become privileged observation sites to protect species reproduction and several plants, including some rare ones. First contacts between the private tourist sectors in the two countries have been established. Since December 2006, two important groups of Korean professionals and journalists operating in the field of Tourism have visited Tunisia. Others similar visits are being scheduled this year, as to highlight Tunisia within the tourist destination packages offered by the main Korean travel agencies.