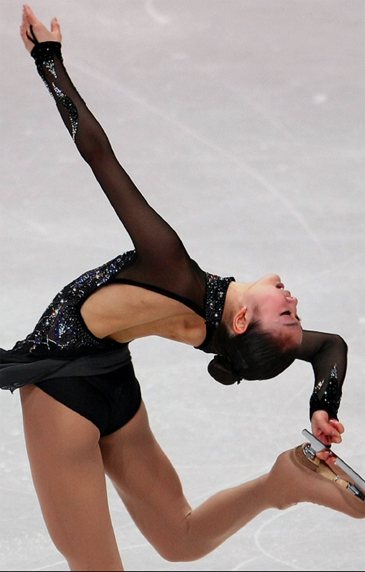 Kim Yu-na clinches her first World Women's Figure Skating Championship title.
Kim Yu-na, South Korea's figure skating super star, claimed her first women's single gold medal with a record 207.71 points at the 2009 World Figure Skating Championship in Los Angeles on March 28, according to Yonhap News dispatch from Los Angeles on March 29, 2009.
The 18-year-old, recording 131.59 points in the free skate of the championship held at Staples Center, topped the overall standing with 207.71 points. Kim became the first to receive over 200 points in the women's single event, Yonhap said..Canadian Joannie Rochette registered 191.29 to rank second, while Japanese Miki Ando, the 2007 world champion, finished third with 190.38.Saturday's win is Kim's first world championship title since she appeared in the senior stage in 2007. She obtained two bronze medals in the 2007 and 2008 world championship tournaments.Kim, who received a record 76.12 points at the short program on Friday, entered the free skate at the top with a 8.22-point lead over Rochette.The Four Continents champion skated to Rimskii-Korsakov's "Scheherazade" and earned high marks for her trademark triple flip-triple toe loop combination jump and flawless triple lutz and double axels. She also performed dazzling spins and spirals.Her rival, Mao Asada of Japan, the 2008 world champion, earned 122.03 points in the long program to come in fourth with 188.09 points. She made a crucial mistake on her second triple axel jump.
Who Is Kim Yu-Na?
From Wikipedia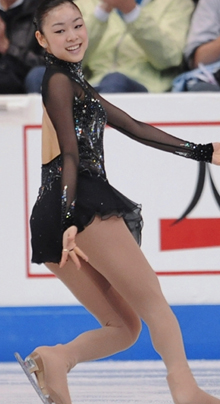 Kim Yu-na clinches her first World Women's Figure Skating Championship title.
Kim Yu-Na (Hangul: 김연아, Chinese Character: 金姸兒) (born September 5, 1990 in Bucheon, Gyeonggi-do, South Korea) is a South Korean figure skater.She is the 2009 World champion, the 2009 Four Continents champion, the 2006 & 2007 Grand Prix Final champion, the 2006 World Junior champion, and a five-time (2001-2005) South Korean national champion.Kim is the first South Korean figure skater to medal at a Junior Grand Prix event, win a Junior Grand Prix event, medal at a Grand Prix event, win a Grand Prix event, win the Grand Prix Final, medal at an ISU Championships, win an ISU Championships, and medal at the World Championships. She is one of the most highly recognized athletes and media figures in South Korea.Kim holds the highest scores ever for short program, free skating programs under the ISU Judging System, and the combined scores. Kim is also the first lady to have reached a total of over 200 points, and the first skater to have received +2.00 'Grade of Execution for jumps under the ISU Judging System.As of March 2009, Kim is officially ranked first in the world.