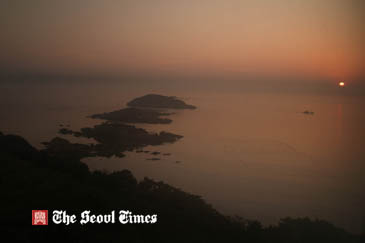 Sunrise at Weihai, China Photo by Darron Davies
I never thought that a curious interest in the First World War would lead me to China. But life is like that, presenting us with unexpected journeys. I am flying to Weihai, a seaside town on the Shandong peninsula, an hour's flight from Beijing. I am to attend a conference about Chinese labourers – a massive force of up to 50, 000 labourers who left Weihai, for the battlefields of Europe, towards the end of World War One - thousands more from nearby ports. My interest in the subject first grew out of a website I had been writing for teachers. I asked what happens after battles have been completed. Who cleans up? How does life return to normal? Research on battlefield clearance led me to information on a large Chinese Labour Corp. Who were these Chinese people, I thought? What were they doing in Europe? My curiosity was also matched by others' comments - many visitors to the WW1 cemeteries in France and Belgium comment on the unexpected Chinese graves. I look out the plane window. The first thing that strikes me about the Shandong peninsula is its large belt of cities. One sees massive freeways and huge housing developments. The Shandong region is the home to over 90 million people. I land at Weihai airport and it is interesting to see an Air Force base. Fighter jets, under tarpaulins, stand at the side of the runway. One feels as if one shouldn't be looking, yet all is reasonably relaxed. Servicemen can be seen basking in the sun.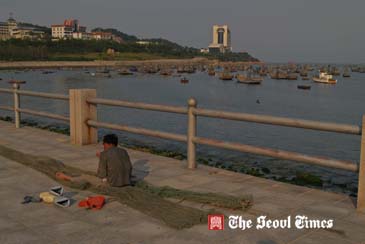 A fisherman at Weihai, China Photo by Darron Davies
The 40 minute trip from the airport to Weihai, along a largely modern freeway, takes one past large factory estates, traditional farmhouses, and small towns. There is much evidence of foreign investment: golf courses and coastal tourist ventures. After Beijing and Shanghai, Weihai is the most popular Chinese holiday destination for South Koreans. With a population of 2.5 million Weihai is an interesting mixture of the old and the new. Tree lined streets in one quarter remind one of a Mediterranean seaport. One can still sense the historic European influences: buildings that were once European Schools, churches, and administrative offices – the British leased the port from 1898 to 1930. After Beijing it is refreshing to observe the sea, to experience the relatively fresh air that Weihai has to offer. Looking out the window of my neat hotel room, early one morning, I photograph a beautiful sunrise, a silhouetted fishing boat, and small islands. This is a gift to a keen photographer. The luxurious Heqing hotel is a shrine to the photography of the region. The manager, Jichen Yang, is a photo enthusiast. Photographs line the walls. When the conference proceedings start it is apparent that a small yet fascinating contingent of international experts have attended. Communicated in three languages - Chinese, English and French - experts, some traveling from as far as Canada, Hong Kong, Britain, Belgium, France and the United States, explore the fascinating history of Weihai. We are wined and dined in style. It is clear that while modern China is opening up its economic and financial borders so too it is opening the doors of its history. The conference is generously hosted by the Weihai Municipal Archive. A comprehensive exhibition on the Chinese labourers opens at a nearby trade centre. It is hoped, with extensive media coverage, that more personal diaries and artifacts will be found, further opening understanding of this largely under-recognised labour force.
Speakers give short lectures. Apparently a large Chinese labour force was recruited by the French and the British following the disastrous casualties of the Battle of the Somme in 1916, and a general feeling that the war was slipping away. Chinese foreign labour was chosen because of existing administrative structures - the British leasing the port of Weihai - and a general belief that the labourers of the region were hardy and more suited to the climate of Europe. Originally called Weihaiwei, Weihai was leased as a British naval base - an alternative to Hong Kong - between 1898 to 1930. Many labourers volunteered for a relatively good wage, but also out of desperation. Famine and flooding were common. Despite China being a neutral country thousands of labourers were recruited for the trip to Europe. Labourers, from a variety of backgrounds: carpenters, blacksmiths, bakers, weavers, farmers, bricklayers and ex- soldiers, endured a strict training regime and martial control. Ships left in 1917 for Europe in all directions - to and across Canada or via the Panama Canal, Suez Canal or South Africa. German submarines were a problem and already 543 Chinese had been killed in the tragic sinking of the French steamship 'The Athos.' The work in Europe was hard – ten hours seven days a week – all being subject to martial rules despite being a non- combatative labour force. Some being executed for criminal offences, others winning awards for bravery. Labourers received a stipend for themselves, a part of their wage being made available for the family back home. Time was given for Chinese holidays. Labourers received free food, clothing, accommodation, medical treatment and English lessons including support in writing letters back home. Labourers worked on tasks as varied as trench digging, grave digging, tank maintenance, bomb clearing, body recovery, handling stores, as well as making roads and constructing rear defenses. Labourers died from bombings, gassing, disease, accidents and injuries caused by unexploded grenades and bombs. Many also died from the post-war Spanish flu. It is reputed that over 94,000 Chinese served with the British Chinese Labour Corp. Over 1800 died in France, including 279 on the seaward voyage home. Speakers tell us stories of the daily life in camps, gambling, murder, executions, bravery, communications, homesickness, recreation and trauma. We hear of Chinese labour corps that served with the Russians. We hear of a recently discovered labourer diary. One historian, Gregory James, from Hong Kong, has compiled a searchable database of 94,000 labourers from records and the visiting of cemeteries. What unravels is a complex picture: philosophical discussions centre on the impact of the journey and what skills and perceptions labourers brought back to China. During the following days we make a trip to a number of historic British buildings in the town. We see the large Happiness Gate and Weihai Park with its many curious statues: Albert Einstein as well as Chinese Philosophers. A ferry trip takes us to nearby Liugong Island. It hosts historic buildings and interesting Museums to the Sino Japanese War and British lease. The development, with its mixture of old and reconstructed buildings, feels more like an historic theme park at times, yet shows the increasing extent to which China is addressing its history. Over the following days I wander through the streets of Weihai taking many photographs. Modern buildings rise above old fishing fleets. A photograph I take captures two sides of China. In the foreground a fisherman tends to his nets. Old fishing boats dot the harbour. In the distance, perched on the promontory is the Heqing Hotel - the conference home – a monument to modern day China, opening the door for international investment and ideas. I think of the fisherman and the physical requirements of his day. He sits near to the dock where thousands of Chinese once made a most heroic journey to Europe and beyond. Weihai Municipal pages: http://www.weihai.gov.cn/weihai/en/ Heqing Hotel: http://www.heqinghotel.com/ehtml/emain.htm Further Reading on Chinese Labour Corp: The Chinese Labour Corps in France 1917 -1921 Brian Fawcett: sunzi1.lib.hku.hk/hkjo/view/44/4400862.pdf