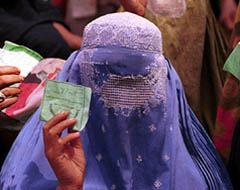 An Afghan woman
Although they are the backbone of family life, many women are not given the proper respect and often become the victims of physical and psychological abuse carried out by their spouses.Since the time of the first men on earth, women have identified themselves with the culture of child-rearing and nest-building. Indeed, it's an honorable occupation requiring no apology.But today, sadly, the term 'housewife' is slowly becoming a pathetic symbol of exploitation and oppression — and even stupidity.Thus, every element of the traditional concept of women, especially those responsibilities associated with homemaking and motherhood, has been affected. Those responsibilities have become outmoded.Married women are depicted as restless and bored who are usually unemployed, staying home all day, while trying to get together with the women in the neighborhood for merry work.Along that line, women's self-concept remains stranded in a homemaking responsibility into the four walls of their homes, sitting at the pity corner and waiting for their husbands to come on their white horses.Wives are stereotyped as lonely, vulnerable and romantic yet they doubt seriously their self-worth.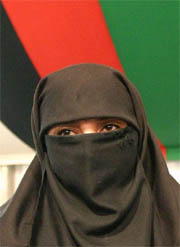 A Palestinian woman
She better finds a job, otherwise she turns into a classic nagger, a shrew, domineering and controlling, all those awful things we can say about a woman. Worse, an "ill-behaved" woman is vulnerable to a "forbidden" love affair, or may turn to drugs and alcohol which many women do. Some would run away and turn over the job of child-rearing to their parents.Oftentimes, the couple separates or gets a divorce.Unmarried women, too, are ridiculed as "old maids" or "social misfits" for being non-communicative.Women are the life-givers, the first care-givers from breastfeeding and subsistence farming which feeds most of the world, to cleaning, nursing, teaching, and you name it.In peace and war, women are the ones whose work maintains community and life itself. Women the carers have been central to every anti-war movement but robbed of resources to feed and clothe family members.The grim reality, however, is that women, together with children, make up the majority of those killed and wounded in armed conflicts world-wide. Women pay the price of violence and terrorism.Indeed, women are entering the winter of their discontent. They are deep in crisis and in a state of confusion as they develop self-doubt, not knowing who they are in society and what they want themselves.The climate of suspicions and doubts over women's capability to make the difference in society is still conservatively fostered in the public's mind until now. How does this affect our future?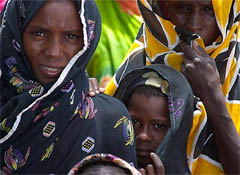 Women in Somalia
The relationship between security on women and instability in society is direct and real so in the widest sense the nature of global security and stability are threatened.The government, therefore, should continue to play a proactive role in the quest to free women from social injustice, inequality and inequity.It's high time the world demand an immediate end to the suffering of women worldwide. Invest in caring, oppose the oppression!After decades of advocacy by women's organizations, the UN came to understand this and unanimously passed a resolution in October 2001 that would reverse current trends. UN Security Council Resolution 1325 on Women, Peace and Security calls for the participation of women in decision-making, peace negotiations, program implementation and for the protection of women and girls during armed conflicts.Yet, it's still far from considering that the struggle for women and today's fight against global oppression is over.The government must help women redefine their roles by empowering them to engage in community and political dynamism, and guarantee the protection and advancement of their rights.Political dynamism in a form of renewing dialogues with concerned authorities on the future feminist vision and strategies for peace and justice.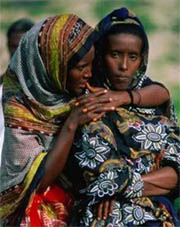 Justice movements will be vital to stand with women the carers against human rights violations and all other forms of discrimination against them. They must make a move to recommend measures to eliminate injustice and cruelty inflicted on women and find remedies to existing problems.Women should be given greater freedom to participate in public life and access to education, health care and employment.When women develop self-esteem, self-confidence, a time of maximum energy, enthusiasm and amiability, and then dedicate themselves to nation-building, they instantly become the mainstays of social order.They reinvent themselves and discover a new sense of pride because they know they are needed by their homeland, and that they could co-exist with, and are, indeed, partners of men in the political, economic, social and cultural development in civil society.This is the feminine perspective, which men should understand. Men should realize that sharing with women, and giving up a little more of the freedom they have long possessed, is more like an arrow pointing to the gender equality-driven future than a dagger pointed towards security.But women empowerment, first and foremost, must start at home so much so that security must also start at home. In the absence of women empowerment at home, the ruin of a nation is inevitable. Many complications occur in marriages when the woman is passive, weak, inexpressive and lacking in self-esteem — and abused.So women empowerment at home is a great contribution that marriage makes to civilization. Everyone benefits from this — certainly, it's a strength to build on. It is what makes a nation strong, stable and safe, security-wise.The cryptic reality is that we are now passing through a world, and a lifetime, where women are expected to have greater freedom, be more energetic, assertive, expressive and "street smart," while men are presumably encouraged to be more gentle, non-assertive and passive.