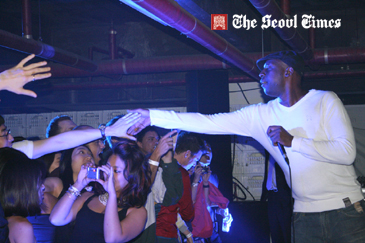 MC Conrad entertains the crow.
Drum and bass legends LTJ Bukem and MC Conrad recently performed near Seoul's glitzy Apgujong district to kick off the 3 night Binzip Project that saw the 'who's who' of the genre in attendance. The highly anticipated and well set up event was held inside a BMW car showroom which really did make it an attractive venue. With the economic downturn the world is facing and the drop in automobile sales, instead of selling cars, why not just throw a big party?Yet again, London sets the stage for one of the world's most influential artists. Raised in Watford, England, Danny Williamson also known as LTJ Bukem has been pioneering Drum and Bass for over a decade now. Initially, he played the fundamental rave scene but then started compiling his own sound and record label, Good Looking Records and so started his distinct liquid and acid jazz fusion to the then popular Jungle style beats.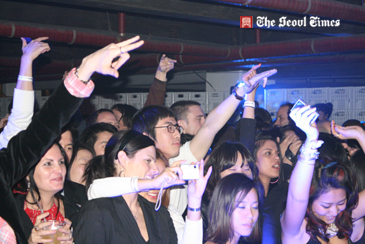 Energic crowd enticed by Bukem
This logical progression saw him and fellow MC Conrad play in basements, arenas and clubs the world over, returning to South Korea for a speaker pounding set that still echo's in the minds of those who where there.The organisers surely went out of their way in the designer 'garden area' with a live exhibition by graffiti artist Yoonhyup, colourful lighting and three rooms catering for fans of dance styles from funk to break beat. Early evening drink specials got the crowd buzzing in this usually pricey neighbourhood. There was also a really friendly feel in the atmoshpere as strangers were greeting each other and friendships were being made.The basement was where the main stage was set which I thought had an exciting atmosphere and livelier crowd. Deserving a mention were local DJ's Accomplice, J Path and Murf who got the audience warmed up and energised for the main act. Emergency red lights glowed over everyone as MC Conrad and LTJ Bukem made their presence known and the crowd responded with a roaring welcome.Drum and bass is still considered an underground genre, however it is clear that Seoul has the capacity and support to offer those who are interested a place to party. If you're curious about similar events be sure to visit the monthly held Konkrete Jungle at club Cargo and for up to date news on future international and local artists playing nearby or join the facebook group Drum and Bass Seoul.