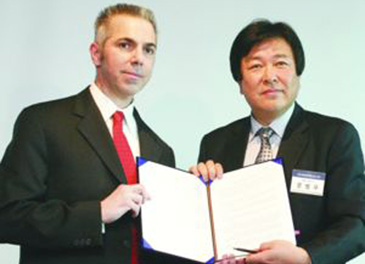 Mr. Moon, Byung-Woo (right), the CEO for CHA Bio poses with Dr. Robert Lanza of ATC of America after they signed a contract for joint clinical experiment on March 30, 2009.
WORCESTER, Mass.— Advanced Cell Technology, Inc. (Advanced Cell, ACT) (OTC: ACTC - News) and a leading Korea-based stem cell company, CHA Bio & Diostech Co., Ltd. (CHA Bio), formerly CHA Biotech, Co., Ltd., announced today that the parties have entered into a licensing agreement under which Advanced Cell will license its retinal pigment epithelium (RPE) technology, for the treatment of diseases of the eye, to CHA Bio for development and commercialization exclusively in Korea. ACT is eligible to receive up to a total of $1.9 million in fees based upon the parties achieving certain milestones, including ACT making an IND submission to the US FDA to commence clinical trials in humans using the technology, which ACT currently plans to do during the second half of 2009. The Company received an up-front fee under the license and expects to receive the balance of the fees over the next 12 months. Under the terms of the agreement, CHA Bio will incur all of the cost associated with RPE clinical trials in Korea. The arrangement is a part of continuing cooperation and collaboration between the two companies, including a recent Joint Venture between the two companies regarding hemangioblast technology."We look forward to developing this technology to identify solutions for diseases of the eye, which represent a large unmet medical need in Korea," said Mr. Moon, Byung-Woo, the CEO for CHA Bio. "Through our work with ACT, we believe its technology platform holds great promise in the field of regenerative medicine. And furthermore, this technology is well positioned to be used in clinical trials in the near future.""We are extremely pleased to have the opportunity to expand our relationship with CHA Bio," said William Caldwell, CEO of Advanced Cell. "We expect that our collaborative efforts will accelerate the technology of regenerative medicine therapies internationally. We anticipate providing significant benefits to both companies and those whose lives will be positively impacted as a result of the research and clinical therapies derived from our cooperative efforts."The companies previously announced that they formed a joint venture called "Stem Cell & Regenerative Medicine International." The new company is located in Worcester, MA and focuses on the development of human blood cells. It is
majority owned by CHA Bio and benefits from ACT exclusively licensing all of its hemangioblast technology to the joint venture.ACT is currently focused on using its proprietary technologies to generate stable cell lines including retinal pigment epithelium (RPE) cells for the treatment of diseases of the eye. For example, AMD is a disorder that affects the macula of the eye that causes decreased visual acuity and increasing loss of central vision. The prevalence of AMD begins to increase after the age of 50. Approximately 15% of people over 75 years of age have the condition.ACT demonstrated the ability to rescue visual function in rats through implantation of RPE cells derived from human embryonic stem cells. In collaboration with Dr Raymond Lund, then at the Moran Eye Institute at the University of Utah and currently working at the Casey Eye Institute at the Oregon Health and Science University, the Company performed RPE cell transplantation into the sub-retinal space in the eyes of RCS rats that naturally become blind in several weeks due to RPE degeneration and photoreceptor death. In the experiments sponsored by the Company, the rats were injected with embryonic stem derived RPE cells into the sub-retinal space of the eye at 21 days after their birth — an age at which photoreceptor degeneration has not yet occurred. As control measures, some rats received injections of cell culture medium alone or were not injected at all.Subsequently, tests for visual function were performed at 60 and 90 days after birth — times at which loss of photoreceptor cell has produced characteristic vision deficits. The results represented a major breakthrough. The injected RPE cells grew normally without forming teratomas (tumors). Soon, the rats were able to follow light with their eyes and attained approximately 70% of the spatial acuity of a normal, healthy rat. Necropsy revealed that the eyes had grown layers of the retinal cells. The experiment demonstrated that animals receiving the human embryonic stem cell-derived RPE cells performed significantly better than medium-only treated (50% improvement), or untreated (100% improvement) controls in visual performance. In addition, the human embryonic stem cell-derived RPE cells did not appear to cause any side effects in the animals. The research was published in Cloning and Stem Cells and was also referenced in Scientific American.
About CHA Bio & Diostech
CHA Bio & Diostech, a leading stem cell company in Korea, was established in September 2000 by CHA University and CHA General Hospital Group to create a central, multidisciplinary research facility where the university's scientists and hospital physicians could come together and focus their efforts on developing stem cell, gene therapy and regenerative medicine technology.CHA Bio presently operates the largest stem cell research institute in Korea occupying a modern 130,000 sq. ft., state-of-the-art facility staffed with 28 professors and involving 180 of the most prominent research scientists. The Company also successfully operates CHA i-Cord, a cord blood bank, and a mobile healthcare unit called CHA Paramedic Service, both of which were rated #1 in consumer reliability surveys in Korea. As part of its global business strategy, CHA Bio expanded its operations to the United States in 2002 with the opening of CHA Fertility Center in Los Angeles followed by the 2005 acquisition of Hollywood Presbyterian Medical Center, a 434-bed general, acute-care hospital also located in LA.
About Advanced Cell Technology, Inc.
Advanced Cell Technology, Inc. is a biotechnology company applying cellular technology in the emerging field of regenerative medicine with its laboratory located in Worcester, Massachusetts.
Note from Stephen Fox, Contributor, Editor New Mexico Sun News:
This is of great ongoing interest to me, as ACTC has several product lines that are in the works in Clinical Trials I or II stages, to make three stem cell products, 1. to repair the retina in the eye 2. to repair the pancreas in diabetics, and 3. to repair myoblast tissue in the heart after heart attacks. Any one of these products will revolutionize medicine, and indeed, the Chief Medical Officer of ACTC, Dr. Robert Lanza, M.D., is perhaps closer to achieving the "Holy Grail" of Medicine in his stem cell research and development that any other scientist.