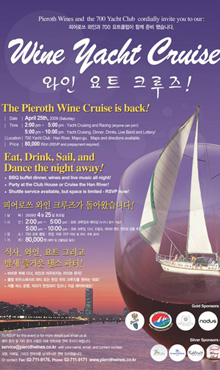 Pieroth's Wine Yacht Cruise poster
Pieroth Wine's celebrates their third anniversary in Korea, on Saturday, April 25, 2009 with their annual "Wine Cruise."This year's event, to be held in association with the 700 Yacht Club, pushes the boat out for an afternoon of yacht cruising and racing, followed by an evening of wine tasting, dinner and live music.The event starts at 2 p.m. at "the 700 Yacht Club" on the banks of the Han River in Mapo-gu.Ticket holders can enjoy an evening's celebration from 5 p.m. to 10 p.m. of yacht cruising and wine tasting of exceptional world class wines hosted by Pieroth Wines, one of the world's largest and oldest wine companies and distributors.Attendees are invited to enjoy high quality wines from both old and new territories including France, Italy, Germany, Australia, New Zealand, and South Africa. The wines also include a wide range of other national vintages guaranteed to satisfy every palate.Sail off into the sunset aboard a yacht along the beautiful surrounds of the Han River, accompanied with an ice cold chardonnay or nice warm claret or join the party at the Club house the choice is yours.So, why not hop aboard and catch the warm spring air, against the gentle drift of the Han River against a truly romantic setting and make it a night to remember?In previous years, the Pieroth Wine Cruise has become a major event in the social calendar of with both local and international guests in attendance.This year promises to be the biggest and best ever Pieroth Wine Cruise with BBQ buffet dinner and a live band music throughout the night.For this immensely popular annual event, shuttle bus transportations also offer roundtrips to the 700 Yacht Club.Sign up now and reserve to ensure that you don't miss the boat.Ticket prices are W80,000 (RSVP and pre-payment required).Reservations can be made directly to Pieroth Wines at service@pierothwines.co.kr
or by calling 711-9171 directly.
About Pieroth Wine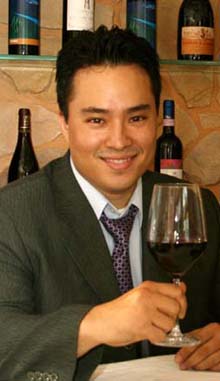 President Dan Schulte of Pieroth Wine Korea at his office
Pieroth Wine has its head office in Burg Layen, Germany. Pieroth is the world's largest direct wine sales company and have its own vineyards and wineries in Germany, France, Hungary, Australia, and South Africa, with more than 4,500 employees in 20 countries throughout the world. The company is owned by the founding Pieroth family, which can look back on over 325-years wine growing tradition. Its direct sales concept is based on personal wine tasting in the customer's own office or home. The key to its success for so many years around the world is its wine quality, many years of its experience, top quality service and the professional advice of its highly trained wine consultants. "The mission of Pieroth Korea is to provide consistently top quality products to our clients," said President Dan Schulte.Its customers know that their satisfaction is Pieroth's top priority at Pieroth wines. Pieroth wine is intended to increase our client's enjoyment in life, foster communication and build relationships with others, and create a greater appreciation for the culture of fine wines. To achieve this goal, Pieroth attracts and retains enthusiastic, loyal clients by striving for variety and innovation in everything it does, from the products we develop to the way they are packaged and presented to existing and prospective clients. Pieroth's product is marketed through in-home tastings, special events, such as Hotel Wine Tastings and Exhibitions. Pieroth Wine Consultants educate and inform about fine wines and how to match them with delicious cuisine. Furthermore, they build and maintain lasting relationships with the clients through their knowledge of wine and their sensitivity to it's clients needs.