Asia-Pacific
Indonesia: The Whole World Is Watching
By John M. Gorrindo
Indonesian Correspondent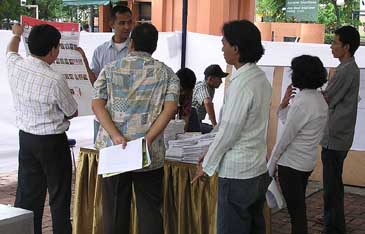 A vote counting for the Indonesia's first-ever free legislative elections held on April 9, 2009
Indonesia can be assured of one basic fact: lovers of democracy the world over are watching every major event in the world's third largest democracy and freest country in the ASEAN group of nations. Indonesia is widely considered a bellwether of democracy's future health and viability in the international community. Indonesia's first-ever freely held legislative elections were just held on April 9, 2009. The electoral process has been judged by most observers both inside and outside the young democracy as having been conducted freely and fairly. This electoral success is conventionally considered further evidence of Indonesia's rapid democratization since the fall of authoritarian rule just a decade ago.The logistics facing Indonesia's electoral commission have been more than arduous, and despite many reported voting irregularities and scattered disorganization, most informed observers agree there has been an honest and efficient-enough working relationship between the central government, local polling officials, and the voters themselves to judge these election results as democratically acceptable. This reporter personally observed April 9th's election at a polling station in a small seaside village in Sulawesi. What was most extraordinary and heartening was the passionate participation and well-intended seriousness which the voters brought to the election process itself. If any one village could be so representative, an outside observer could justly be persuaded to believe that Indonesians truly valued their newly-found political system. With more than 600,000 polling stations reporting from some one thousand islands, it will be a month before results are official. Yet sampling has deemed the vote spread across a thirty-eight party spread to be a fait-de-complet, with President Susilo Bambang Yudhoyono's Democratic Party coming in on top with 20% of the vote. Most democracies are ruled by party coalitions, and Indonesia is a text-book study in that regard. With over three dozen parties vying for contention, coalition politics is the order of the day. President Yudhoyono, who is now the odds-on favorite to win the follow-up presidential election in July, will now have to pursue a new coalition pact in order to shore up his chances. July's election will be only the second free presidential election ever held in Indonesia.Any believer in democratic ideals can't help but be watching with hope and fascination as Indonesia's remarkable political evolution unfolds. A mere dozen years past, few would have predicted Indonesia had the political will and wherewithal to mount a serious experiment in democratic governance.But "experiment" is the operative word here, and any nation's march down the road of democracy must be constantly reevaluated. "Down the road to" doesn't necessarily follow "down the road of." The larger philosophical question concerning democracy is: When does a country know when it has actually arrived?The inconvenient truth is, maybe the democratic path is at best asymptotic- one can only get closer to the goal, but the goal itself remains an ideal and never a truly attainable reality. Those hard bitten by the reality of the democratic process know that soldiering through and never surrendering to the many pit falls along the road is paramount to any measure of progress. In Martin Luther King's "I Have a Dream" speech, for instance, he called for America- the world's oldest current democracy- to "rise up and live out the true meaning of its creed." King reminded the world that in 1963 America's black people continued to suffer from inequality some one hundred years after the Emancipation Proclamation; that the fruits of democracy had in fact never been visited upon America's oppressed minorities. America's Civil Rights movement provided a crucial democratic test for the nation, in effect throwing down the gauntlet and demanding the government come clean, rid itself of hypocrisy, and come to the aid of its disenfranchised and oppressed. With great pain and deliberation, the U.S. government has done a credible job in heeding King's call to champion equal opportunity by means of legal protections for America's racial minorities. What is implicit here, of course, is that the government had to grab hold of the America's scruffy red neck and against it's will drag it kicking and screaming down the road to greater cultural tolerance. "Rule of Law" happens to be a deeply held American value, and it had to be the coercive instrument by which that process was catalyzed. History portrays America's political establishment as having been more ready to make the change than was the whole of America's white populace when such landmark legislation such as the Civil Rights Act and Voting Rights Act were passed during the Johnson administration. Therein lies the critical value of a stalwart president. Now some forty-five years after King's landmark speech America has elected its first black president. One might venture that the Civil Rights movement has been vindicated; that democracy has prevailed as it relates to race; that Dr. King would be satisfied in the progress made. The truth is that Dr. King would most likely not be satisfied. In fact, any lover of freedom is never satisfied in freedom's progress. Why? Simply because inequality, injustice, lack of opportunity- and even more so- poverty- still exist in America let alone every other country on earth. Rust never sleeps, and neither do the defenders of freedom.Notice now the thematic focus has changed from democracy to freedom. The two concepts are not in reality necessarily synonymous. More specifically, electoral democracy neither ensures nor presupposes a nation's people to be truly free. America's history more than proves this point. But the hope of freedom presupposes some viable form of democracy must be functionally in place in order to secure that freedom not yet realized. As a country still in process of giving birth to its own democracy, Indonesia's elected officials and more importantly its voting public are beginning to discover the mixed bag democracy really is. Democracy is a messy, inefficient business that often leaves many important issues in limbo unresolved, and though a country may as a whole may be a winner when the democratic process delivers free and fair elections there are always many individual losers.Some very sore ones at that: Take for instance the legislative candidate who in South Sulawesi expressed his disappointment on losing the elections by blockading a three-kilometer road he claims runs through his grandfather's land. The blockade has prevented some four hundred locals from using the road. In losing the election, he decided it proper to punish everyone in the nearby village that lent him next to no electoral support. Then there was the young female legislative candidate in West Java who committed suicide in a rice paddy after garnering only ten votes in her race, and two other losing candidates in Kalimantan who subsequent to their defeat admitted themselves to a local "Assylum" suffering severe mental distress. After receiving emergency psychiatric treatment they were transferred to a nearby mental hospital. As per one of the distraught suffers a health official reported, "(This) legislative candidate who suffered severe mental distress was said to have acted strange after the election, he declined to shower, eat, and would keep laughing every time he saw the vote tally of his party."Welcome, Indonesia, to the world of electoral politics. Democracy holds out the promise of reaping dividends for many good things in general, but remittance is never assured in particular. Particulars are often defined much more by "reality on the ground" as opposed to what a constitutional process or electoral results actually provide. "Reality on the ground" is code for what is phenomenologically allowable. Allowances are defined in large part by the complex dynamics at play in the inherent culture and the given political maturity of the democratic process so adopted by the country involved. So what can reasonably be expected by Indonesia's citizens for its brand new baby, Democracy? Though party politics in Indonesia is still in main characterized by feel-good rallies and "cult of personality" candidates as opposed to a solid party platform, the good news is that Indonesian culture has a large reserve of tolerance, respect, and patience. No democracy can come to fruition without these vital attributes as cherished and practiced by the people themselves. For this, there is no substitute. Assuming the informed readiness and integrity a nation's people, good policy in time will begin to assume its rightful place in the drama that is democracy and will duly reflect in the politicians themselves. So democratic lovers in Indonesia can breathe a sigh in relief, for instance, that no serious political violence on the actual day of the legislative elections occurred, especially in troubled regions like Aceh, North Sumatra, where in the months leading up to election day, at least three local party officials associated with the former Aceh independence organization, GAM, were murdered. In its young life as an independent republic, Indonesia has shown the willingness to not only adopt needed and appropriate time-tested ways of other cultures and nations, but to also syncretically meld those ways into the existing time-honored values and traditions of its own society without sacrificing what is essentially Indonesian. For that reason alone, those who value the tenets of democracy can at least at this juncture consider the Indonesian experiment in democracy as heading down a viable road. But vigilance is always needed, and the fate of any democracy always resides in improving upon the rates of poverty, lack of education, injustice, and inequality that afflict any and all countries of the world. As George Bernard Shaw once observed, "Democracy is a device that ensures we shall be governed no better than we deserve."

Related Articles
A Worthy Role Model for the Arab World?
Travel Notes from Komodo Archipelago
My Prayers Are with the Good People of Both ...
The 24/7 News Cycle is Catching-Up with ...
Sex, Lies, and Videotape -- a Presage to ...
Indonesia's New Wayang Epic: A Parable of ...
Indonesia's Economic Priorities Give Short ...
Obama's Indonesian Summit -- What Is at Stake?
Bank Century Scandal Tests Indonesia's ...
Virtual People"s Power Flexes Its Muscle in ...
Smoke and Mirrors Surrounding West Papua's ...
In Memoriam- President Gus Dur, 1940-2009
Maluku Music of Today & Yesterday
Playing into Colonial Hands
Perilous Path to Special Autonomy
Papuan Fault Lines: Part II: Nationalist Dreams
Fault Lines in Papua: Part I
On a Wing and a Prayer in Indonesia
Black Friday in Jakarta
Indonesia's Fear Factor Abroad
Human Behavior, by Extension History, Is ...
The Great Monoculture
USA -- Violence Statistics & Statistical ...
Proposed Solution to America's Long Lost War ...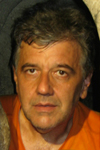 Mr. John M. Gorrindo, who serves as an Indonesian correspondent for The Seoul Times, is a native-born Californian. As holder of a MA degree in music composition from the University of California, he made Manado, North Sulawesi, Indonesia his home after serving as a volunteer English teacher there. He also a writes fictions and composes music. Some of his writings and music can be found at Fringing reefs and Vertical Walls: http://johngorrindo.blogspot.com