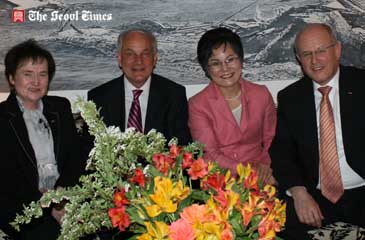 Top German statesman Volker Kauder (right) poses with German Amb. Norbert Baas (2nd from left), GNP lawmaker Song Young-Sun (2nd from right), and Prof. Heidrun Kang of Hankuk University of Foreign Studies at German envoy's residence on April 16, 2009.
German Ambassador to Seoul Norbert Baas threw a dinner reception for the visiting floor leader of Germany's ruling Christian Democratic Union and a member of the German Federal Assembly (Bundestag) at his residence in Seongbuk-dong, Seoul on April 16, 2009.Mr. Volker Kauder, chairman of the Parliamentary Group of the Christian Democratic Union-Christian Social Union at Bundestag, and Dr. Karl A. Lambers, a famous Bundestag member, hobnobbed with top local politicians thanks to the Germany envoy.Also in attendance to the reception were a throng of German businesspeople and local Korean guests including top politicians. Among them were four noted members of the Korean parliament called the National Assembly.The Korean politicians were Mr. Moon Kook-Hyun, president of the opposition Creative Korea Party (CKP). He was a major presidential candidate in 2007 presidential election. As a reform-minded presidential contender he was hugely popular among the young people.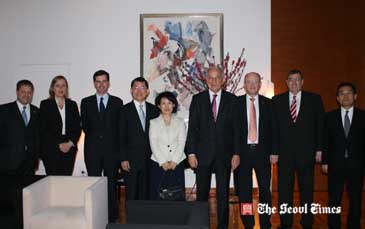 Mr. Volker Kauder (3rd from right) poses with Amb. Baas (to his left) and other top politicians of the two countries at reception.
Two lawmakers came from the ruling Grand National Party (GNP). Ms. Song Young-Sun, a very popular lawmaker who is also very active in dealing with international politicians. Also invited was Mr. Koh Seung-Deuk, who is a GNP member.Mr. Kim Jong-In, a senior statesman who served as a four-term lawmaker, was also there. He is currently the head of the Advisory Committee for the Constitutional Study.Representing German businesspeople in South Korea, President Guenter Reinke of Boehringer Ingelheim Korea also attended the reception along with other German businessmen.Sec. Gen. Jurgen Wohler of The Korean-German Chamber of Commerce and Industry was also present.The German envoy turned the reception occasion into an arena where top-level politicians of South Korea and Germany exchanged views and thoughts on world politics as well as the bilateral relations.In a speech Mr. Kauder stressed the importance of bilateral exchanges between South Korea and Germany.He said that South Korea's Prime Minister Han Seung-Soo will soon visit Germany to meet with his German counterpart, Chancellor Angela Merkel, and German President Horst Köhler.Mr. Han's six-day visit to Germany is part of his trip to four European countries. Mr. Han will leave Seoul on April 18, 2009 to attend the "Hanover Messe," the world's largest fair of industrial technologies.Mr. Dauder told The Seoul Times the purpose of his trip to Seoul was to discuss with South Korean politicians and officials how to overcome the world economic crisis.He visited Washington DC and Beijing to consult with leaders there the ways of making world's financial market stable.In his speech Mr. Kauder warned against the danger of trade protectionism by taking an example of the United States' attempt to protect its auto market.He demanded that the United States and China should cooperate to revive the world economy.Mr. Kauder arrived in Seoul from China on April 15, 2009. He visited the truth village of Panmunjeom in the DMZ area. He met with Prime Minister Han Seung-Soo in the evening. On April 16, 2009 he visited South Korea's National Assembly building on Yoido Island and talked with National Assembly Speaker Kim Hyung-Ho. He had a luncheon meeting with GNP floor leader Hong Joon-Pyo. He also held talks with Unification Minister Hyun In-Taek.On April 17, 2009 he held talks with Chairman Sakong Il of the Korea International Trade Association (KITA).
Mr. Volker Kauder, who was born on Sept. 3, 1949 in Sinsheim in Germany, is a German CDU politician. Since Nov. 21, 2005 he has been serving as chairman of the CDU/CSU parliamentary group in the Bundestag after a short term as secretary general of the CDU.He has been a member of the German parliament (Bundestag) since 1990.
For details or inquiries please contact the German Embassy in Seoul at 748-4114.