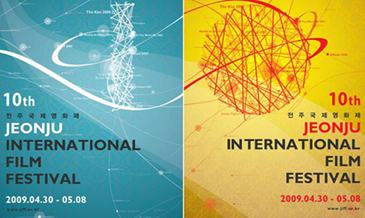 The 2009 Jeonju International Film Festival (JIFF)
The 2009 Jeonju International Film Festival (JIFF),
independent art house film festival, will celebrate the 10th anniversary as it kicks off on April 30, 2009 in the provincial city of Jeonju for its annual nine-day run.This year's film submissions increased 24 percent compared with previous year. Among the total of 1,172 films sent from 62 countries, 200 films were specially selected from 42 countries for this year's festival.Jeonju, capital of the North Jeolla Province, is about three hours southwest of Seoul, with a fine reputation for its hospitality and traditional Korean food and historic architecture. In particular Jeonju is famous for its signature dish, "bibimbap," which is mixed rice and vegetables with gochujang (red pepper paste).In addition, it is also a city of exceptional beauty, which possesses some of Korea's finest surviving traditional architecture in juxtaposition with some very well designed modern buildings and state of the art universities.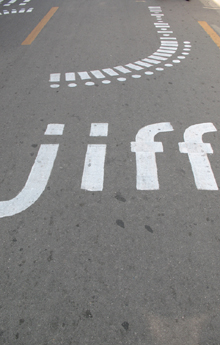 A road to the 2009 Jeonju International Film Festival (JIFF)
However, more recently another landmark and area of consumption has been pulling crowds in their thousands from all around the world for the last 10 years to Jeonju. The reason for this growing annual pilgrimage to the city with the heart of a small town is of course for "Film," for each year, Jeonju is home to the Jeonju International Film Festival, commonly known as the JIFF. In the ever growing field of film festivals in South Korea, what has kept the JIFF distinctly unique and increasingly popular, is that it has maintained a commitment to concentrate on mainly independent and art house cinema. It has enthusiastically sought to embrace new aesthetic and technological possibilities for contemporary cinema. Whereas the Pusan International Film Festival is concentrated towards commercial films and the Puchon International Fantastic Film Festival is more slanted to genre related science fiction, fantasy, and horror, the JIFF has consolidated itself as an alternative filmmaking frontier against market mechanism.For those, who want to find out both the cutting-edge and the state of art films of the 21st Century, they should not overlook the JIFF, particularly The Digital Short Films. This has been an outstanding platform for new cinematic voices, in Korea and beyond, promoting both indigenous and international filmmakers, with impressive results, recognition and numerous awards around the globe including, Cannes, Sundance and the prestigious top prizes at the Locarno International Film Festival.Celebrating a decade of promoting the spirit of independence and experimentalism in domestic and international cinema, "The 10th Anniversary JIFF," will be screening over 200 films from 42 countries, (hand-picked from a total of 1'172 submissions) in 14 venues over nine days. 147 of these are features films, 52 are premieres including; 12 World, 1 International and 39 Asian premieres. Out of the 53 shorts on offer there are 33 premieres; 12 World, 1 International and 20 Asian premieres.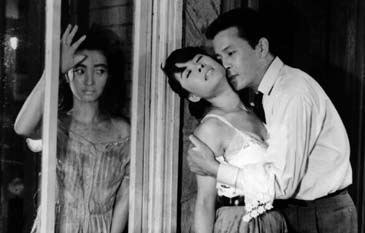 Korean director Kim Ki-Young's "The Housemaid (1960)"
With categories in Korean and international features shorts, there is a deep focus on discovering new filmmakers worldwide, including programs, 'mirroring a tendency in current world cinema', highlighting the rise of the digital new wave in the Philippines and a special section screening a collection of films from Sri-Lanka. Not only will this year's festival-goers get the chance to see the cream of fresh and highly innovative film, the classic cinema, has not been in anyway relegated. The festival organisers fully recognise the importance and significance of its cultural heritage as a purveyor of international cinema. A lot of time and money has been injected to revive and protect some of Korea's greatest cinematic treasures. One such project is Kim Ki-young's digitally restored "The Housemaid'' (1960), in the 'Korean Retrospective Category'. A partially restored version was shown at Cannes and Pusan (Busan) last year, however, the one at JIFF is the fully perfected film. From further afield but no less important will be a screening of Giuseppe Bertolucci's 2008 attempt to resurrect Pier Paolo Pasolini's "La Rabbia di Pasolini" (1963) newsreel montage, reconstructed with poetry and political commentary.
A retrospective on the Polish auteur Jerzy Skolimowski, who recently returned to the big screen after a 17 year absence with his latest critically acclaimed "Four Nights with Anna" (2008), will include, some of his finest and most memorable contributions to international cinema, since the 1960's. Damien Betrand's 2003 TV documentary "Against the Clock: Skolimowski, Filmmaker, Painter, Poet", will also be shown, giving an insight into the life and work of this important artist. Skolimowski will also visit the JIFF in person and give a discussion on his work at one of the festival's "Cinetalk" events.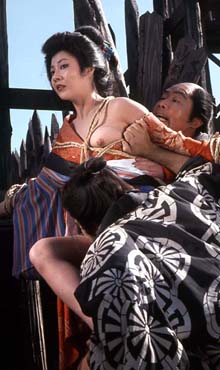 Japanese film-maker Noboru Tanaka's "Secret Chronicle: Torture Hell(1973)"
Among the many other delights of World Cinema on exhibition at the JIFF includes, a collection of features and shorts by the Spanish director and producer, Pere Portobella and three 'hidden jems' by the Japanese Nikkatsu Roman Porno film-maker, Noboru Tanaka. There is also a 1min short trailer film "Une Catastrophe "(2008) by probably one the most famous living art house film-maker in cinematic history, Jean-Luc Godard, in the "Stranger than Cinema-Shorts" section. Films by internationally renowned directors appear in the "Cinemascape" section, including Manoel de Oliveira's, "Eccentricities of a Blonde-Haired Girl" (2009) Lucrecia Martel's "The Headless Woman" (2008) and the most recent film by Iranian master Abbas Kiarostami, "Shirin "(2008). The Cinescape section of the festival, also offers a wealth of documentaries that has 3 recent films that depict the reality outside the mainstream media on everyday life in Palestine, under the section heading "Palestine Now". There is also a good amount of free outdoor screenings, with a special line-up of films for Childrens Day, including animation which guarantees fun for all ages and families alike. Conferences, seminars and concerts will be operating throughout the duration of the JIFF which will add to the festivities and create more a sense of a city in celebration over the 9 day period.
Opening Film
Ten really is this year's 'special magic' JIFF number, not only because this wonderful little jewel in Korea's cinematic festival crown is celebrating its tenth anniversary, but a specially commissioned digital omnibus feature film "Short! Short! Short! 2009: Show Me the Money" will open the festival, on April 30 that consists of ten short episodes by ten of Korea's leading filmmakers who represent the Chungmuro and South Korean Independent Cinema. The underlying theme of this collective work is 'Money'. The specially selected 10 filmmakers were each given the task to make a 10 minute segment that highlights with 'humor and sarcasm,' the portrayal of a South Korean society with its deep preoccupation with matters financial and other money related issues. The film is the combined work of; Hee‐il Leesong (No Regret, 2006) Young‐nam Kim (Don't Look Back, 2006), Ik‐ Hwan Choi (Life if Cool, 2006), Seong‐ho Yoon (Milky Way Liberation Front, 2007), Hae‐hoon Yang (Whoʹs That Knocking at My Door?, 2007), Sung-ho Kim (Into the Mirror, 2003), Jong-kwan Kwon (Sad Movie, 2005), Eun-kyoung Kim (D-day, 2006), Chegy (Fade Into You, 2004) and Da-Jeong Nam. It is produced by Indiestory Inc., JIFF and distributed by KT & Sangsangmadang.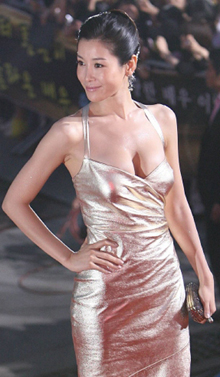 Ms. Lee Tae-Ran will host 2009 Jeonju International Film Festival (JIFF)
The opening of the festival will be hosted by actor Tae-woo Kim, and actress, Tae-ran Lee. One of the most renowned actors in Chungmuro, Tae-woo Kim has performed well in both commercial films and literary works and has starred in numerous films including "The Contact," "Joint Security Area," "Woman is the future of Man," "Epitaph," and "The Naked Kitchen." Tae-ran Lee has more recently come into prominence with her role in the T.V soap opera Mylove Kumjiwokyeup. In 2007, Ms. Lee successfully made her debut in film with "Love Exposure," in which she starred as 32 year old 'Gold Missy.'The pair will lead the evening, with a talk on how the festival has grown and developed in the last 10 years, highlighting its challenges and successes over that time to an audience of local and International guests. Won-sun Jo, who plays in "Penny Love" directed by Sung-ho Kim, from the opening film "Short! Short! Short! 2009: Show Me the Money," will also sing at the opening ceremony.Tickets for the opening night are reported to have sold out within 2 minutes of going on sale. However, film lovers shouldn't be disappointed as there will be ample opportunity to see the film, later this year, when it will be out on general release in theaters in September. The opening ceremony of the 10th JIFF will take place at Sori Arts Center on April 30th.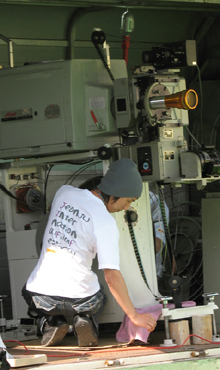 A projectionist at work in 2008 JIFF
International Competition
The International competition is a competition section that introduces films by new talents from around the world, showing the potential of new cinematic aesthetics. The section will screen a combination of feature films and documentaries with a running time of over 60 minutes. A jury committee consists of five film professionals who will select the best film(s), and each of awardees will be given the Woosuk Award with a cash award of U.S $10,000, and the Daum Special Jury Prize and a cash prize award of 7 million KRW‐Sponsored by Woosuk University and Daum Communications.Thirteen films are in this year's competition. These are the film in competition at the Tenth Jeonju International Film Festival:"Agrarian Utopia"
THAILAND | 2008 | 122MIN | HD | COLOR
DIR_ URUPHONG RAKSASAD
Director Raksasad, has been making documentaries on his rural hometown that embodies the traditional way of Thai agriculture, this has almost disappeared since the industrialization and mechanization in this recent film, Agrarian Utopia. The director actually rented out the land to shoot the film for four seasons. Agrarian Utopia quietly, reports the sacrificed life of farmers who have suffered from the government's policies that is only concerned with the economic growth of the country. One of the farmers deplorably says in this film, "How can we dream of utopia while our stomach is still grumbling?"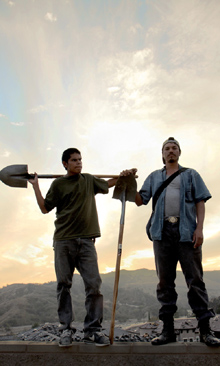 "The Bastardos"

"The Bastardos"
MEXICO, FRANCE, USA | 2008 | 90MIN | 35MM| COLOR
DIR_ AMAT ESCALANTE
This Southern California‐lensed drama consists of long stretches of dreary quotidian activity shrouded in dread due to something very bad you know is coming, all in the interests of presenting a rigorously reductive slice of earthly hell. Picʹs commercial prospects remain similar to those always faced by the directorʹs mentor and co‐producer, Carlos Reygadas."City of the World"
GERMANY | 2008 | 105MIN | DIGIBETA| COLOR
DIR_ CHRISTIAN KLANDT
An idyllic German town is not what it appears to be. Christain Klandt's first feature film presents the twenty‐four hours leading up to the moment when two drunk teenage boys,
Till and Karsten, murder a homeless man. Failures at their jobs and in their personal relationships, the lives of these boys fill with a deadly boredom that threatens to carry them over the edge."The Exploding Girl"
USA | 2008 | 79MIN | HD | COLOR
DIR_ BRADLEY RUST GRAY
Twenty‐year old Ivy heads home for college spring‐break to New York with a fresh romance in her heart. When her best friend Al can't find a place to stay, she asks her mother to take him in. Spending time in the city together strengthens their friendship, while Ivy's boyfriend grows more distant. Although troubled, Ivy keeps her emotions in check, until her feelings become something she can't control."The Happiest Girl in the World"
ROMANIA, NETHERLANDS | 2008 | 100MIN | 35MM | COLOR
DIR_ RADU JUDE
Delia has won an expensive car. She comes with her parents to Bucharest for the testimonial shooting ‐ the proof that she really won the prize. During the shooting Delia has long talks with her parents ‐ that eventually turn into ugly arguments: Delia wants to keep the car, while her parents want to sell it. What seemed to be a lucky event at the beginning, eventually becomes for Delia an extreme and emotionally painful situation, in which she has to rethink and question her family relations.
*Won C.I.C.A.E Award Berlinale 2009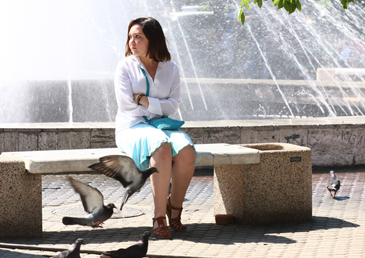 "The Happiest Girl in the World"
"Imburnal"
PHILIPPINES | 2008 | 212MIN | HDV | COLOR
DIR_ SHERAD ANTHONY SANCHEZ
Rabat and Allen enjoys an albeit kind of childhood in a place where, for some reason, the kids find sanctuary on the crevasses of Punta Dumalag. As both try to pursue a world of their own—independent and free, they are pushed to spend their time on the point where the river meets the sea— it is in these waters that they witness a world that seeks to quench the hunger of common yet different desires of and for ʺmanhood.ʺ In this world of sewers, the seemingly banal challenge of crossing the river will become their own disturbing quest to being in stagnant yet dangerous waters. Camera work by John Torres, the director of 'Years When I Was a Child Outside' (screened at JIFF 2008).
*Won Lino Brocka Award Cinemanila International Film Festival 2008"Inland"
ALGERIA, FRANCE | 2008 | 138MIN | 35MM | COLOR
DIR_ TARIQ TEGUIA
Living almost as a recluse, the topographer Malek accepts a job in a region of western Algeria at the insistence of his friend Lakhdar. Malek arrives at the base camp previously used by a team, but decimated by fundamentalists. A young shepherd observes him from afar; several men, some armed, approach and question his being there. Having previously run from Islamist terrorism, these farmers decided to return to their village.
*Won FIPRESCI Award at Venice Film Festival 2008"Mid August Lunch"
ITALY | 2008 | 75MIN | 35MM | COLOR
DIR_ GIANNI DI GREGORIO
Gianni is a middle‐aged man, the only son of his widowed mother, with whom he lives in an old house in central Rome. Living under the tyranny of this impoverished aristocrat, his life drags on between housework and going to the bar. The day before the August bank holiday the condominium manager asks him to take his mother into his home for the two days of the bank holiday. In exchange, he will knock some money off the condominium debts Gianni has run up over the years.
*Won Pasinetti Award & Luigi De Laurentiis at Venice Film Festival 2008"North"
NORWAY | 2009 | 79MIN | 35MM | COLOR
DIR_ RUNE DENSTAD LANGLO
North is a road movie comedy set in romantic natural surroundings. It is the story of an athlete Jomar who has isolated himself in a sad lonely existence after having a mental crisis. On a snow scooter, with 5 liters of moonshine as provisions, Jomar embarks on a strange and dramatic journey towards the far north, where his ex‐girlfriend lives with his child that he just learned about.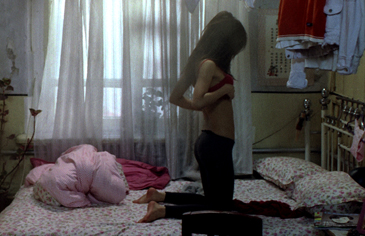 "North Chinese Girl"
"A North Chinese Girl"
CHINA |2008 | 81MIN | 35MM | COLOR
DIR_ ZOU PENG
Xiao Xue, a 19 year old girl lives in a northern city of China. She's a salesgirl in a clothing market by day, but at night she accompanies her boss on his social exploits; hosting dinner for his friends, going to karaoke and doing the nightclub scene. Xiao Xue sees this as a chance to seek a better life for herself, but an unplanned pregnancy has sent her life careening in a new, unexpected direction…."The One Man Village"
LEBANON | 2008 | 86MIN | DIGIBETA | COLOR
DIR_ SIMON EL HABRE
As the only remaining inhabitant of Ain El Hazaroun, a small village outside Beirut,
Semaan stubbornly remains, while other villagers, who fled the besieged village during the
15‐year civil war, have failed to return. As well as recounting the remarkable hardships and isolation faced by his uncle, El Habreʹs moving and brilliantly shot film highlights the countries bitter in‐fighting has had on countless similar villages and towns, which were left deserted and ruined."Rain"
ARGENTINA | 2007 | 110MIN | 35MM | COLOR
DIR_ PAULA HERNÁNDEZ
Lluvia is water that falls, wets, shakes, pierces, slaps, exiles. It is distortion, it is out of focus. It is what can and can't be seen. Lluvia is winter and is night, is Buenos Aires or any other city. Lluvia is people in movement or stuck in traffic, trying to find a possible direction for their own lives. It's a woman who does not know where she is going to and a man who does not know where he comes from. Lluvia is running the painful risk of focusing on who we are rather than on what we think we are."Tokyo Rendezvous"
JAPAN | 2008 | 104MIN | 35MM | COLOR
DIR_ IKEDA CHIHIRO
Nogami was burdened with a debt his late father has left. He comes up with the decision of selling his grandfather's property to pay it off. The apartment in the property seems just an old building to him, but his grandfather would not say yes to the demolition of the apartment. He happens to start living in the apartment with two other young people. They feel lost in life, but start finding their own ways when they start knowing more about the people with life experience surrounding them. Nogami comes up with a final decision when he finds out the story hidden in one of the rooms.
Digital Shorts Program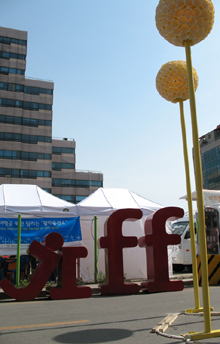 Cinema Street in Jeonju
The JIFF, which runs through until Friday 8th of May, has successfully built itself over the last decade by separating itself from other Korean film festival programs, not only just showcasing new domestic and significant international work, but also sponsoring, commissioning and assisting in the production of material for exhibition year after year. This is turn, has been almost like a kind of 'cinematic respiratory system', which has been consistent in breathing new life into, not just to the Korean independent film scene, but also talents beyond the peninsula's shores. The Jeonju 'Three Digital Shorts Project' has been the central pivot of the festivals program since its initial inception in 2000. It is a program that annually offers 50 Million KRW to three selected filmmakers, to make three, 30 minute short productions, for screening each year at the JIFF.Since 2000, The Digital Short Films by Three Filmmakers of JIFF has invited experimental directors devoted to discovering possibilities of digital filmmaking. The films produced here were distributed to well-known independent film festivals such as Vancouver International Film Festival, Canada and Locarno International Film Festival, Swiss. Based on the success of its former films, this time the JIFF organizing committee is promoting ambitiously to distribute short films for commercial purposes as well. In 2007, the digital project won the Jury Award at Locarno, the first time an omnibus film ever won the prestigious prize. Korea's Hong Sang-soo, Japan's Kawase Naomi and the Philippines' Lav Diaz have contributed to this year's work.Hong Sang-soo's "Lost in the Mountains" follows Mi-sook, who visits Jeonju to discover that her close friend and ex-flame share a shocking secret. Naomi Kawase, the youngest winner of the Golden Camera Award at the Cannes International Film Festival for "Suzaku" in 1997, will introduce "Koma," a tale with a heavy Korean influence. Lav Diaz, who won the Orizzonti Grand Prize at the Venice International Film Festival with his film Melancholia in 2008, will present "Butterflies Have No Memories" about environmental degradation in the Philippines.This year's JIFF will also present special screening programs devoted to new directors discovered by the festival over the last ten years. For the festival's anniversary, a special DVD set of all 27 shorts made over the years will also be on sale.
Closing FilmThe Festival Closes on the 9th of May, with "Machan" (2008) directed by Umberto Pasolini. Uberto Pasolini who marked remarkable debut with his film Machan is best renowned as a the producer of the smash hit film "The Full Monty" (1997). Machan resembles The Full Monty in a way that it is a neo‐realistic comedy where the financially devastated guys bring hilarious sequences continuously for their outrageous ideas to overcome crisis. In Machan, 23guys from the slum village of Sri Lanka create 'A National Handball Team' as a ploy to get visas to Europe ('A National Handball Team' never exist in Sri Lanka), and the whole concept of Machan is as wacky as the unemployed steel workers in Sheffield get involved in a strip show to make some money in The Full Monty (1997). Machan is a noteworthy film that fairly combined realism envisaging the hard point of view towards realities and the virtue of popular genre. Prasanna Vithanage, the well‐known Sri Lankan filmmaker participated in Machan as a producer. JIFF hopes that the closing film of the 10th JIFF Machan will provide the audiences a great opportunity to discover the unknown cultures and realities of Sri Lanka.Tickets cost 10,000 won for the opening or closing ceremonies and 5,000 won for general screenings.
Tickets can be bought during the festival from May 1 onwards at JIFF Space and JIFF Service Center on Cinema Street, an arcade in downtown Jeonju, set up for the especially for the festival.