Venezuela's tallest table mountain
Flat-topped Mount Roraima is a land of bizarre rock formations, crystal pools, canyon rivers and wild orchids (but no pterodactyls or ape men).
Our situation, stranded without possibility of escape in such a land, was clearly full of danger. Yet it was surely impossible that we should halt on the edge of this world of mystery when our very souls were tingling with impatience to push forward and to pluck the heart from it." —
"The Lost World" by Sir Arthur Conan Doyle
By most standards, Mount Roraima in southeastern Venezuela should be on the to-do list of any adventure traveler. This remote peak was first noted by a white man in 1595, the poet and explorer Sir Walter Raleigh, who called it a "mountain of crystal" but deemed it impossible to climb. In the late 1830's, the Royal Geographic Society sent Robert Schomburgk, a German scientist, to the region; his reports fueled speculation about what might be on this mysterious plateau. In 1877, in the wake of debates over Darwin's theory of evolution in England, an editorial in The Spectator asked, "Will no one explore Roraima and bring us back the tidings which it has been waiting these thousands of years to give us?"Seven years later, Everard Im Thurn and Harry Perkins made a successful ascent of Roraima, an ancient 9,219-foot sandstone mesa towering above the tropical rain forest and savanna. Im Thurn's colorful account is believed to have partly inspired Conan Doyle's 1912 sci-fi novel "The Lost World," about a Jurassic Park-like plateau roiling with prehistoric beasts.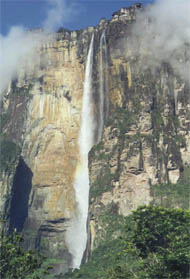 Angel Falls of Mt. Roraima
Despite the early hype, Mount Roraima has remained very much a lost world, especially for Americans. Most climbers are from Europe. It's a pity because the six-day, five-night trek to the summit and back is like a trip to the moon. True, there are no pterodactyls or iguanodons to greet you, but the spectacular rock formations, vast canyons, crystal pools and wild orchids make it a beautiful though stark, almost nihilistic wonderland. The hike is challenging but nontechnical and open to anyone reasonably fit. My friend Alan and I are inveterate adventurers; we're among the hordes who have hiked the Inca Trail to Machu Picchu in Peru, climbed Mount Kilimanjaro in Tanzania and trekked through the Himalayas. But when I was searching online for a new exotic destination and ran across Mount Roraima, neither of us knew anything about it. That would soon change.Clutching a copy of "The Lost World," I flew to Caracas from New York last December, where I met up with Alan, who is a commodities trader in Chicago. In the book, the narrator is Edward Malone, a journalist, like me, who travels to South America from London with the eccentric Professor Challenger to witness his claim that he has discovered prehistoric life on an isolated, Roraima-like plateau. The team includes another scientist, a swashbuckling adventurer and their native guides and porters. After an arduous voyage upriver and through forests, they find a way up Roraima, but once there, they are trapped on the plateau and threatened by bloodthirsty dinosaurs and "ape-men."I am speeding through the book's first chapters as Alan and I plot our own not-quite-so-arduous route out of Caracas. Still, Mount Roraima is not the easiest place to reach, which may be why it has remained a fairly obscure destination. There are no direct flights from Caracas to Santa Elena de Uairén, a small town near the Brazilian border that is the jumping-off point for tours of Roraima, so we catch a flight to Ciudad Bolívar, about 300 miles north of our destination. In the morning we board a 40-year-old, six-seater Cessna with worn-out seatbelts for an exhilarating two-hour flight skimming above the rain forest to Santa Elena.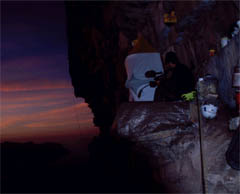 High Camp in Roraima
There we meet up with Kendall Donald Mitchell, a congenial but reserved 45-year-old Indian guide with New Frontiers Adventure Tours, who has been to the top of Roraima more than 320 times. Three young Pemón porters who speak no English carry most of the gear in woven baskets balanced with a head strap. (We had hoped to make the trek with a guide from Roberto Marrero's highly regarded Mystic Tours, which specializes in the history of the mountain, but none were available at the time.)Unlike, say, the gregarious and gringo-friendly guides and porters on the overcrowded Inca Trail in Peru, the Pemón Indians have been taking visitors up to Roraima for a relatively short time, mainly in the last 10 to 15 years. According to Kendall, the main highway connecting southern Venezuela and northern Brazil was not paved until the 1980's, effectively cutting off the area from tourism.We take a jeep on a two-hour drive across the rolling savanna to the tiny village of Paraitepuí. Mount Roraima and the surrounding tepuis, the Pemón word for tabletop mountains, loom majestically in the distance. It all looks a bit like a scaled-down version of the Serengeti in East Africa, except that the mountains are flat-topped and without snow.We spend the first two days crossing the Gran Sabana on a long trail etched out of the rolling grasslands and forests, with Roraima looming seemingly miles ahead of us on the horizon. This is where the lack of tourism really shows. We have the place almost to ourselves.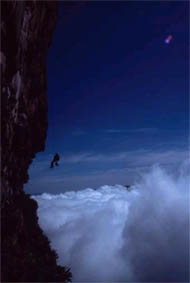 The hike is relatively easy at this point, except for a brief stretch down into a low-lying rain forest, where the path is slippery and hard to follow. We hear the occasional "boink" (a sound like a hammer striking an anvil) of the bearded bellbird. We ford the Tek and Kukenán rivers and camp the second night at the base of the mountain. The rocky pinnacle adjacent to Roraima by which Conan Doyle's heroic band reached the top is clearly visible.We begin our ascent of Roraima on the morning of the third day. We head up a narrow path into a cloud forest with the gigantic walls of Roraima, 3,000 feet above, closing in on us. The rocky trail that cuts diagonally across the face of the Roraima wall is steep and slippery; most of the time we are on our hands and knees scrambling up Flintstone-like boulders through tropical vegetation and beneath icy waterfalls. It is hard work, and when Kendall breaks out a large yellow box of Brazilian chocolates midway, I fall off the wagon after nearly two years off candy and stuff five or six in my mouth.After four hours of half-crawling and half-climbing uphill, the trail turns into a talus slope of massive rocks, and Kendall takes the lead. We turn a corner past one boulder and it is as if we are the three astronauts who suddenly land on what they believe to be a distant asteroid in "The Twilight Zone." This is the far edge of the eerie summit of Roraima. Bizarre blackened rock formations — the remnants of two billion-year-old layers of Precambrian sediments that gradually eroded — crowd the landscape, which stretches as far as the eye can see. Im Thurn described them as "apparent caricatures of umbrellas, tortoises, churches, cannons and innumerable other incongruous and unexpected objects."
| | |
| --- | --- |
| | Trekkers seeking the Lost World on Mt. Roraima |
Once on top you understand why Venezuelan officials require hikers to come with a guide. Roraima's flat-top surface measures 13 square miles and includes one famous spot called Triple Point where Venezuela, Brazil and Guyana converge.The scale is enormous, with so little frame of reference that you can lose track of where you have just been within minutes.After a 45-minute hike from the entrance to the summit of Roraima, Kendall points to what will be our camp for the next two nights, a sandy ledge high above a pile of boulders with overhanging rock to shield our tents from the frequent rain as well as the eerie mist that often shrouds the top of the mountain. The Indians call these campsites "hotels" and there are about a dozen scattered above the enormous plateau, some occupied by the few other groups of travelers. But everyone is so far away from the others that it just adds to a sense of alienation.In "The Lost World," which I read at night in my tent with my headlamp, Conan Doyle's heroes are never alone. They are constantly under attack by noisy swarms of carnivorous dinosaurs, wild pigs and "hairy and deformed" ape men.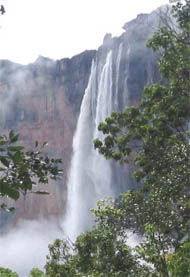 In contrast, the actual plateau is as silent as a tomb. You have the feeling that you are not welcome there for long, though it is a privilege to see it. The only animal we spotted was a tiny black toad that rolls in a ball to escape danger, but strangely seemed so mesmerized by Alan's camera that it almost seemed to pose. We spent our two days on the summit trooping after Kendall as he led us on long, labyrinthine hikes past waterfalls, small beaches on the edge of canyon rivers, the so-called Valley of Crystal containing a bed of crystals, and rock formations that looked like miniature castles surrounded by small lakes. One towering rock formation is nicknamed Fidel for its resemblance to Castro. Though it was rainy and chilly most of the time, Alan took a swim in an icy pool called the Jacuzzi and lorded it over me until he began to lose sensation in his hands on the way back to camp. Sometimes the clouds and rain lifted. We were able to sit on the edge of the plateau one afternoon and watch the sun set on the plains below.The morning we left, we decided to hike the 16 miles all the way back to Paraitepuí in one day, though two are recommended. It was a challenge, especially when a monsoonlike rain hit us just before we had to ford the first river. We barely made it across the second before that river became impassable. The storm was so bad that by the time we finally made it to Paraitepuí, exhausted and soaked through, we had to hike another 20 minutes to where the jeep that was to pick us up was stuck. After we all pitched in to get it out of a muddy ravine, we headed back on the dirt road for a two-hour drive in our wet clothes before reaching Santa Elena and our hotel.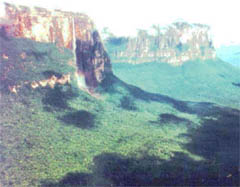 Conan Doyle's characters, of course, left the Lost World far more dramatically, discovering a secret cave that led them to freedom after they feared being trapped on the mountain forever."With much labor," says the narrator, Malone, "we got our things up the steps, and then, looking back, took one last long survey of that strange land ... to each of us a dreamland of glamour and romance, a land where we had dared much, suffered much and learned much."
Visitor InformationGetting There
The best time for a trek to Mount Roraima is in the dry season, between December and March. The days en route to Roraima are warm, but it still rains often, while the top of the mountain can be chilly and wet.Continental Airlines (
www.continental.com
) has a direct flight from Newark to Caracas; some return flights stop in Houston. From Caracas you can fly to Ciudad Bolívar on Rutaca Airlines and catch another Rutaca flight to Santa Elena;
www.rutaca.com.ve
.
Guides
José Troconis at the Venezuela-based Natoura Adventure Tours (
www.natoura.com
) helped coordinate all our hotels and flights within the country. He can be reached at (58-274) 252 4216. A number of companies in Santa Elena offer tours and guides up Roraima. Kendall Donald Mitchell is with New Frontiers Adventure Tours, phone and fax (58-289) 995 1584;
www.newfrontiersadventures.com
. Roberto Marrero runs Mystic Tours, (58-289) 416 0558;
www.mystictours.com.ve
. Rates vary depending on group size and whether you want extra porters. Generally they range from $250 to $400 for the five- to seven-day trek.Hikers must take backpacks and sometimes sleeping bags. Most of the tour companies offer tents as part of the price. Porters do not carry backpacks unless specifically asked to, and are then paid an extra fee. Permits are required to climb Mount Roraima and are usually obtained by your guide (also required).
Where to Stay
Hotel Gran Sabana, Carretera Nacional via Brasil, in Santa Elena, (58-289) 995 1810 or 1811 or 1812, fax (58-289) 995 1813,
www.hotelgransabana.com
, has 58 air-conditioned rooms with private baths that range from $60 to $80 for single through triple occupancy.
The above article is from The New York Times.