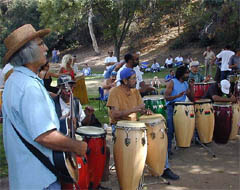 In parts of Florida, Spanish dominates the linguistic landscape and some stores put up signs saying "English Spoken Here." People speaking English are already a minority in Los Angeles County. Data from the US Census reveals that English is spoken in 45 percent of the county's homes and other languages in 55 percent.It's not surprising that the most widely spoken of the other languages is Spanish. Nearly 4 million people — 37 percent of the Los Angeles County population — speak Spanish at home. How long will it be before Spanish surpasses English?Given the continuing immigration from Spanish-speaking countries, it may not be very long.Yet, in spite of that, English has nothing to fear. English has been and will remain the language of power and anyone wishing to succeed will have to do it in Shakespeare's tongue.The importance of a language is due in part to the number of its speakers but mostly to its political, social, and economic value.Mandarin Chinese has nearly a billion speakers. English has about 320 million and another 350 million who speak it as their second language.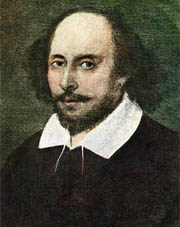 W. Shakespeare (1564-1616)
Why are so many people learning English as a second language? Because it is the language of international business, global communications, tourism, science, technology, etc. Most scientific papers (80 to 90 percent) are written in English, and many technical terms do not have equivalents in other languages.In essence, the value represented by English is much greater than the number of its speakers. English, not Mandarin, is the world's lingua franca.The same principle applies to Southern California and other parts of the U.S. where Spanish is expanding its presence. Even when the numbers of Spanish-speakers reach those of English speakers, English represents a much greater value. Thus, it's much more likely that Spanish speakers will learn English than the other way around.English opens doors to employment opportunities that go far beyond the ability of Spanish to do so.Although you can get a job without knowing English in the U.S., it usually means menial work. It typically pays little better than minimum wage and often does not include health benefits.It's no wonder that a lot of money is spent on advertising in the Spanish language media, peddling the easy way to learn English. The ability to work in an English-speaking environment means higher salaries and opportunities for advancement.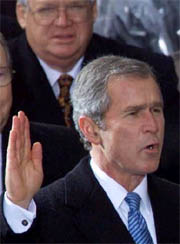 English opens the doors to political power as well. Although there is some value in using Spanish during a political campaign, it's English that's absolutely necessary to get elected. Of course, the use of Spanish in political campaigns is becoming popular. The most visible example is represented by current president George W. Bush who made good use of his limited Spanish in the 2000 presidential election. Spanish does help somewhat get elected, but it's English that determines it.English is also the language of voters. Even Hispanics who are likely to vote get their news primarily in English (53 percent), while the rest use both English and Spanish sources.In education, English is also king. In spite of the fact that in some neighborhoods Spanish speakers may be the majority and bilingual education may be used, the goal is to learn English and get ready for jobs or better yet obtain higher education.What's the language you need to be admitted and succeed in an American college or university? English, of course.No college or university in the U.S. allows you to become a doctor, an engineer, a dentist, a lawyer, etc. in Spanish. English is the key to higher education and professional jobs. Do Spanish speakers know that English opens the doors to opportunity in the U.S.? You bet.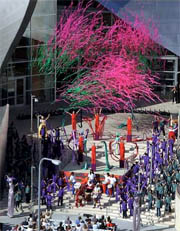 Music Center in LA County
A survey conducted by the Pew Hispanic Center found that more than 91 percent of Hispanics in the U.S. feel it's important or very important to learn English. That view is confirmed by facts. More than 90 percent of Hispanics born outside the U.S. speak English or are bilingual. Even Samuel P. Huntington, a scholar at Harvard University, who wrote an anti-Latino article entitled "The Hispanic Challenge" in a recent issue of Foreign Policy Magazine, acknowledges it.If English is so powerful, does it mean that Spanish is totally irrelevant? Not at all, but that's the topic of another article.