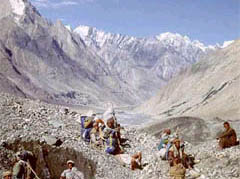 Kashmir region
Pakistan President Pervez Musharraf has set a deadline on Kashmir. He wants the issue to be resolved within a certain time frame. Unreasonable, I would say.Kashmir — which now lies divided between two of its claimants, India and Pakistan — is a subject which has led to four wars and a near nuclear confrontation between the two during the past 55 years. There can be no easy solution to this problem; rather it calls for a labored and committed process.Analysts aver that one sure way of tackling the Kashmir imbroglio is to convert the Line of Control that divides Kashmir into an international boundary. But political pressures, more so in Pakistan, have made this option difficult to even consider.With this kind of impediment already causing a strain between India and Pakistan, Musharraf's latest attempt to impose a deadline can well wreck the fragile peace process that is now on.Musharraf told the Pakistani media recently that he would give a few months time or, at best, a year and a half for finding an answer to the Kashmir conflict.Earlier, the Pakistani general had said that he was "out of the peace process since there was no progress."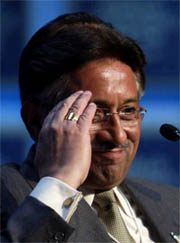 Pervez Musharraf
It must be argued here that rarely do governments negotiate such delicate issues as Kashmir against the pressure of a time schedule. Besides, India has a new government, which is still trying to find its feet. To push it to wall, as Musharraf is trying to do, can create irreparable harm. One now feels that there is this real danger of the peace vehicle derailing even before it has gathered a reasonable momentum.The first signs of the latest trouble between India and Pakistan were apparent in July when the former's External Affairs Minister Natwar Singh visited Islamabad. Both countries made statements that pointed to different directions.While Singh told the Press just before his departure from Pakistan that he was "highly optimistic" of the future ties between the two neighbors, Islamabad called for a "final settlement of the Kashmir question within reasonable time."In New Delhi, questions were then raised about Pakistan's intention in issuing this kind of a command. Although, the two sides have been constrained in their utterances since then — a credit I would give to the maturity and political acumen of India's new Prime Minister Manmohan Singh — it may not take long for relations between New Delhi and Islamabad to sour quickly. Afterall, we have seen that happen many, many times in
the past, particularly during the previous Bharatiya Janata Party regime in India.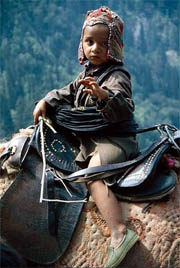 A kid in Kashimir region
Unfortunately, there now seems to be a basic difference of opinion in the way the two nations want to address Kashmir. India wants to improve and strengthen bilateral ties through a series of confidence-building measures. For example, the attempt at helping sick Pakistani children by India's cardiac medical fraternity has evoked considerable goodwill across the border.Musharraf says that steps like these tend to put Kashmir on the backburner. But India thinks that Kashmir and the bilateral normalization process are two separate things. The latter should not be treated as a tool of blackmail to wrest concessions in Kashmir.In fact, it is only when a conducive environment is established through confidence building efforts, which will touch hearts, that a serious irritant such as Kashmir can be removed. What now appears like a reasonable road to the ultimate solution is for New Delhi to pay less attention to Musharraf's deadline, and try and capitalize on his suggestion: let Kashmir and the confidence building measures go hand in hand. If India continues to lie trapped in what is undoubtedly a pointless debate on "time-frame," it will defeat the very purpose of all that has been achieved till now.As the larger power, New Delhi can take some unilateral steps: it can liberalize visa restrictions, open Indian universities to Pakistani students and encourage Pakistani tourists to visit India. These will be seen as great gestures for an eventual normalization of Indo-Pak ties.