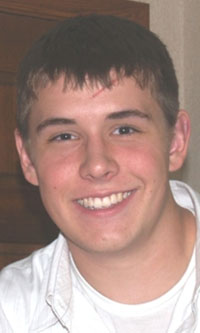 Tyler Hill
The parents of a Minnesota teenager who died on a 2007 People to People trip to Japan are outraged by the organization's latest marketing tactics: Sheryl and Allen Hill learned People to People recently used their deceased son's name, without their permission, in a letter designed to recruit more students to participate in the organization's Student Ambassador Programs."It hurts," Sheryl said, fighting back tears. "We feel tormented by them ... they never stop. They continue to torment my family and my community."Tyler Hill, 16, died in a Tokyo hospital on June 29, 2007, after People to People's delegation leaders allegedly failed to get him the medical attention he requested.Tyler had Type 1 diabetes and complex migraine headaches — conditions his parents disclosed before their son left on his overseas journey. People to People, an organization that touts its ties to former President Dwight D. Eisenhower, assured the Hills it had a solid safety record and a 24-hour response team that could handle any medical emergency.That failed promise is at the heart of a wrongful death lawsuit that is currently pending in Minnesota's Hennepin County District Court. The lawsuit alleges the organization and its delegation leaders refused to get Tyler the medical attention he requested after he and his group hiked Mount Fuji — and charges that his death was the result of their negligence.Now the Hills have learned that People to People failed to honor another promise — to remove Tyler's names from the organization's database. Last month, People to People sent a letter, using Tyler's name, to Judd Griffith of Mound, Minnesota. He's the Hills' friend who recommended Tyler for the 2007 trip to Japan."Thank you for your prior support of People to People Student Ambassador Programs by providing a recommendation for Tyler Hill," states the letter, which is signed by Mary Jean Eisenhower, President and CEO of People to People International and President Eisenhower's granddaughter. "The information you supplied was invaluable during our delegate interview and selection process."The letter invites Griffith to nominate other students to participate in a 2010 People to People Ambassador Program."Having served as a reference for a Student Ambassador candidate, you are already familiar with our program and likely know other outstanding young people who would contribute to and gain from an educational journey," Eisenhower writes.
Incensed
The letter incensed Griffith."What's disturbing to me is that I know in my initial letter I attested to Tyler's character, and in that, I related a story about the health issues he's had and how he's overcome them," Griffith says. "What bothers me about this letter is that it states my initial letter was used to evaluate, interview, and determine if he (Tyler) was a candidate. And yet look at how they failed miserably to care for him. "This (diabetes) was a known issue that Tyler had and they absolutely failed (to care for him). Why can't they come out publicly and say 'we really messed up?'" he asked. Griffith is also appalled that People to People would use Tyler's name to lure more students."To have this letter come and ask me for more names was a real slap in the face and a wake up call as to how they do or don't do business," he says, adding he's had "pangs of sorrow" that Tyler became involved with the organization. "And then to read Mary Eisenhower's name of it…that totally incensed me that they could be so brain dead and not have a conscience."The Hills understand their friend's anger and appreciate his concern."I know Judd was so hurt by this," Sheryl told us. "He was also furious. I am so angry…we don't deserve this. We were guaranteed that they took our son's name out of their database shortly after he died."
Not what it seems?
Although the letter is signed by Mary Jean Eisenhower — and refers to her famous grandfather — it did not come from the non-profit People to People International based in Kansas City, Missouri.The postmark and address on the letter go to the for-profit Ambassadors Group, Inc., a publicly traded company (EPAX) based in Spokane, Washington. That company markets the educational trips for students using People to People's letterhead and handles all the travel arrangements.Some of the programs the company promotes include: • People To People Student Ambassador Programs;
• People To People Sports Ambassador Programs;
• People To People Leadership Programs; and
• People to People Citizen Ambassador Programs. During a previous interview with ConsumerAffairs.com, Eisenhower told us her organization has partnered with the Ambassador Group since 1963: "We've had a long, legitimate relationship with them," she said. "They're more than a travel agency. They do all our logistics."The Ambassador Group also puts money in People To People International's coffers. Revenue generated from the trips it markets goes into People To People International's operating budget.Jeffery D. Thomas is president and CEO of Ambassadors Group, Inc. We contacted him about the People to People letter that uses Tyler Hill's name. He did not return our call. ConsumerAffairs.com also contacted Mary Jean Eisenhower about the letter that uses Tyler's names. A spokeswoman for People to People International referred us to attorney, Don Lolli. He did not return our call, either.
Not the first time
This isn't the first time consumers have complained about the marketing tactics used by People to People. In recent years, ConsumerAffairs.com has repeatedly exposed how People to People used misleading marketing tactics to recruit students for its expensive, overseas trips.Our stories revealed: • The organization came under fire in 2005 by the Iowa Attorney General's office for sending a letter to a mother, which stated her son was named for a Student Ambassador trip overseas. Her son, however, had died in 1993. He was seven weeks old. Iowa officials did not take legal action against People to People. The organization later donated $5,000 to Iowa's SIDS Foundation and $20,000 to Blank Children's Hospital in Des Moines; • The organization has twice in recent years sent recruitment letters for its overseas programs to the parents of a deceased baby girl in Florida. The couple's daughter died from multiple birth defects in 1992. She was 18 days old. People to People said it was "absolutely devastated" this happened and blamed the company that compiled its mailing lists for the errors; • In 2006, the organization sent a recruitment letter to the parents of an Earl Gray in Arkansas. Earl Gray, however, was the couple's white, one-eyed, cat. He died ten years earlier and is buried in the family's back yard. He was 14-years- old; ConsumerAffairs.com has also heard from scores of parents nationwide who say the organization's letters — which arrive in official looking envelopes that hype People to Peoples' ties to eight former presidents — duped their children into believing they were specially chosen for these trips, which cost an average of $5,000."My bright, artistic, 4th grade daughter (9 1/2 years old) came home from school very proud one day," says Dena L. of Verona, Pennsylvania. "Her teacher told her that she was choosing my daughter out of the whole school and that we would get information about it in the mail."Well, today, the teacher sent home the letter she received from People to People, asking her to nominate her best students. At first read, my heart swelled. I thought, my little girl has been picked for something very special."On closer examination, though, Dena discovered this wasn't the honor it appeared."Some text of the letter, supposedly from Eisenhower's granddaughter states: 'I am pleased to invite you to nominate your most outstanding students to attend the People to People World Leadership Forum in the 2009-2010 academic year,'" Dena told us. "After reading a second time, I thought, students? If it were truly selective, multiple nominations wouldn't be offered to the teacher."Dena researched People to People and learned its letters have deceived many parents — and their children."At the end of the day, I am totally honored that my daughter's teacher thought so much of her to nominate her for what she thought was an adventure," Dena says. "(But) the application will go in the trash and I will let my daughter's teacher know that P2P isn't what they claim to be."She added: "The whole thing breaks my heart. It is a crying shame that Presidents' names are on this letter… disgusting! After reading that P2P doesn't even run the trips, (it) makes me sick. This isn't a harmless nomination scam like 'Who's Who' in high school. This has a real potential for misleading parents and children."People to People acknowledges that all students its contacts aren't "specially chosen" for the trips. The organization admits its uses list service companies that compile and sell the names of students nationwide.Eisenhower has also told us the organization gets names from parents and teachers who nominate students. Other nominations, she said, come from those who've traveled with the organization. Private individuals can also nominate students on the organization's Web site.But ConsumerAffairs.com discovered People To People's Web site doesn't ask for any supporting information about the student—or their qualifications for the program.
Not even human
It also doesn't do background checks on the nominees to verify they're even human.Consider the 13-year-old, who recently told us she nominated her brother's pet iguana for one of People to People's trips. The lizard later received a letter from People to People stating he had achieved academic excellence and been nominated by a teacher."This goes to show that there is not even a basic check on names submitted to this organization," the student told us. "It is a complete scam."Some parents also say People to People refused to refund their money — even when they had to cancel their child's trips for medical reasons. That's what happened to Donna T. of Lawrenceville, Georgia. Her son, Nick, couldn't go on his People to People trip because of serious health issues."I called the 800-number (for People to People) today to find out about receiving my down-payment refund and I was told that he would only receive $155 of the $400 back," she told us. "When I asked about the other $245, I was told by Annette that the $245 was for insurance. Insurance for whom? My son isn't attending."Donna is furious that People to People won't issue refunds when students can't take the trips for medical reasons."I was trying to get my son to Europe, an opportunity that he may never get, and because of his health issues, he cannot attend," she says. "Now, this really sounds like a racket. I am mad. I am a single mother whose child has taken a drastic turn for the worse (unexpectedly) in his health. I wanted to give him this and now he can't go, through no fault of our own."She adds: "I will be very curious to find out how many people have been taken in by this scam. I will not stop until this is stopped — and I get my entire $400 back. Furthermore, when I called this morning and talked to Annette and explained to her that my son might be dying, she basically laughed and said too bad, I signed a document and I'm only going to get the $155 back."But medical issues apparently aren't worrisome to People to People, which continues to brag about its health and safety record, even in the wake of Tyler Hill's death."For over 50 years, People to People Ambassador Programs has helped more than 400,000 program participants travel to seven continents while maintaining an extraordinary track record of safety," the organization states on its Web site.People to People also continues to tout its ties to former President Eisenhower, claiming he founded the organization. Mary Jean Eisenhower reiterated that claim in the marketing letter that uses Tyler Hill's name."Through this experience, students can enhance their academic achievements while fulfilling the vision my grandfather, President Dwight D. Eisenhower, had for promoting peace through understanding when he founded People to People International in 1956," she writes.
Founding documents
But President Eisenhower's name is not listed on the incorporation records filed with the Missouri Secretary of State's office for a non-profit organization called People to People.The purpose of that organization, founded on October 31, 1961, is to "encourage and promote in every way possible contacts between citizens of the United States and people of other lands, that will increase understanding to the end that there may be a lasting and enduring peace." This non-profit People to People organization was incorporated by Alfred Frankfurter, Franklin Murphy, and Joyce C. Hall, according to records with the Missouri Secretary of State's Office.A New York Times story dated June 10, 1958, states the People to People Foundation was formed to "implement a 1956 proposal by President Eisenhower to promote international understanding." That non-profit foundation, the paper wrote, was organized in 1957 and President Eisenhower served as its honorary chairman. The 1958 Times article also stated that the People to People Foundation had recently dissolved because "it had served its purpose."Back in Minnesota, the Hills have contacted postal authorities about People to Peoples' marketing letter that uses their son's name without their permission.ConsumerAffairs.com has also learned the Hills recently reached a confidential agreement with People to People International in the wrongful death lawsuit they filed in connection with their son's death.Litigation, however, is still pending against the other parties named in that action: The Ambassadors Group, Inc., People to People Student Ambassador Programs, a United Kingdom organization called docleaf Limited, and the delegation leaders on Tyler's trip. A trial date is set for July in that case.
The above story is introducted to The Seoul Times by Director Danielle Grijalva of Committee for Safety of Foreign Exchange Students. For details or inquiries please contact Director Grijalva.
Danielle Grijalva, Director
Committee for Safety of Foreign Exchange Students
P.O. Box 6496 / Oceanside, CA 92052
www.csfes.org / 866-471-9203
dgrijalva@csfes.org