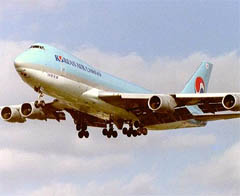 Union members of Korean Air pilots have resolved to go on a strike in a 10-day vote to decide work stoppage, its union president Shin Man-soo announced on Aug. 2, 2004.The decision was made by 75.3 percent of 902 pilots who participated in the voting. Korea Air's Pilots' Union boasts 1,276 pilots as its members.It has not been decided when to start the work stoppage, according to its union leadership.The pilots' union has been demanding a total of 11.3 percent pay raise, the reinstatement of fellow union members who had been fired, and a donation of 5 billion won from management for a union fund.These demands has for far been denied by the Korean Air's management.Currently, average yearly income of a Korean Air pilot are 110 million won for a captain, 81 million won for a co-pilot.Meanwhile, South Korea's another airline, Asian Airline's union members have started a vote to decide whether to go on a strike since July 28, 2004. Up to now, some 80 percent of all the union members have completed voting.Both Korean Air and Asiana Airline's managements are extremely worried about the final decisions on airline strike. In June of 2001, both's airline's workers including pilots went on a joint strike, paralyzing air tour and travel.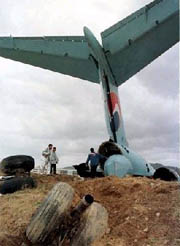 Korean Air's MD-83
involved in an accident
If union members of both airlines go ahead with their strike, airline industries will be hit even harder than 2001 strike. Korean Air's Pilots' Union comprising pilots, co-pilots, and flight engineers was established in May, 2000. Prior to that, the pilots and flight engineers were prevented from Korean Air to form a union. Korean Air pilots have long been complaining about its "poor" working conditions including long flight hours which resulted in a hos of tragic airline accidents.Korean Air, with a fleet of 118 aircraft, is one of the world's top 20 airlines, and it operates almost 400 flights per day to 89 cities in 33 countries. Korean Air is a founding member of SkyTeam, a global airlines alliance in partnership with AeroMexico, Air France, Alitalia, CSA Czech Airlines, and Delta Air Lines.