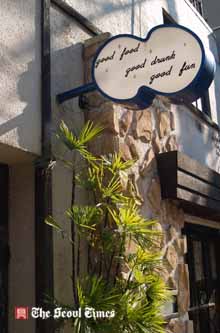 Good drunk Sign Osaka
If it were anything but a cigarette, it would surely be crying. Seen any weird signs lately? If you have ever visited Japan, or China, you are bound to have seen some unusual translations into English. Everyone comes back with a story: snaps on their cell phones, photos of shops or cafés, souvenired menus - the list is endless. These mis-translations tend to pop up unexpectedly. They catch our eyes, confirming that we are in a foreign country; confirming the value of our own language - a ready confidence boost if one is surrounded by a foreign language and culture. I found many weird signs during a recent visit to Japan: an elderly man walking through the central railway station in Tokyo who wore a jacket that said 'marijuana', a teenage girl, at a temple in Osaka, whose t-shirt prominently displayed the F- word, a young man in the Osaka whose t-shirt said "I was born in the U.S.A. but I was brought up in Japan. You will find happiness when you pat my nose." I must admit that I felt no inclination to pat his nose. It is strange and humorous to the English eye, and it is easy to feel superior. But why are people wearing such emblems? I think that the answer is quite simple. It is fashionable to wear clothes that bear a mark of the English language. Just as an Australian teenager, learning karate, may put a poster with Japanese characters above his bed, so it is exotic to enter into a game of using another language. While the words may look cool, and draw vague connections with ones' heroes, or another culture, it is best not to ask too many questions. English adds to the image.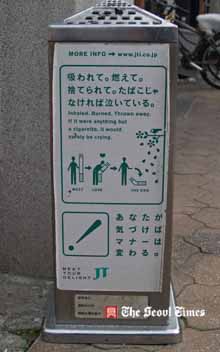 Cigarette Bin
Take for example a set of tiles I discovered at Fukushima Railway Station, in Osaka, Japan - of all places in the male toilet. The tiles said: 'Apple pie is a great recipe for everybody who loves the Beatles. Yam.Yam.'
It is simply enough to look cool. It doesn't pay to look much further. Language can be a game, particularly in the world of fashion and design, and it doesn't pay to take things literally. Language can of course cut both ways and I often see, in Australia, people displaying tattoos or t-shirts, with Chinese or Japanese characters. I am sure that Japanese and Chinese tourists, or residents, are horrified and amused at times. Imagine this scenario - the Australian rock singer, Jimmy Barnes, who once fronted the band 'Cold Chisel." He claims to have worn a headband, bearing Japanese characters, on stage for 10 years. Eventually someone told him that he was wearing it upside down. The increasing use of digital photography, and blogs, means that we can now more readily capture and communicate inconsistencies between languages. Just type the words 'Japlish' or 'Chinglish' into the web and you are sure to come across many examples of English misuse. There is increased pressure nowadays to be multi-lingual. It is okay if you have a large bureaucracy behind you, but a different matter if you are a small and sincere shop owner not very adept in English. Put signage in the wrong hands and you will come up with all sorts of anomalies ... let me leave my favorite example until last. And I should check myself when I assume that large bureaucracies will manage to translate correctly: How many railway stations in Japan bear the sign 'Camera is in operating'? To digress: my favorite example of a mis-translation is from a German guidebook. It is a sincere attempt to explain Australian grammar. Unfortunately it falls short. The slang phrase: 'Don't come the raw prawn with me' is an old expression which means to act deceptively. Unfortunately this phrase book could only come up with a literal translation: "don' come along here with your seafood." I feel sorry for any tourists who may have been stranded by this translation. A great example of the strange ground – where language seems to be lost in translation - is in the Japan Tobacco manners campaign that can be seen all over Japan. It is on posters and on the side of cigarette bins. Forget the guide books that direct you to temples and exotic places- a simple stroll along a Japanese pavement can be quite an interesting affair! Japan Tobacco is one of the largest manufacturers of tobacco in the world. It controls 66% of the cigarette market in Japan as well as the manufacturing and marketing of cigarettes such as Camel ,Winston and Mild Seven. With an increased focus on smoking related issues throughout the world - placing public pressure on tobacco companies, including falling revenue from the sale of cigarettes - Japan Tobacco has chosen to adopt a smoking manners campaign as a means of building its public profile and image of corporate responsibility. JT recognizes the importance of consistent and proactive messaging in order to improve overall smoking manners in public places. The company has been placing advertisements, on television and trains, which depict common everyday situations for smokers. Through the advertisements, produced under the slogan 'If you take notice, you can change your manners, "it is JT's hope that smokers will take notice of the issue, rethink their habits, and exercise responsible behavior when smoking. Compared to Australia this is a very tame strategy. Here cigarette companies are forced, by law, to display health messages on the sides of packets - a recent occurrence in Japan. This includes graphic statements and even more graphic photos of heart disease, gum cancer, etc. One can question the Japanese Governments' commitments to lessening smoking: it still owns over 50% of shares in JT. Fortunately, according to the book 'Unfiltered', by Eric A. Feldman and Ronald Bayer, "The effort to place manners at the heart of the smoking debate, however, has not discouraged all anti-tobacco activity." As one wanders through the streets of Japan the signs that one encounters are intriguing. Pasted mostly on the side of cigarette bins - street corner fixtures where smokers can conveniently butt-out – they utilize stick figure cartoons and short phrases to hit home the message. What is unusual is the tense. In the English language didactic messages are usually presented in the third person. These messages are presented in the first person. It is as if one is witnessing a miniature film noir world, in which a Humphrey Bogart type character is making comments as he smokes his way through everyday life. Perhaps this is intentional on the part of JT – whatever - it makes for fine reading:
'In summertime, the arms that pass near my lit cigarette are bare.' 'I threw my cigarette butt into the drain. That is to say, I hid it in the drain.''I moved to avoid him. But my smoke didn't.
'A person was waving at me. He was waving away my smoke.'
Incorporating little stick characters, diagrams, very large cigarettes, and all manner of statements and philosophical questions, the signs are a visual delight. My favorites are the ones that anthropomorphize cigarettes, giving them human qualities: Inhaled. Burned. Thrown away. If it were anything but a cigarette, it would surely be crying. Some signs are perplexing; simply enigmatic in their use of metaphor and simile. They could be abstract works of art: Posters saying 'Don't litter with cigarette butts' are like children scolding adults with paintbrushes. Some refer to movies, and the past, exploring historical images of smoking: The cool cowboy flicks his cigarette butt into the street. But he lives in an old movie. A man waiting on a girl, cigarette butts piled up around him. It was a common scene in dramas from the Showa era. You tossed your cigarette out the window. You looked like you were fleeing the scene of a crime. My favorite is a reference to flatulence: Before passing gas I looked behind me. But I don't bother when I am smoking. I will think twice, in the future, if I see a person looking behind! The campaign tackles attitudes towards the environment, littering, the insensitivity of smokers', self –image, and attitudes towards public and private space. There are strange seasonal references: Would you stick a cigarette butt in the snowman that your child built? The only things that should be stuck in the snow are ski gear and your own face. There are cultural references: Smoking in a crowd at a festival. It's a festival of fire among the watchers. There are also the more traditional and fact driven messages that one associates with public campaigns: I carry a 700º C fire in my hand with people walking all around me. Others are like the words of a child – the quaint words of a child commenting on the corrupted world of adults: Sometimes people stubb their cigarettes out on a wall. Are they trying to write a message? 'Quaint, arresting, child-like, film noir, scientific' - whatever – they are most curious examples of social engineering! Being used to more aggressive forms of social engineering in Australia - where cigarette smoking has been tackled head on, seeing advertising increasingly removed from newspapers, magazines, sporting venues, television and cinemas , it is unusual to see a campaign that simply tackles manners. Some may say this is aimed at the Japanese sensibility of conforming. Others may say it is simply a tame approach to smoking – 'having a little each way'- without tackling the fundamental issues of health and pricing. Cigarettes, in Australia, are, for example, even more heavily taxed than Japanese cigarettes. They are about three times the price. Any Australian tourist, who visits Japan, will also be surprised by the levels of smoking. It is common for people to smoke in bars and cafes. Smokefree venues are more common throughout Australia. Still, there are positive shifts in Japan, with dedicated city spaces being assigned as non-smoking– a collective breath and a sigh of relief from tourists more familiar with non-smoking venues. According to World Health Organisation statistics smoking prevalence percentages in Japan are: 44 % Male, 14% female, Australia: 27 % male, 21% female, Republic of Korea 53% male, 5% female. The statistics are interesting and there are many challenges ahead for anti-smoking lobbies as well as cigarette companies. If you are in Japan take your time to observe the culture of smoking. If you have a few minutes to 'kill' at a railway station – pardon the pun- or have to wait near a group of shops, have a look at the cigarette bins.You won't be disappointed. And, 'Oh yes', and to get back to that sign that I alluded to before. I found this during a walk through the streets of Osaka. It is a great sign.
'Good food, good drunk, good fun.' Perhaps it is true when walking the streets of Japan. You can sometimes feel a little drunk - as if in a dream – over-powered by the many interesting, fun, and unusual forms of communications.
Unfiltered: Conflicts over Tobacco Policy and Public Health: Eric A. Feldman and Ronald Bayer Examples of manners signs: http://www.conbinibento.com/photos/index.php?gallery=./Smoking%20Manners Real photos of manners signs: http://www.flickr.com/photos/charlietyack/sets/
72057594078351752/ Japan Tobacco website covering the manners campaign http://www.jt.com/investors/media/press_releases/
2008/05/appendix20080521_01_02.html Manners Add for TV: http://www.youtube.com/watch?v=28Ytg3IogDg Statistics: World Health Org Smoking Prevalence:http://www.who.int/tobacco/mpower/mpower_report
_prevalence_data_2008.pdf