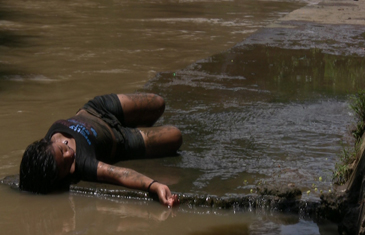 Sherad Anthony Sanchez's "Imbrunal" winner of this years JIFF Woosuk Award for International Film
The Jeonju International Film Festival (JIFF) ended its nine day celebration of independent and art cinema on Friday night (May 9th) with Uberto Pasolini's latest feature "Machan" (2008).The closing film, a comedy drama about a group of hapless young Sri-Lankan men trying to get to Europe, in search of a better life by forming a national handball team to compete in an international tournament, was an excellent finale to compliment a fine collection of work on exhibition at this years' JIFF dedicated to Sri Lankan cinema.The JIFF, which celebrated its 10th anniversary this year, was its biggest and most successful year to date, with attendances from industry, foreign press and the general public substantially increased on previous years. A good number of the films sold out, almost immediately after tickets went on sale, and most enjoyed playing to almost half to full houses, particularly over the weekend. This successful factor can be attributed first and foremost to the reputation and experience the festival has gained over the last decade, bringing a quality selection of world cinema and new domestic independent products to Korean and international audiences; secondly, the added attraction of free live music stages, outdoor screenings, some strange (but fascinating) street theatre, a B-Boy dance championship coupled with some fine warm spring sunshine was satisfactory enough to entertain the crowds outside the movie theatre houses. This ensured that the festival wasn't merely for film snobs or the arts elite, but also for a diverse and large cross section of the local people and visitors, young and old, regardless of their social or economic standing.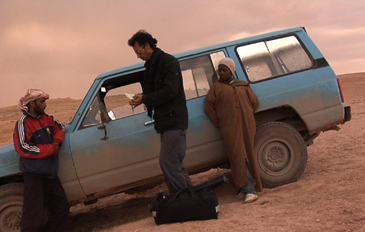 The Daum Special Jury Prize, "Inland-Gabbla" by Tariq Teguia.

The hospitality and kindness of the local people and businesses in Jeonju city did not falter, along with the many JIFF volunteers (with their bright yellow jackets) who participated in the event, who played an incredible variety of roles, including directing traffic, assisting in orientation and providing guidance for festival-goers. The volunteers, many of them students were always at hand nearby and ready to help located throughout the main venues in Cinema Town, at the free bus shuttle stops, hotels and external venues. The human and caring people friendly attitude of the JIFF was not contained to the organisation of the festival itself but, indeed, extended fully to what was on offer on exhibition on screen throughout the festivals nine day run. A large number, in fact, most of the film narratives this year dealt with and challenged a wide range of contemporary issues facing the world today, ranging from social political problems due to widening economic divisions, environmental destruction, violence, gender roles and sexual orientation, human trafficking and exploitation, immigration and the effects on traditional agrarian societies through industrialisation processes, to highlight but a few of the many subjects tackled by this year' filmmakers. These of course, are not new subjects and have existed since the very birth of the modern cinema since the end of the 2nd World War, nonetheless, what is new is the variety of approaches and aesthetics film-makers use to address these subjects. What we can see from this year's JIFF is that young and even some of the very well established film-makers of today are certainly not running out of ideas to articulate or express these important issues, which, in essence really should be the role of the independent film-maker to do so. Whereas some films offered hope, for individuals or a wider collective, in their narratives, that these things can be overcome, through a touching or happy resolution, others were less optimistic in their closure, however, either way both these approaches, left us with questions to think, even if momentarily, for the plight of others.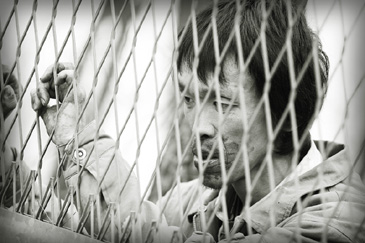 "Missing Person" by Lee Seo, The JJ Star Award winner for Korean Feature Film
International Competition Results
Probably one of the most difficult parts of any international film festival to accept, is that it is not purely an exhibition of films, it also a competition and for a majority of films, they are separated into a category and engaged in some kind of artistic lottery. Judges are then given the task of plucking one (or sometimes maybe even two) of these films from the line of other films in category, to give an award and this is quite often accompanied with a fair wad of cash. To some people this might seem a little unfair, due to the fact: What actually constitutes as good film? Is it the performance of the actors? Is it the story or narrative play? Is it the technical aspects or aesthetics in use of camera, sound, editing or mise en scene? Is it the content, mood or message conveyed? Is it perhaps the austere of the director, maybe they have a nice friendly earthly personality or are loud and angry or eccentric and charismatic or even shy, sensitive, reclusive, dark and mysterious? As, the noted French critic Andre Bazin once enquired, "What is Cinema"?So, what is cinema and more importantly what is good cinema? The real answer is of course very hard to define and sometimes it is just one or couple of outstanding displays of the above. A film can have absolutely terrible technical or aesthetic ability, but very deeply moving, powerful and intelligent in its subject content. On the other hand, a film can look good with striking imagery, wonderful shots and scenery, carefully timed montage sequences and stunning soundtrack and virtually none or no substance at all. What was necessarily appealing to a hardworking film-maker and audiences alike might not be so for a noted critic or film scholar. However, that wasn't the case at this year's final selection for the JIFF international awards.This year's JIFF "Woosuk Award" for International Film (and 10'000 US Dollars) is a film which certainly combines all the ingredients on both one and the other hand with plenty of substance. "Imbrunal"(2008) by Sherad Anthony Sanchez, from the Philippines, is a film, shot in a digital medium, which displays an excellent command of both technical aesthetics of imagery and sound. "Imbrunal" addresses the serious concerns of environmental damage not only to the landscape and waterways through sheer neglect and a blatant disregard, (which has almost become acceptable as normal), but also has in juxtaposition a mirroring effect on the central figures manifesting, into something deeply tragic, unattractive and foul. It is a film that at times is poetic and reflective in its use of mise en scene. The film is also bold and daring in its attempts to reject the conformity of conventional narrative, although does not discard its central figures as their innocence grows as tainted as the polluted water they grow up around. The Judges commented on award of the film that it fulfilled the progressive spirit of the Jeonju International Film Festival: "it is an innovative, experimental, even miraculous work, a unique blend of documentary and fiction, which returns us to the fundamental question of the past and the future: what is cinema?""Imbrunal" also lifted the NETPAC (Network for the Promotion of Asian Cinema) for the best Asian film, Jurors commented "We award Imburnal because of the art of showing hopelessness in the youth of rural Philippines using a tone and visuals alternating in a duality that are at times playful and often heartbreaking."The Daum Special Jury Prize for International Film (and 7 Million KRW) went to Algerian Film-maker Tariq Teguia, for "Inland-Gabbla (2008). Once again another film of technical competence, with a formalist approach, shot in colour on 35mm, which utilised with incredibly wide shots of the North African desert landscape that captured and bolstered the emptiness and isolation of the central protagonist on the run trying to escape the confusion and the disparity of contemporary Algeria. This along with a mystery woman he meets along the way, kind of has echoes and resonances, of Michelangelo Antonioni's "The Passenger" (1975), although that is where the similarities stop and it is still a very different and highly original film. "Inland-Gabbla" also won the FIPRESCI Prize at last year's 2008 Venice Film Festival. The JIFF judges commented that it was a "formally rigorous, politically audacious film without lapsing into didacticism, Tariq Teguia's film illuminates the tragic situation in Algeria with lyricism and insight."
Korean Film Awards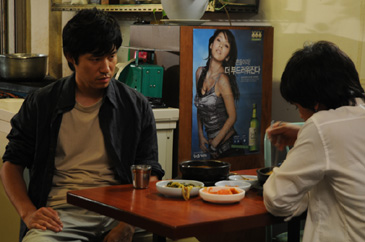 "Where Is Ronny?" by Sim Sang-Kook receives the special mention in Korean feature film competition.
Meanwhile on the national front, there were a whole host of Korean feature films, which all seemed to be doing very well at the festival box office, with different and diverse narratives around social issues in competition for the "JJ-Star Award" (and 10 Million KRW). The Judges had a difficult time deciding the winner and quite rightly so, as most, if not all, were very good entries. In the end the judges decided to award "Missing Person" by Lee Seo for its "strong directional point of view and creativity that is expressed both in the acting and visual style in the contents." "Missing Person" is a poignant comment on the traditional value of Korean society, where the hierarchical system of elders and seniors particularly in the family, community and workplace, operate a kind of rank and file, master and junior subservient system. Although this is slowly disappearing, and not exclusively wrong, as sometimes the voice of experience knows best and every society needs some kind of leadership and role models, there are and have been cases where this can ultimately be described as tyrannical abuse, selfish maltreatment and inhumanely cruel. Lee's film delves into this subject matter with a drama that portrays characters stuck in a circle of domination and violence, often with incredible point of view shots that heightens the tension, anxiety, desperation of the characters and overall ambiguity of the film.The Jury members for the "JJ-Star Award" also announced special mentions for two other films in the Korean Feature Film Competition. The first special mention was for "Where Is Ronny" (2008) by Sim Sang-kook, "for dealing with important contemporary issues such as cultural identity and immigrant workers in a foreign country with warmth and humor." The second special mention is given to Sogyumo Acacia Band's Story for "its accomplished directorial approach to the life of a community of artists."Other awards in the festival went to in the Korean shorts section: "Don't Step out of the House" by Jo Sung-hee (Best Short Korean short), "The Death of a Newspaperman" by Kim Eun-kyung (Best Director), "The Strange Voyage"by Kim Bo-ra (Special Jury Award).The Audience Critics Award prize went to "Bandhobi" (2009) by Shin Dong-il for "presenting a new direction for commercial cinema based on sincere insight...creating a new energy within the boundaries of a low-budget film that cannot be seen in general commercial films." In the Jeonju Project Promotion, awards went to the following projects "Suicide Specialist X" (Producer Pitching Award), "First Love -1989, The Memory of SUMIDA." (Documentary Pitching Award), each receiving 5 million KRW in prize money.The SJM Documentary Grant was awarded to two projects, first, The Story of Yoko by Kim Eung-su. The jury applauded the idea and concept: "for attempting a new kind of approach to Korean documentaries despite many concerns. We would like to believe that this will lead to the discovery of a unique genre with a distinct artistic style." The second project was "Moslpo." The jurors comments were: "This project requires considerable contemplation to develop a clear perspective in order to become a documentary film, but it is an interesting subject along with a freshness that shows promise." The two films shall each receive 20 million won in funding.