America
Politics of Religion or Religion of Politics?
By Dr. Terry Lacey
Special Correspondent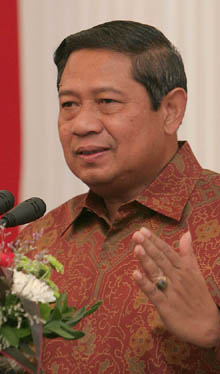 President Susilo Bambang Yudhoyono (SBY)
Four Indonesian Islamic parties are threatening to withdraw from a winning coalition led by President Susilo Bambang Yudhoyono (SBY) and his Democratic Party to fight the direct Presidential elections together on July 8th. The opponents of the Islamic parties hope that their coalition will fall apart. But probably it will not.The Democratic and Islamic parties already secured more than half the seats in the House of Representatives in the general elections on April 8th, (314 out of 560) and the Islamic group holds 166 seats, or 53 percent of the seats on the government side! Why should the Prosperous Justice Party (PKS), the National Awakening Party (PKB), the National Mandate Party (PAN) and the United Development Party (PPP), give up their unassailable position? Political mathematics says they will not. But the political cat has temporarily scattered the political pigeons, for two reasons.First SBY has nominated Boediono the squeaky clean Governor of the central bank as his Vice Presidential running mate for the presidential elections, just before the May 16th nominations deadline, and not a candidate from the leading Islamic Party the PKS. That means a more technocratic government and that SBY is sure he can win political support at the polls if he deploys good people, since the public are tired of the previous political class.Second he has opened talks to bring his erstwhile and defeated opponents the Indonesian Democratic Party of Struggle (PDI-P) led by Soekarnoputri Megawati into his coalition, which deploys 93 seats in the new parliament. But the PDI-P leader is a presidential candidate and unlikely to withdraw. SBY can allow the PDI-P to try its chances against him if they wish, and may still secure that they join him in power in a parliamentary coalition afterwards. A win-win solution.This twin-pronged initiative limits the influence of the Islamic parties in the upcoming coalition in two respects, but paradoxically strengthens it in a third.First by marshalling a respected technocrat like Boediono with a reputation for honesty, in line with his support for current competent technocrats like Sri Mulyani Indrawati, his formidable Minister of Finance, and Mari Pangestu another highly experienced economist, as Minister of Trade, he underlines there will be no retreat from a reform agenda. Here he judges correctly the public mood against a discredited political class, a corrupt bureaucracy and a generation of wheelers and dealers.Second, by pulling the politically experienced PDI-P into his parliamentary coalition, SBY co-opts the staunchest defenders of multi-cultural secularism who also flew the banner of liberty against the authoritarian Soekarno regime, creates a counter-weight to the influence of religious conservatism on politics (frankly exaggerated for political effect) and strengthens his ability to get bills through parliament, breaking up any chance of a grand coalition of losers against him in parliament.Thirdly there is a consistency in content in the incremental approach of President Susilo Bambang Yudhoyono which may well appeal to the Islamic parties and help bring them, feathers ruffled, back into what looks to become a formidable political coalition. And that consistent theme is economic, social and administrative reform. Political detractors of SBY have focused too much on PKS inspirational links with the Muslim Brotherhood and the dangers of sharia law and too little on the political content that the Islamic parties have in common with the reforming Democratic Party. They have tried to portray the Islamic parties as socially conservative (mostly not true and underplaying their social radicalism) and the Democratic Party as ideologically lightweight compared to the Islamic parties, a back-handed complement to the latter while the former increasingly looks like a healthy middle-weight champion.A decade into Indonesian democracy the old nationalist parties flounder while a new generation of Islamic party leaders are finding their feet. If they act together they have considerable influence. But have they simply become new nationalist parties with religious brand-names or is there a difference, and if so, what is it? Is there room for morality in politics, as the people hope? Are we looking at the politics of religion or the religion of politics?

Related Articles
Why Indonesia Will Beat the Bombers
US Intervention in Iran
How to Make Friends and Influence People
Obama Will Back Green Energy in ASEAN, ...
Sheep and Goats in the Holy Land
ASEAN and Rapid Global Change
From Egypt to the Promised Land
Love, Love Me Do
Why Pope Needs to Travel Further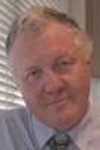 Dr. Terry Lacey, who serves as a special correspondent for The Seoul Times, is a development economist. He writes from Jakarta on modernization in the Muslim world, investment and trade relations with the EU and Islamic banking.