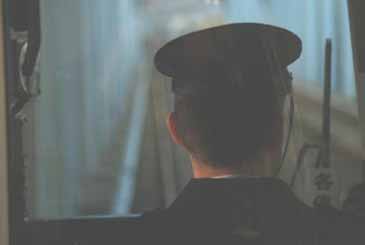 Train Driver Osaka
I'll let you into a little secret; I never had a train set as a kid.While this may be a strange and unimportant fact to relate to readers of the Seoul Times, it has some relevance when I think of a recent trip to Japan; for it is there that I discovered, or even rediscovered, an interest in trains.Before I get to those facts, let me digress.Some of my friends had train sets when I was a kid- and I found them pretty interesting - yet I was most interested in my 'hot wheels' set.A friend Neil and I would spend hours immersed in that miniature pastime. I would bring a box full of toy cars to his house- my ammunition - and we would engage in a vehicular contest.We made all sorts of modifications: I remember the sleek yet weighted sports car that would race down the track, and the fast car with its frame removed.There were many surprises: the car that we thought would go fast but would only clunk its way down the track. Then there would be the modest car that would race off unexpectedly. It was in these moments that we learned about expectation and surprise. We had created our own miniature world that would absorb us for hours. Our experiences were metaphors; they would later be echoed in the outside world.As a five year I loved to visit a Melbourne toy shop called 'Tim the Toyman.' It had a functioning model railway and I enjoyed seeing the landscape in motion. Every kid, I am sure, would have looked the same - eyes wide open; the shopkeeper hoping that our interests would soon return to the toys. I loved
the tunnels and bridges.What kid doesn't like the joy of a train entering and leaving a tunnel? What kid doesn't enjoy seeing a train go over a bridge?There was an enjoyment in the scale - the little world- where we could see miniature houses, towns and figurines. I could project myself into that scene, into the miniature. I was in another world. I could explore those little roads, walk through those little houses.Here I must digress to an interesting documentary I saw in the 1980s, by the French filmmaker Jean-Pierre Gorin, a one time collaborator with the famous director Jean Luc Godard.The film 'Routine Pleasures' (1986) explores the culture within a club of model train enthusiasts in the United States. We explore their miniature world and how it is a reflection of their desires and perceptions of society. In a memorable irony within this film, in order to gain acceptance from the group,
Gorin placed a small model of himself within the scenery: a curious and odd phenomenon.I must admit that I didn't have this inclination during a photographic project, in New Zealand, when I created a photo project based on model railway scenery. I chose to be lost in the scenery, using the macro lens to create my own strange miniature world.I must admit that the enthusiasts — a terrific and interesting group of guys — found it strange that I took little interest in their model trains.I carry the childhood memory of living near a suburban railway line, in Melbourne, and sitting in the deep recesses of an old railway bridge, watching trains roll by: an exciting and sensual experience.Then there is my experience in the Wimmera, a northern region of Victoria. A friend Jeff and I (he is a self confessed train buff) would sit on the quiet platform of the Horsham railway station waiting for huge freight trains to appear. The experience was exhilarating. The region is very flat and you can hear the trains coming. Eventually they would roar past, like massive ghosts of the night, trailing up to 80 carriages. Slowly the quiet would return: the still platform, the sound of cicadas, that fresh wind that only the country can offer.I will never forget the sounds of midnight freight trains shunting in the nearby town of Dimboola. It was like an exotic form of industrial music. It tore into the night like the soundtrack to a science fiction movie.Travel opens many memories: of the places one has visited as well as childhood memories. I never imagined that a recent trip to Japan would have awakened my child-like interest in trains. Travel is like a bunch of keys. It opens doors to new places, it opens doors within us.It wasn't until sitting in the front carriage, of a train, traveling between Osaka and Kobe that I realized I could look towards the front of the train, through the driver's compartment.Listening, on my Ipod, to the beautiful and strangely relevant Angelo Badalamenti soundtrack to the film 'The Straight Story', I discovered the beauty of rail travel in Japan. I became like those train enthusiasts I would see taking photos on railway platforms. I was like a kid within my own model
train set.The driver's compartment cannot be viewed on Melbourne trains, and to look ahead was like a revelation. It was mesmerizing as I followed the winding of the tracks through a densely populated urban world.Tracks wound their way beside buildings and through tunnels. Trains passed, pedestrians could be seen patiently standing at crossings. The train would slowly wind its way into stations, commuters waiting in lines, guards waiting officiously. I loved watching the drivers at work- their concentration and their professionalism.There was a beauty in the shadows and rhythms created by power lines and bridges, shadows that would hit the train - as if entering blue worlds. The train would then emerge into a new world of yellow light.There was the cute railway station tune, as trains departed, an electronic modification of the 1894 American folksong 'I've been working on the railroad.'I loved winding my way through the subway of Kyoto. One snaked through subway tunnels- a turn here and you would see a station slowly emerge from the darkness: lonely and small commuters- like miniatures- standing on platforms.Then there was the subway station, near Kyoto, with its gated platforms. I was curious, wondering why the tracks were hidden behind a wall of glass.It is then that I started to slowly realize a harsh reality of rail commuting in Japan, a truth that wrenches one out of joy- the extensive suicide rate involving trains. My friend Kaori had only said to me a few days before how her train was delayed because of an accident — suicide, she presumed — 'It happens all the time. It's usually the reason why trains are late. An accident on one line will soon upset everything.' Japan struggles with its high suicide rate (up to 30,000 people per year), reportedly the ninth highest in the world - and everyday there are incidents on the Japanese rail network.I wonder what experiences drive people to suicide. Have suicides increased with the current economic crisis? I feel for the victims — their families — commuters who witness or are close to such trauma. How do drivers cope with these events?I picture myself looking out the front of the train, like a child, lost in the journey. The harsh reality of the world rushes in. Maybe there is a reason why these seats are empty, why people don't look forward. I think of the Sarin gas bombings in the Tokyo subway — how they struck deep into the Japanese consciousness. I think of the tensions of commuting- people crammed in trains like sardines — incidents of molestation that have led to female only carriages.I remove myself from these thoughts: there is a time to address the realities, another time to withdraw, take rest. We are lucky if we live in our own world where we can give space to the imagination - time to enjoy its beauty. My train continues on its magical journey. I won't forget my first journey on a bullet train - the Shinkansen. I relished the wooden basket of bento sitting on my knee, how the train sped through the countryside, how the land seemed to turn on itself: what was normally in focus was out of focus, power poles were passed with such speed that there presence was sensed as pulses of light. The journey was exhilarating yet disorientating to my inexperienced senses. I will never forget the conductor who entered the carriage: his ritual of bowing towards the passengers, the robotic movement of his arms as he did some checks, his graciousness in addressing each passenger. His ritual - a performance - went to the very heart of what I love in Japanese culture. I recall returning from Kyoto. A fully dressed Geisha girl, probably returning from her tourist run, sat next to me in the carriage. She was in a gorgeous kimono, her face was painted white. Her surreal presence was enough to make locals stare. She immediately pulled out a cell phone and started to text. I remember the businessman, perhaps a salary man, wheeling his suitcase through a carriage. It was covered in dozens of barcodes, all indicators of his many journeys. I loved seeing passengers immersed in their secretive books, their covers obscured by the brown paper covers neatly attached by booksellers.
There were teenage girls, in school uniforms, their cell phones and school bags adorned with the most astonishing range of figurines: dozens of small teddy bears and novelty items. It is amazing how train memories can figure in one's life. I am reminded of three stories that move me about trains: Bill the elderly retired train driver, in Victoria, who enjoyed recreating and driving his own railway line on his computer train simulator program. Traveling to Melbourne, onetime by train - of all things to get an upgrade to this computer program – Bill was involved in a rare train accident. A car, owned by a group of fisherman had accidentally rolled onto the tracks. Bill was okay. He was flown around the carriage and fortunately there were no deaths or serious injuries. Then there was my journey on the 'dynamite express' - as it was jokingly called in the 1990s- which traveled between Belfast and Dublin. This train would notoriously have to stop because of IRA bomb threats .Most of these were fortunately false and passengers would eventually climb back on board, in the countryside - once the police and their dogs had left- knowing only too well that it was wise to give oneself an extra hour of travel time : 'this happens all the time.'Finally there is the moving story of the teenage boy with autism who I once met at an alternative secondary school. This lad was obsessed by trains and he knew the timetable backwards. Teachers would even approach him to check train times for the afternoon. In an extraordinary act of compassion, the train company - Vic Rail - at this time, chose to give this lad an official uniform and notebooks so that he could enjoy his role. He relished it. His fascination was seen as a positive interest rather than a medical condition.So, here I am again sitting towards the front of a train as it is snaking its way back to Osaka. The light is beautiful. It is fading. Light is falling onto and off the driver as we make our way through a corridor of lines.I have my camera in my hand and I am trying to capture the beauty of the journey - the light falling gently on the nape of the driver's neck (aware that the nape of the neck carries many connotations in Japanese culture) and how my lens can capture the delicacy of the light - how the driver can be seen
to entering different landscapes: landscapes that are external yet could be seen to be internal with the careful jigging of the zoom focus. I am reminded of the beautiful photograph by Gueorgui Pinkhassov- 'Japan Tokyo 1996 The New Metro.' I also marvel at the delicacy of photos by the under-recognized and under-rated Japanese photographer and artist Imura Kazha. Like the filmmaker Gorin, I imagine a small model of myself. I pick it up - a small model of a balding man in his mid forties ( made in Japan). I place it towards the front of a train, just behind the driver, on an imagined train track in Kansai, making inexpensive journeys between Osaka, Kobe, Nara and
Kyoto.I have returned, winding my way past buildings, over bridges- a small figurine looking in the direction of Kobe, alive in his own train set. With a little more imagination I am driving the train, entering the blue, the warm sun creeping up the nape of my neck.Japan Rail Network (Japan National Tourism Organization):
http://www.jnto.go.jp/eng/arrange/transportation/
trains.htmlRail map of Kansai Japan:
http://japanize.jp/railwaymap.htmlGueorgui Pinkhassov, Japan Tokyo 1996 The New Metro, Magnum photo website
www.magnumphotos.com (Image no: PAR93476)Routine Pleasures: Jean-Pierre Gorin:
http://archive.sensesofcinema.com/
contents/directors/03/gorin.htmlImura Kazha:
http://www2.ocn.ne.jp/~kazha/index.htmlMy photo project: Milltown Chronicle: http://www.darrondavies.com/Angelo Badalamenti: http://www.angelobadalamenti.com/news.html,
http://www.amazon.com/
Straight-Story-Soundtrack-audioCD-Angelo-Badalamenti/dp/B001MBIRC4