Azerbaijan Ambassador to Seoul Rovshan Jamshidov hosted a reception at a Seoul hotel on May 28, 2009 on the occasion of its national day, "the 91st anniversary of Republic Day," the founding of the Democratic Republic of Azerbaijan.Azerbaijan gained its independence from the former Soviet Union in 1991 when Soviet Union collapsed. But the independent Republic of Azerbaijan was first proclaimed on 28 March, 1918 and the Democratic Republic of Azerbaijan was founded on May 28, 1918.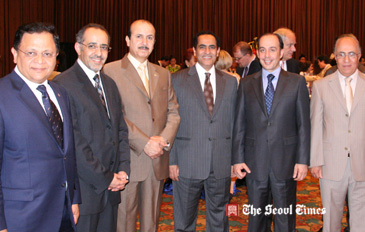 A multitude of top foreign envoys serving in Seoul were invited to the dinner reception hosted by Amb. Jamshidov.Amb. Jamshidov also invited a number of South Korean VIPs including Vice Defense Minister Jang Soo-Man. Jang delivered a congratulatory speech.In a welcoming speech Amb. Jamshidov called for more and better bilateral relations, particularly expansion of economic ties between South Korean and Ajerbaijan.Azerbaijan opened its diplomatic relations with South Korea in March 23, 1992. It already maintains diplomatic ties with North Korea.
Azerbaijan established its embassy in Seoul in March 2007.So far high-level Azerbaijan officials including communications minister, foreign minister, and commissioner of customs service visited South Korea.In 2006 the late President Roh Moo-Hyun visited Azerbaijan.
The following is the full speech of the Ambassador Plenipotentiary and Extraordinary Rovshan Jamshidov of the Azerbaijan Republic to the Republic of Korea.Your Excellency Deputy Minister of National Defence Mr. Soo Man Chang,Your Excellencies,
Honourable guests,
Ladies and gentlemen,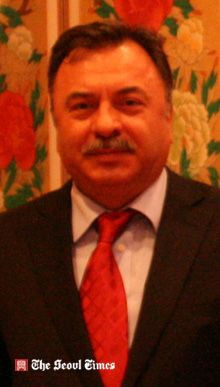 Azerbaijan Ambassador to Seoul Rovshan Jamshidov
It is a great pleasure for me to host such an honourable ceremony and I would like to express my deep gratitude to you for your accepting our invitation and participation.The first independent Republic of Azerbaijan existed for 23 months, between May 28, 1918, and April 28, 1920. It was the most turbulent, unstable and complicated period of our history in the 20th century. Ethnic conflicts aggravated by the collapse of the Russian Empire, civil war and the consequences of WWI, brought the region of the Caucasus into complete turmoil. However, despite the unfavorable historical background, the Azerbaijan Republic of 1918-1920 became the first secular state in the Orient with the first modern Parliament and the Cabinet of Ministers. It was also the first to adopt other institutions, which were implemented for the first time in our region. The experience of the Azerbaijan Democratic Republic seems particularly precious nowadays, when almost 80 years later, Azerbaijan has once again become an independent state and successfully continues its statehood based on the finest democratic traditions.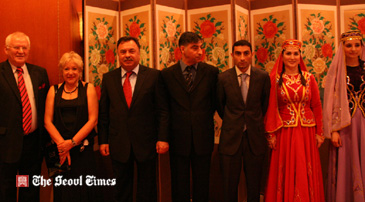 Today the Republic of Azerbaijan is a politically stabilized state with a dynamic economy. In the 18th year of our restored independence, 85% of GDP is provided by private sector. Beginning from 2005 Azerbaijan's real gross domestic product grew by an impressive rate (26.4% in 2005, 34.5% in 2006, 25.0% in 2007, 10.8% in 2008), driven by growth in oil and gas production, as well as non-oil sector. Armenian aggression against Azerbaijan and its grave consequences have had and still have negative influence on comprehensive development of Azerbaijan and the whole region. However, it should be mentioned that Azerbaijan is pursuing active foreign policy to return its occupied territories. There is no doubt that the occupied territories will be liberated by all means and Azerbaijan will restore its territorial integrity.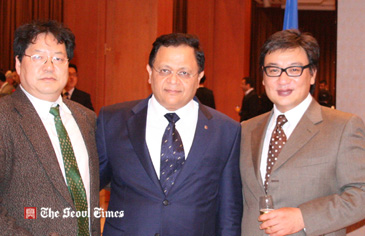 In the frame of active foreign policy pursued by Azerbaijan, the country has established bilateral ties with a number of countries based on equal and mutual cooperation principles. Among other countries the Republic of Korea possesses a great importance for Azerbaijan and accordingly, today the two countries enjoy close and cordial relations. These relations can be seen in a lot of spheres of bilateral exchanges, including the trade volume which has increased 53 fold from 16 million USD in 2003 and reached 859 million USD in 2008. In addition to opening representations of KOTRA and KOICA in Baku, various companies of Korea have established their branches in Azerbaijan.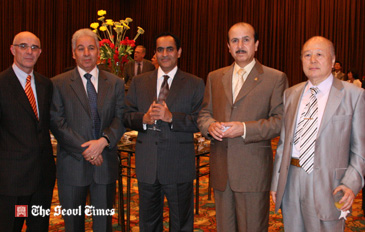 Mr. Choi Hyun-Chill (right), ceo of Atomics Korea Inc., poses with top foreign envoys.
I avail myself this opportunity on the Republic Day of Azerbaijan to pay my best regards to the friendly Korean government, wish peace and prosperity to all Korean people.On this wonderful holiday, I once more sincerely thank you for your coming; wish health and success to each of you.Thank you for your attention.
Gamsahamnida.For details or inquiries please contact the Azerbaijan Embassy in Seoul at 797-1765.